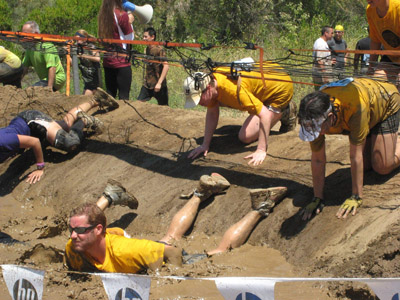 CAMP PENDLETON, Ca. — Team Limoncello completed the World Famous Marine Corps Mud Run in 1 hour, 56 minutes, 9 seconds on Saturday.
Comprised of Team Captain Stacy "Toes" Bertinelli, Team Athletic Gear Aficionado Jason "I Lost 90 Pounds" Robert, Team Wine Connoisseur Lisa "Mud Bath" Dinsmore, Team Cheerleader Dave "DAVE!" Dinsmore, Team Celebrity Trainer Christopher "I Can't Believe I Made It!" Ross Lane and Team Last-Minute Substitute Juri "My Feet Don't Touch the Bottom in this River" Yamashita, our intrepid harriers finished the Mixed Team division in a hangover-free 176th place of 268 teams.
Or in the words of Team Sherpa / Photographer Patrick "Disabled List" Bertinelli: "Man, y'all suck."
Even though it was the fastest mixed-drink team in its age group, Team Limoncello's less-than-triumphant finish has posed some interesting questions for scientific inquiry into the limits of human endurance…

In 2008 with Team Captain Bertinelli suffering an epic hangover, Team Limoncello finished 109th of 168 in a blistering (or at least blister-inducing) 1:40:47. A year earlier and facing even greater liver peril, our heroes posted a staggering 1:34:59 and placed 94th of 151.
For each race, the team training table, consisting of coffee-can-sized burritos from Colima's in Oceanside, has held constant.
Clearly, we can see a trend – or at the very least, a physiological paradox – emerging. Hypotheses are many:
1) The Marine Corps timing mechanism must be off.
2) As Stacy approaches 40, the space-time continuum is slowing down and dragging all of her compatriots with her.
3) The more we drink, the better we finish – ergo, alcohol should the energy drink of choice for the elite athlete.
There is, however, one variable that has not yet been explored: Team Sherpa Patrick Bertinelli anchored Team Limoncello in its 2007 and 2008 campaigns (as opposed to his wife who just functions as an anchor around the collective Limoncello ankle). Sadly, due to a severe calf strain, Patrick Bertinelli was forced onto the disabled list, resulting in Yamashita's call up from Triple-A Tempe.
Could it be that Patrick Bertinelli is the key to Team Limoncello success? Unfortunately, we may never find out because he has embraced his role of Team Sherpa so thoroughly. As Team Camp Director Wanda Robert minded our Mobile Headquarters back at the race registration area, Patrick Bertinelli sherpa'd his camera around, finding all sorts of behind-the-scenes images to capture. Here is an example of his artistry, entitled Muddy Butts No. 4.


You can see more of his artistic explorations in our official Team Limoncello 2010 slideshow. There, you can also see vivid demonstrations of the hip, new move all the young people will be doing next year – we call it THE DAVE – it's basically the non-douchey version of the Jersey fist pump and it's used for acknowledgment (I'm still here! Not dead yet!) or exciting celebrations (crossing the finish line).
Suffice it to say, Team Limoncello will both be acknowledging and celebrating Mud Run 2011. If you want to join us (and test out our training hypotheses for yourself), registration opens (and closes) on January 1, 2011. See you there!