January 30, 2004 – August 12, 2018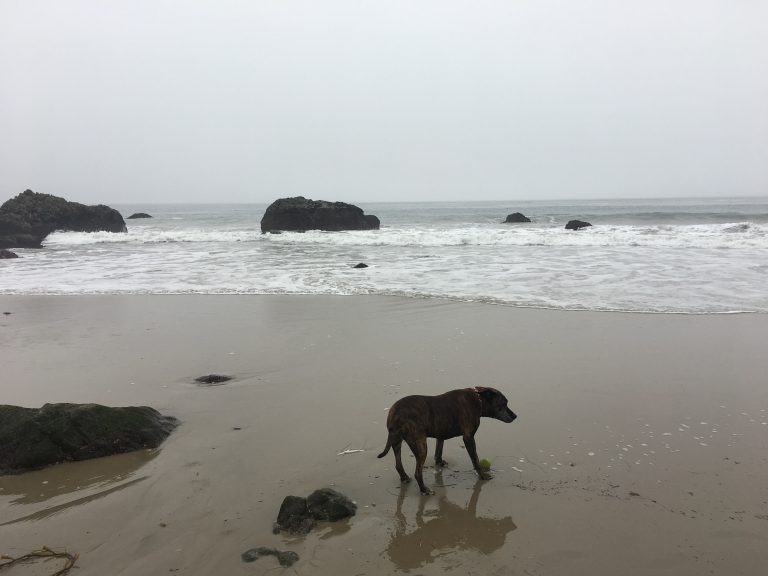 We have no dogs in our house anymore.
For the first time in our marriage, we are two instead of five, or four, or three. Winslow, our sweet old pit bull, died Sunday at the age of 14-and-a-half.
Winslow was not the "Best Dog Ever" — that title will always belong to Coolidge. She had no patience for fetching. She did not grovel for belly rubs. Squeaky toys annoyed her. She was indifferent to treats.
She did not care for walking, but when we insisted, she always paused to press her nose into the same white trailside flower, and she always made a full stop and raised a paw for medical assistance if a thorn brushed against her or an errant fleck of gravel touched her toe.
She was particular about where she sat — her bottom only touched carpet, never tile. She grumbled and grunted with maximum disdain if you were in her spot on the couch, and she leapt at that warmed cushion if you got up to refresh your drink. For being only 60 pounds, she had a knack for maximizing her surface area on the California king, pushing both Pat and me to the margins.
She was a strict enforcer of bedtime: At 7:30 PM (in Arizona or California), she departed the living room for our bedroom with an insouciant sniff. At 8:30, she began to bark her commands to turn off that television, brush our teeth and get in the bed. And if she had to get up in the middle of the night to relieve herself or celebrate the Supermoon, she made sure you knew that the dog door was "exit only:" It was our responsibility to let her back inside and put her back on the bed… which we did at 2:30 in the morning.
With her discerning sniffs, she made sure we did everything right: From pumping up our bicycle tires to administering her many medications with the correct (and most generous) Pill Pocket-to-pill ratio, to packing the car for our road trips and ensuring her maximum comfort therein.
No, she was not the Best Dog Ever, but she was a Good Dog. Instead of being a slobbering pleaser like Coolidge, she was a cool companion, grateful for our place in her world, and we were grateful that she was our friend.
Winslow loved to luxuriate in a pile of fresh laundry, still warm from the dryer, and she built mighty pillow fortresses on our bed. She enjoyed a good flop on the cool grass, as much as she reveled in roasting on the hot rocks in the gravel beds. In her youth, she joined Coolidge in defending our backyard with warnings to the joggers on the sidewalk beyond our fence. As a middle-aged den mother, she welcomed us home with enthusiastic howls, "Roo! Roo! Roo!"
Her howls had grown mostly quiet since Coolidge departed this mortal coil last year. Her world grew smaller, circumscribed by hobbled hips and muffled hearing and the general indignities of being 90-something in dog years.
Since Coolidge passed, she didn't come to greet me when I returned from work each day. I could always hear Pat through the door saying, "She's here! She's here!" and I'd be lucky to get a head cocked in my direction as she lounged from her bed beside Pat's desk.
This brindle shadow was Pat's workday constant in the year since Coolidge died. Winslow would stand then sit then lay in a melancholy vigil by the front door when he went out for an errand or a walk, leaving chopped-liver me (in her spot) on the couch by myself.
Yesterday, after Dr. Rachel at Scottsdale Animal Healthcare had assured us that we had done our best and there was nothing more to do, we came home to a silent house. We took off on our bikes to burn off our tears in the desert sun, and she did not greet us at the door when we returned.
She wasn't there to lick the sweat and tears from our cheeks.
Our house is quiet now. It has no dogs. We'll welcome others when the time is right, but as with Ruby and Ink and Red Puppy and Coolidge, it will be different. When you give your heart to a dog, you will always end up heartbroken, but it will always be worth it.