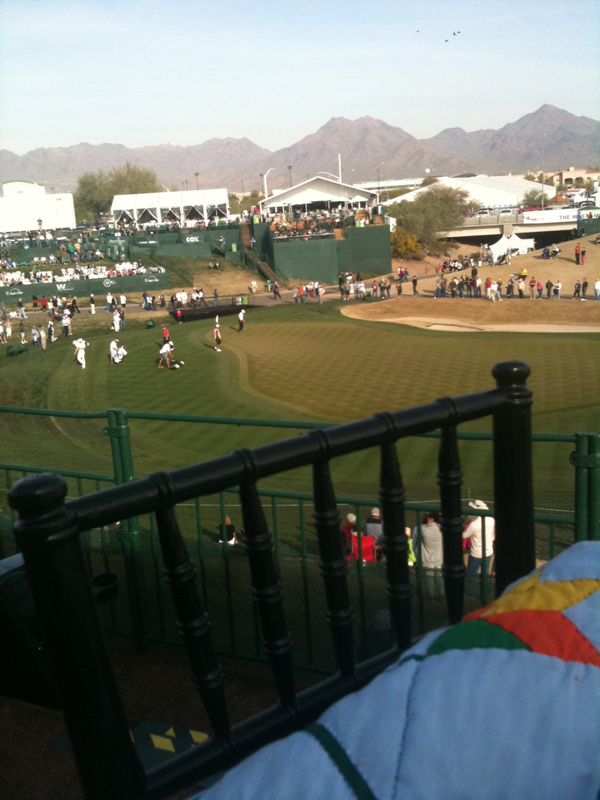 Or How We Rode Our Bikes to the Waste Management Phoenix Open and Avoided the Stupid Bowl… and Ended Up in the Xerox Sponsor Tent on the 18th Green.
This is why I'm in sales.
Actually, Pat and I like to ride our bikes to the Waste Management Phoenix Open. It's 5.6 miles from our house – downhill to the tournament, uphill back. We don't have to pay $10 for a parking space – we just chain our bikes to the front gate, check our backpack, pull out the blanket, grab some drinks and park ourselves at a nondescript green to enjoy a sunny Scottsdale afternoon.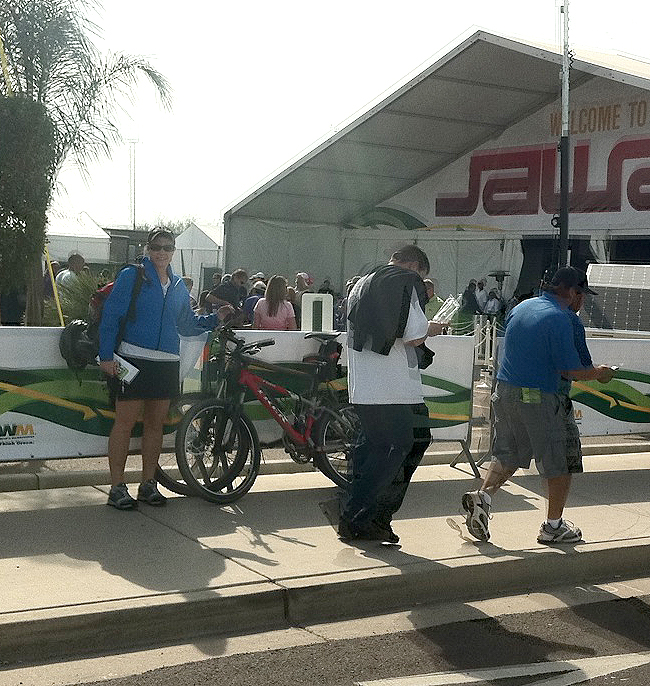 Unfortunately, our Sunday didn't start out that way: Our friends at the Greater Phoenix Chamber of Commerce kindly offered us passes to the tournament, and we requested three to accommodate our new family. Some parents have kids who perform in piano or dance recitals. Some parents have kids who sell Girl Scout cookies. Some parents have kids who do the Pinewood Derby.
Yesterday, our "kid" competed in Idiotarod Phoenix – five people, one shopping cart, an indeterminate number of miles through downtown taverns and city streets… dressed like a carnie. He rolled in at 10:23 this morning and wasn't sure if they'd finished the race or not… we're so proud.
We let him take a nap while we puttered around the house and finished our Sunday chores. I knocked on his door at T-minus 15 minutes and counting.
"You know, Stacy – I just can't do it. I'm just too tired. Y'all go on."
Pat affixed his new pedals to his bike and I tried on my new bike skirt and bike shoes. Then it was 1 PM… and it was time to go and we were getting hungry. I gently knocked on his door again.
"Ross, are you sure you want to sleep in? It's all downhill to the Open."
"Y'all go on."
For you young people who might be reading this, mark these words: It's what we old people call FORESHADOWING.
We rolled downhill 5.6 miles. Took us 26 minutes and barely got our heart-rates up. We parked, chained our bikes to the front gate, zipped our iPhones into our pockets (against PGA policy but we're not leaving them at the bag check), checked our bag and bike helmets and walked in. Creatures of habit, we made our way to the Fry's Food Court, where we planned to buy some brats and beer… and learned that this year, they do not allow open containers to leave the Fry's Food Court… They allow you to bring open containers IN to the Fry's Food Court… but you cannot take your two brain-freeze margaritas and two 16-ounce Sam Adams drafts FROM the Fry's Food Court. (More reason to shop at Basha's)
They would, however, let you take a screw-capped plastic Sprite bottle from the Fry's Food Court with two brain-freeze margaritas interred therein. I'm not saying we did this… I'm just saying that the PGA has rather odd rules because they'll let you carry around open containers (bloody Mary's, beer, wine) OUTSIDE the Fry's Food Court… but the gate to the Fry's Food Court is apparently a magical barrier to fun with no big-screen TVs inside to watch the live golf action. Ergo, you stand in a dirt pen, surrounded by douchebags and hot chicks, feeding your burger and brat into your sad maw, while looking forlornly at the people walking blithely outside, holding their open containers, freely nursing their livers toward oblivion.
We recapped our Sprite and left that pitiful den of un-fun behind, found our way to a nice spot in the grass on a hill above the 18th green, and unfurled our blue quilt in the name of all that is pleasant and joyful. It being Super Bowl Sunday, and the PGA having a weird sense of timing, and the weather gods not obliging during the opening rounds, no one was there. Unobstructed view. We assembled ourselves on our blanket… and Pat had to pee.
He did the calculus of Sprite-bottle-contents to buzz and decided he'd also make another loop through the Fry's Food Court for a refill after his offload. I kicked off my shoes and reclined in the sun.
Which is when the three young ladies clad in tight black T-shirts and shrink-wrapped black jeans came tottering by in their wedge-heeled platforms, and I sighed, recalling the days long ago when I was 20 and could walk in heels, but would never think to do so at a golf tournament. They had complimentary passes to the Xerox Corporate Tent above us – overlooking the 18th green – with free food and drink. They offered them to a skeptical couple of Baby Boomers about 10 feet from me. I sat up – intrigued but uncertain. The Boomers demurred. Alone, I could not catch the young ladies' eyes. They moved on.
I closed my lids to the sun and waited for the next threesome to move through and wondered when my husband would return with our refilled beverage… and then I heard the aforementioned young ladies uphill being harassed by two douchebags wearing golf knickers, argyle socks and Kangol caps in ASU colors: Maroon and gold. Like preppy Ronald McDonald douchebags. The besotted lads were ignoring their mortified dates while begging the T-shirted young ladies to relinquish their Xerox Sponsor Tent passes.
I swiveled around and said, "You know, I only use Xerox as a verb. Whenever I need to make a photocopy of something, I just Xerox it."
The young ladies walked to my blanket and handed me a pass.
"I really appreciate this – it's unfortunate that my sweet husband is in the potty right now, because he uses Xerox exclusively as well."
They gave me another pass. I thanked them. They walked away. The douchebags asked me to get them some complimentary ice cream from the sponsor tent. Their dates contemplated their sexuality, or at the very least, their choice in mates. I, on the otherhand, had procured beverages and nourishment for my mate.
This is why I am in sales… and that is why those young men are douchebags.
Husband returned after an interminably long time. He had availed himself of the bank of port-a-loos and then did his time in the purgatory of the Fry's Food Court, transferring his frozen vodka lemonades into the approved bottle of Sprite… while I waited impatiently with our free passes to Nirvana. I sent him a text: "Just scored free passes to Xerox tent. Don't get anything to drink." I tried to spot him from upon yonder wet hill overlooking the dry Fry's Food Court, but to no avail. I wandered back to our blanket not wanting to miss him if we crossed like ships passing amongst the drunkards.
He returned with our Sprite bottle and I handed him his sponsor-tent pass. As we were walking to the pearly gates of the Xerox Sponsor Tent, the knackered douchebags said, "Don't forget the ice cream! Cold Stone, please."
Yeah, whatever. My tax dollars funded your education. I consider them wasted dollars. Onward, and upward. We checked in at the door.
"Are you employees or guests?" she asked.
"Guests."
"Of whom?"
"Actually of the three really nice young ladies that were walking on the hill. We'd just been watching golf all day and they offered us these nice passes. I have no idea who they are, but here we are."
"Well, OK. What's your name?"
"Stacy Bertinelli"
And from this day forward, I will use Xerox as a verb… and my pre-emptive noun. Xerox is my Kleenex, my Q-Tip, my new Coke – and if you're from the South, you know what I'm saying. In fact, from that point forward, our day was so wonderful, I wish that I could Xerox it for posterity.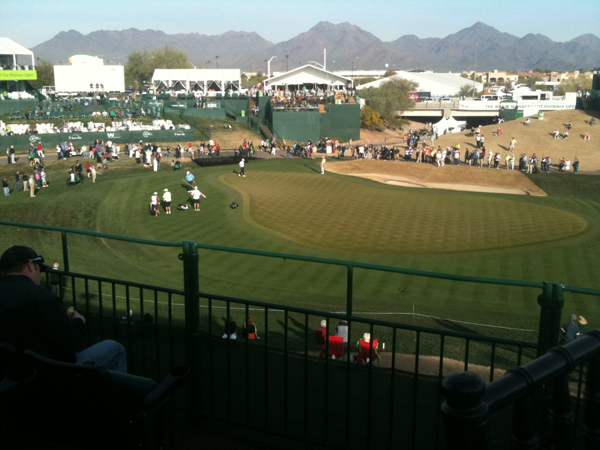 So we folded our blanket and sat down at one of the tables overlooking the 18th green. We drank our complimentary Beringer Cabernet Sauvignon (the Official Wine of the PGA Tour) and we ate our complimentary crab-artichoke dip on toast points, our old-fashioned fried shrimp with cocktail sauce, our Brie, grapes, kalamata olives, goat cheese and baguettes (not simultaneously – but artfully arranged on the same plate), and our chicken wings. Really, we hadn't eaten anything prior to arriving at the Open, and we figured we'd earned some calories after our epic downhill roll.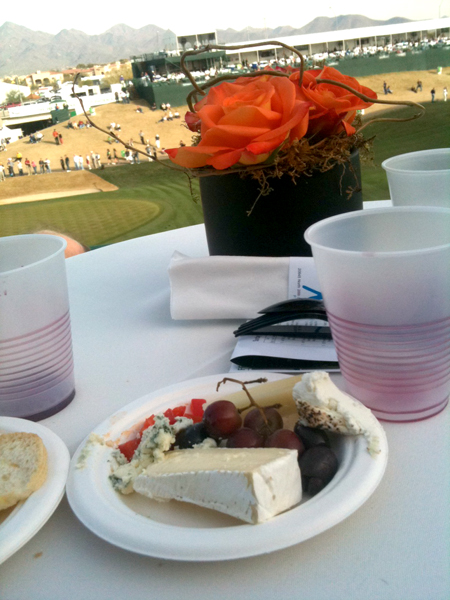 Among my thoughts at the Xerox Sponsor Tent overlooking the 18th Green at the Waste Management Phoenix Open (as reported on facebook):
Stacy Feducia Bertinelli: At the Xerox sponsor tent on 18 at the Phoenix Open. If there's another major sporting event today, I don't know what it is. I need to Xerox this day for posterity. (Sent from iPhone, 3:45 PM)
Stacy Feducia Bertinelli: I just Xeroxed a glass of wine for my husband at the Xerox sponsor tent at the Phoenix Open. Apparently it is 39 degrees and raining in Dallas. Sunny and 70 in Scottsdale. (Sent from iPhone, 3:55 PM)
(According to much commentary from East Texas in general and Arlington in particular, the weathermen at the Phoenix Open do not possess the clarity, speed and accuracy of Xerox business machines and are sadly poor facsimiles of reality.)
Stacy Feducia Bertinelli: An observation for all future PGA golf pros from the Xerox sponsor tent on 18 at the Phoenix Open: A white belt only serves to make you look fatter. (Sent from iPhone, 4:24 PM)
I'm not sure where that last one came from, but I'm just trying to do my part as an unpaid sister-in-law-of-a-celebrity endorser of Xerox to help future PGA professionals represent themselves professionally on the golf course and in the fashion world.
At this point (4:55 PM), we called our driver, the aforementioned Ross: We don't want to ride our bikes all the way back up the hill (5.6 miles – 200 feet of elevation). Come get us at the light on Hayden one block south of the fancy Jack in the Box and one block north of the 101. We'll meet you there.
We saddled up, plowed through the nonexistent traffic and plodded uphill. We saw Ross in the distance… just as he was doing a U-turn and heading back up the hill. We waved violently. He turned around. At this point, fueled by Xerox hospitality, I felt like an awesome Xerox business machine – so efficient and powerful (and full of toner) that I just knew I could ride my bike all the way up the hill. I waved Ross and Pat off – I can make it! I feel strong! I don't care about the game!
I kept going one block further to the fancy Jack in the Box, where they'd pulled over.
We rode home in the SUV and told Ross about the three lovely young ladies in his age-demographic who plied us with Xerox sponsor tent passes. He was sad… and filled with regret. We didn't rub it in… too much. After all, it was a day that will be Xeroxed in our memories forever.