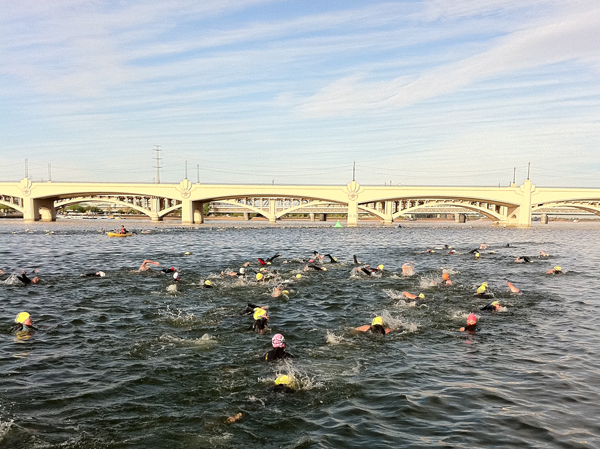 We've been through this before, but it bears repeating: There is no black line on the bottom of the ocean… nor is there one on the bottom of Tempe Town Lake. Most importantly, there isn't a push-off wall every 25 meters to give my arms a little breather.
There is merely a series of buoys that I have to circumnavigate, swimming shrink-wrapped in a steel-belted radial and dodging a chorus line of heels and hands. Under water, you can't see them, but you can feel them – in the champagne remnants of their efforts and the thud of their heels hitting your forehead, or worse, when their hands come up from behind, across your heels and hands, like a giant squid pulling you down to the 14-foot depths of a man-made lake.
My friend and teammate Kristi hates to swim in lakes, so when the Marquee Triathlon popped up on her race calendar, she sent out a call for a swimmer. We've been through this before, but it bears repeating: I'm not fast, but I can cover long distances (probably because I'm so slow, and most likely because I'm so stubborn). So of course, I said, "Let's do it, teammate!"
Now all I would have to do is jump back in the pool, do some training, refresh my open-water swimming skills and become intimately acquainted with a wetsuit. And we all know that the main benefit of wearing a wetsuit is neither insulation or floatation, but its unsurpassed barrier of protection against FECAL MATTER… or should I say, EXTERNAL fecal matter.
My first and last competitive open-water swim was in Louisiana at Lake Bistineau… in August… without a wetsuit…. when, come to think of it, alligators and snakes are actively seeking food and my redneck compatriots are enthusiastically out "partying" on the water. Partyin' on the water, pottyin' in the water: In Louisiana lakes, it's pretty much all the same. While standing in the brown muck waiting for my triathlon wave to start, I noticed a peculiar solid suspended in the soup. Let's just say that I couldn't call it dropping a turd in the punch bowl because that'd be a little too generous to the water quality of Lake Bistineau.
Looking back on that race and the 25-year-old version of myself that finished it (800-meter swim, 18.2-mile bike, 3.1-mile run), I realize how fit and fearless (and feckless) I was. I mean, here I was standing in a lake surrounded by human excrement (who cares), wading among the broken malt-liquor bottles (whatever), uncertain when I'd gotten my last tetanus shots (who knows), unfazed by the possibility of a reptilian feeding frenzies (WTF?)*. To be blunt, I was fundamentally unaware of my surroundings and focused only on the singular issue before me (swimming straight), which, come to think of it, is not unlike how most social conservatives go through life.
I finished that race, the SportSpectrum River Cities Triathlon (course record held by a teen-aged Lance Armstrong), in 1 hour, 55 minutes, 33 seconds, good for 483rd of 530 competitors (I have low expectations – and I don't disappoint!). Fast forward 13-and-a-half-years, and I finished my maiden Splash 'N Dash training event (1,000-meter swim, 4-mile run)  in a gasping 1:24:29 – and I didn't even have to RIDE A BIKE 18 MILES! The good news is, if you look at the results, I posted the second-fastest swim time in my age group (women, 35-39) with a blistering 36:30.7. The bad news is, they listed my results among those competing in the 2,000-meter event: I swam the 1,000.
I get to swim 1,500 meters this Sunday at the Marquee Triathlon.
Tangled in comfort of my lane ropes with my trusty black line and a push-off every 25 meters, I can swim 1,500 nonstop in just over 32 minutes. That's just 17 minutes off the women's world record! In a pool, I'm only 10 minutes off the very first men's world record – set in 1908 – so I figure if I gave myself 103 years, I might be able to match the aforementioned women's record of 15:28.65 (Lotte Friis, Denmark, Nov. 29, 2009).
Kristi still has time to find another swimmer for the Marquee Triathlon this Sunday, but apparently her heart is not set on placing in the top 95%  of teams. At the Thrash N Crash, I finished 60th of 70 in the 1,000-meter / 4-mile event – and that includes seven did-not finishers. I take solace in the fact that I was not among them. Emerging from the depths of Tempe Town Lake with just five swimmers behind me, I wanted to be among them – but since I'd had such a bad race already, I figured I might as well polish it off with a grueling run… through horse manure.
Yes, the run course skirted the stables at Tempe Town Lake, crossing over their sidewalk toilet. Though I don't think it made me quicken my pace, it did make me pick up my feet and helped me lengthen the amount of time I can hold my breath during exertion. By this point, I was so demoralized it didn't matter: I had a 4-mile run – or 47 minutes, 58.6 seconds – to run through my soul-crushing swim.
Or perhaps we should say "chest-crushing." I started out at the back of the field, as is my custom (especially since I wanted to avoid getting swum-over or kicked in the teeth). They fired the gun, I put my stylish, new, pink skull-and-crossbones swim cap down and started paddling. Stroke, stroke, stroke, and breathe. Stroke, stroke, stroke, and breathe. On one side, I saw Pat on the shore (walking) as he shot video of me. Stroke, stroke, stroke, and breathe. On the other, I glimpsed the grassy park. Stroke, stroke, stroke, and breathe. Stroke, stroke, stroke and – HOLY SHIT, MY HAND JUST HIT SOMEONE'S FOOT!* I popped up. I'd swum right into a melee of bodies, the middle of the pack! I started to hyperventilate. People started passing me by. Pat waved – "You're doing great! Keep going!" – I dog-paddled. I'm not supposed to overtake people. That's not how I roll. I don't even share a lane at the pool if I don't have to. What the hell am I doing in the middle of all these people!* The first buoy is 10,000 miles away! I can't see the bottom of the lake! WE'RE ALL GONNA DIE!!!
I tried to breast stroke. I tried to get horizontal on the water again. All I could think of was breathe! Breathe! BREATHE, GODDAMMIT!* Eventually the panic stopped and I thrashed over to that first buoy, where the friendly kayaker / lifeguard complimented my pink swim cap. Insulted that he thought now was a perfect time to strike up a conversation about my tired attire (instead of recognizing apparent distress), I decided to ignore his entreaties, put that pink swim cap back in the water and try again. Stroke, stroke, stroke, and breathe.  Stroke, stroke, stroke, and breathe. An airplane flying into Sky Harbor. Stroke, stroke, stroke, and breathe. Two herons coasting on a breeze – or are those cranes? Stroke, stroke, stroke, and breathe. The trestle bridge. Stroke, stroke, stroke, and JESUS CHRIST, SOMETHING JUST TOUCHED MY FOOT! It's the leader of the 2,000-meter swim (WHOSE RACE STARTED 5 MINUTES BEFORE MINE AND WHO HAS TO SWIM TWO LAPS AROUND THIS STUPID LAKE) He's freakin' lapping my ass!* WE'RE ALL GONNA DIE!!!
He was around the next buoy before I caught my breath – and looking back to where he'd come from, I could see the tsunami of hands and heels closing. I would not be overtaken by them (and I'm not saying this out of heroism, I really didn't want to drown beneath a lemming crush of skinny triathletes – I'd much rather go by way of a shark or snake attack). I took as big a breath as I could and started again. Stroke, stroke, stroke, and breathe. Stroke, stroke, stroke, and breathe. I can make it to the next buoy and then I'll let them pass. Stroke, stroke, stroke, and breathe. Stroke, stroke, stroke and WHAT IS THAT GURGLING IN THE PIT OF MY STOMACH? It feels distinctly like my intestines are trying to counter the mega-doses of antibiotics that my doctor gave me yesterday to fight off what looks like a MRSA infection on my leg.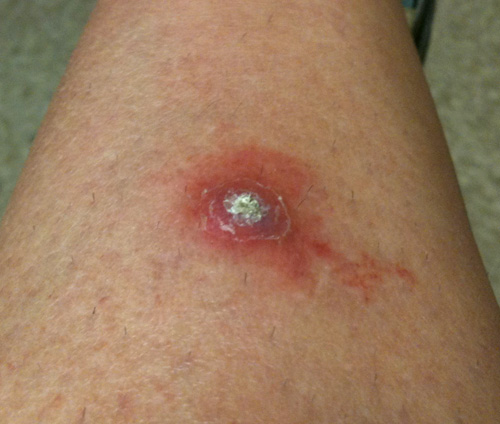 Add bacteria to the list of things you can't see in a lake.
My intestines in knots, I realized that while wetsuits provide excellent protection against external fecal matter, I might just find out what happens to internal fecal matter. I'M GOING TO SHIT MYSELF IN TEMPE TOWN LAKE!* I'M GOING TO DROWN IN MY OWN EXCREMENT! (or at least splash around in it) WE'RE ALL GONNA DIE!!!
Well, I couldn't let that happen. I'd like to say I turned on the afterburners, but that would have likely involved me inflating my wetsuit to Michelin Man** proportions through flatulence (or worse). Actually I just rolled on my back and kicked for a while with my arms at my side until the gurgling stopped. Then I rolled back over and put my head back down. Stroke, stroke, stroke, and breathe. Stroke, stroke, stroke, and breathe. Hey look, the penultimate buoy. Stroke, stroke, stroke, and breathe. I wonder if I'll be as fast as that one-legged guy at the pool when they cut my gangrenous leg off. Stroke, stroke, stroke, and breathe. I think I may have just passed someone. Stroke, stroke, stroke, and breathe. Oh, wait, there's the dock. Stroke, stroke, stroke… Oh, sweet mother of Jesus. Dry land! Thank God that's over, but not quite yet: The real race is on Sunday.
I had seven days to heal my infected leg, transform my pool swimming to something lake-worthy and figure out a way not to panic and drown amid 1,000 people over 1,500 meters. And if you're keeping score at home, I also had four miles of running in front of me – but this was a flashback, so we'll skip that part.
Here's my photo gallery of the Splash N Dash training adventure. Enjoy.
* Yes, I realize I gave up cursing for Lent and I did fine myself $5 for the aforementioned profanities. My blue vocabulary will now be able to help control the pet population by providing one spay / neuter surgery to a shelter dog.
** This is not an endorsement of Michelin tire products – it is merely a metaphor describing my a fart-inflated, black-rubber suit. My husband only rides Dunlops. Trust your tires.