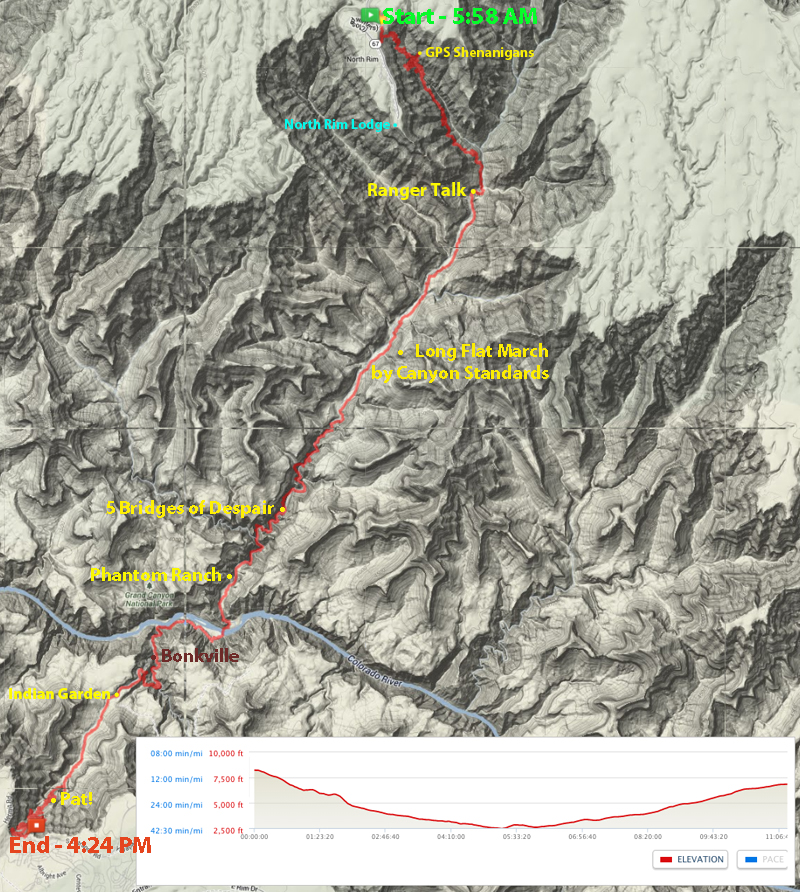 This is a story of despair…
Never on an athletic adventure have I confronted the reality of not finishing, and not just not finishing, but prevailing upon others for needed assistance and flirting with the logistics of a rescue.
When you have 7 miles to go and you're stuck 4,000 feet below your ultimate (but not final) destination, despair becomes yet another obstacle to overcome… and it's a bitch.
At 5:58 AM on May 16 when we stepped off at the North Kaibab Trailhead, despair was not even a speck on the horizon, but Humphrey's Peak was. The highest point in Arizona was roughly 90 miles to the south, and we could see it clearly. The South Rim was 12 miles away as the crow flies, 215 miles away as our Sherpa Pat drives, and 23.5 miles away as our hike was planned. Rim-to-Rim: One way, one day, baby!
Departure temperatures at the North Rim were forecast in the 30s, rising to the 90s at the Colorado River and then dropping back to the 70s at the South Rim.
Bundled in our long-sleeved shirts, jackets and ear-warmers, we stepped out of our little cabin into the sunlight and promptly started disrobing. It was 53… at 5:30 AM! Woo-hoo! This was gonna be awesome! During the 5-minute drive to a trailhead that was tucked back into a shady valley of Roaring Springs Canyon, the temperature dropped to 37 degrees.
Holy shit! That's cold! We got out of the car and promptly put back on our clothes, listened to the required safety talk from the North Kaibab trailhead ranger (It's gonna get warm fast, drink plenty of fluids, eat salty snacks and carbs, rest in the shade), and set out on our adventure!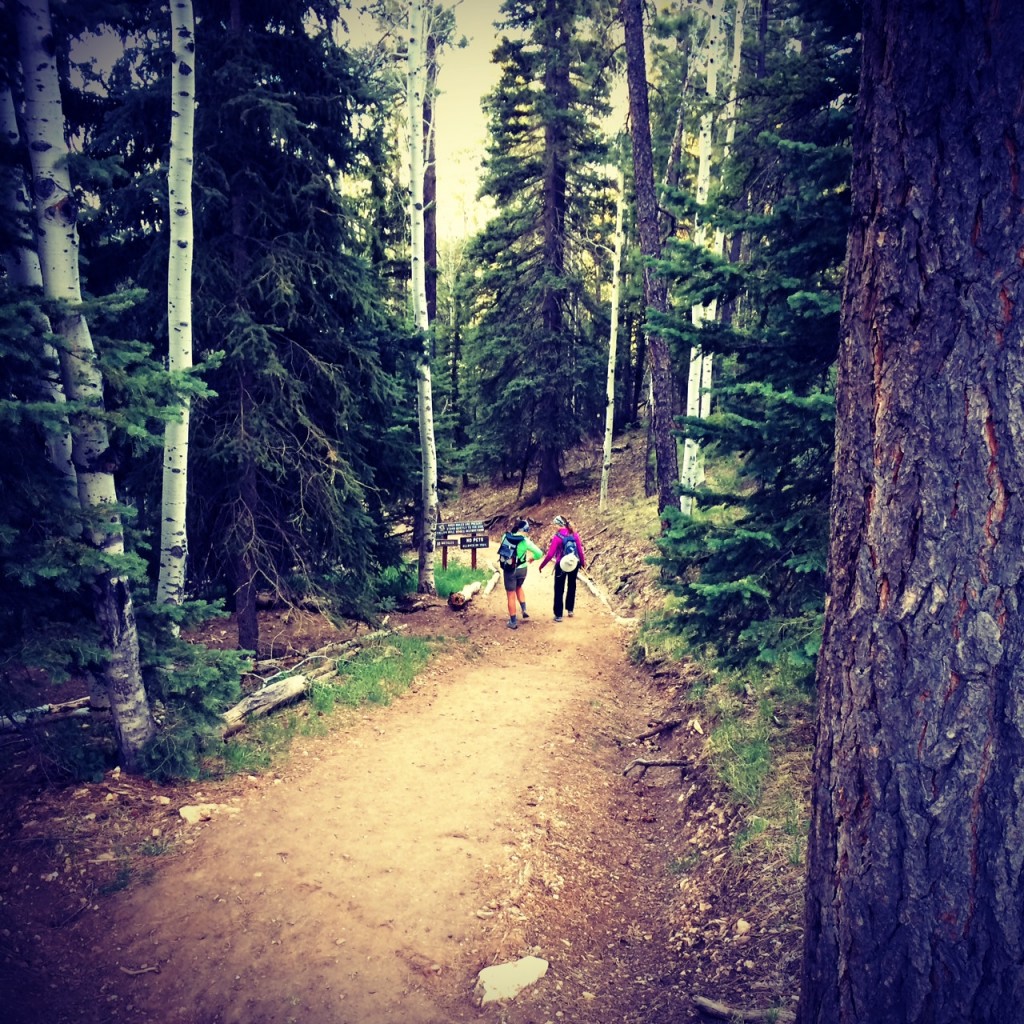 Moving fast to warm up my bare legs, we made it down to the Supai Tunnel (mile 3) in under an hour. Racing the sun down the Redwall Limestone, we were not alone in our glee: Shuttles from the Grand Canyon Lodge had been disgorging hikers at the trailhead roughly every 10 minutes since 5:30 AM.
Below the first* bridge, we hit the first shafts of warm sunlight and paused to disrobe, eat, pee, apply sunscreen, slather on bug spray and do a systems check on the solar array. This dramatic pause allowed just enough time for a nasal-voiced annoying woman and her merry band of five acolytes to catch up with us.
Tip #1 for Rim-to-Rim Beginners: SHUT THE FUCK UP. Voices carry, asshole. If I can use my inside voice in the Grand Canyon, so can you.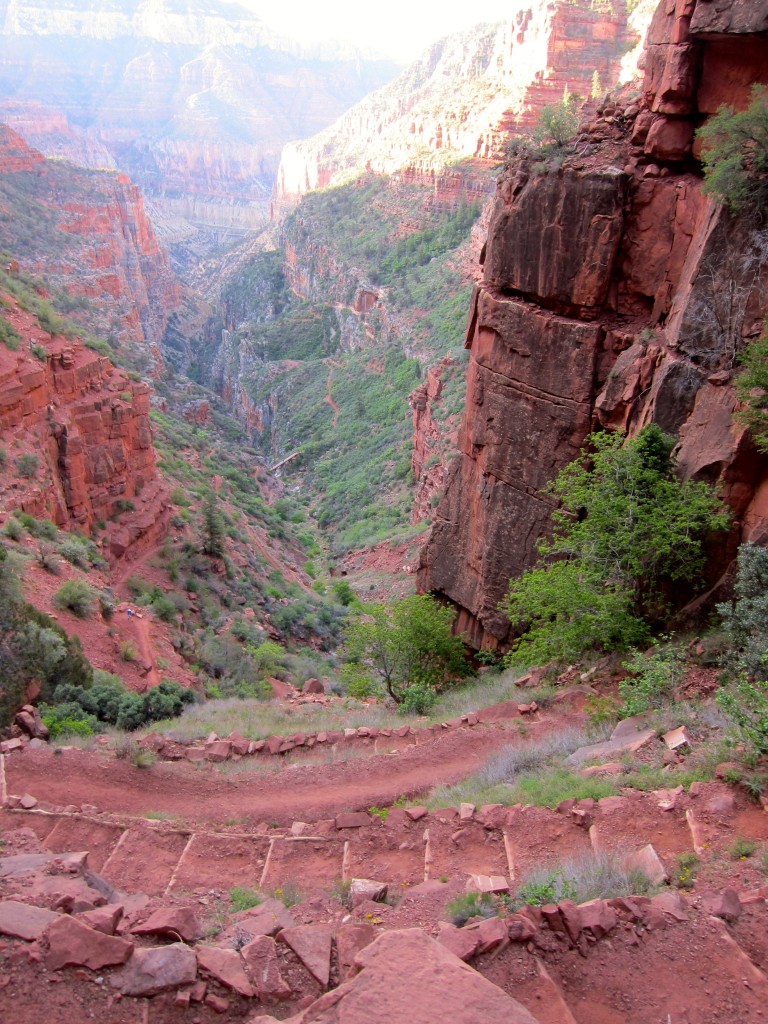 I managed to refrain from using my outside voice to correct her poor manners. Instead , we hit the trail hard – double-timing our descent, until we rounded the corner at the Roaring Springs waterfall into the main Bright Angel Canyon where we ran into our second park ranger of the day.
"I'm going to ask you to hold up for a quick two-minute safety talk," she said. "So let's just wait for some other hikers to gather up."
"Um, uh, we already talked to the ranger at the trailhead. Can't we just go?" I asked, sniffing my first hint of despair.
"I'm sorry, this is important. It'll just take two minutes."
"But we've been trying to get away from this group behind us – they are super loud and they won't shut up," Kellee said.
"Oh, I see," the ranger replied, "Well, I'll hold you up for just two minutes, and I'll make sure to hold them up for 10 minutes, and I'll speak to them about keeping their voices down in the Canyon."
We pointed out the nasal-voiced annoying woman who had just rounded the bend three switchbacks above us – her honking a herald to the morning sun. We then listened intently to the ranger's warnings: It's going to be hot in the Canyon today. (We know) Drink plenty of fluids and electrolytes. (Check) Eat salty foods. (Check) Every stream you get to, dunk yourself in water to stay cool. (That's why I have my trusty bandana) If you get too hot, lay in the stream. (Hope it doesn't come to that) Rest in the shade. (What shade?) If you have a pooh-emergency, please bury it. (Um, OK – again, hope it doesn't come to that)
Despair averted, we never saw… or heard… the nasal-voiced annoying woman again. I hope she didn't fall into the Canyon, though I would not be surprised if someone pushed her.
Thank you, Ranger! Onward!
For the 90 percent of people that never make it below either Rim of the Canyon, there's not any part of the Canyon that isn't stunningly beautiful… but that's not to say that there aren't any parts that aren't stunningly despair-inspiring. Case in point: Bright Angel Canyon. It's not flat, but by Canyon standards, it's close to it… and it goes on in a shadeless forever (or 7 miles, if you're scoring at home). The problem is, you can see where you are headed in the distance, but in Bright Angel Canyon, it doesn't get any closer – no matter what your GPS says.
(Hey! We've gone 17 miles! Shouldn't we be there already? Um, no, not when the Canyon walls scramble your signal. Apologies to the folks who were trying to follow along at home via Find Friends. I wasn't going to put in a help-desk ticket 4,000 feet below civilization).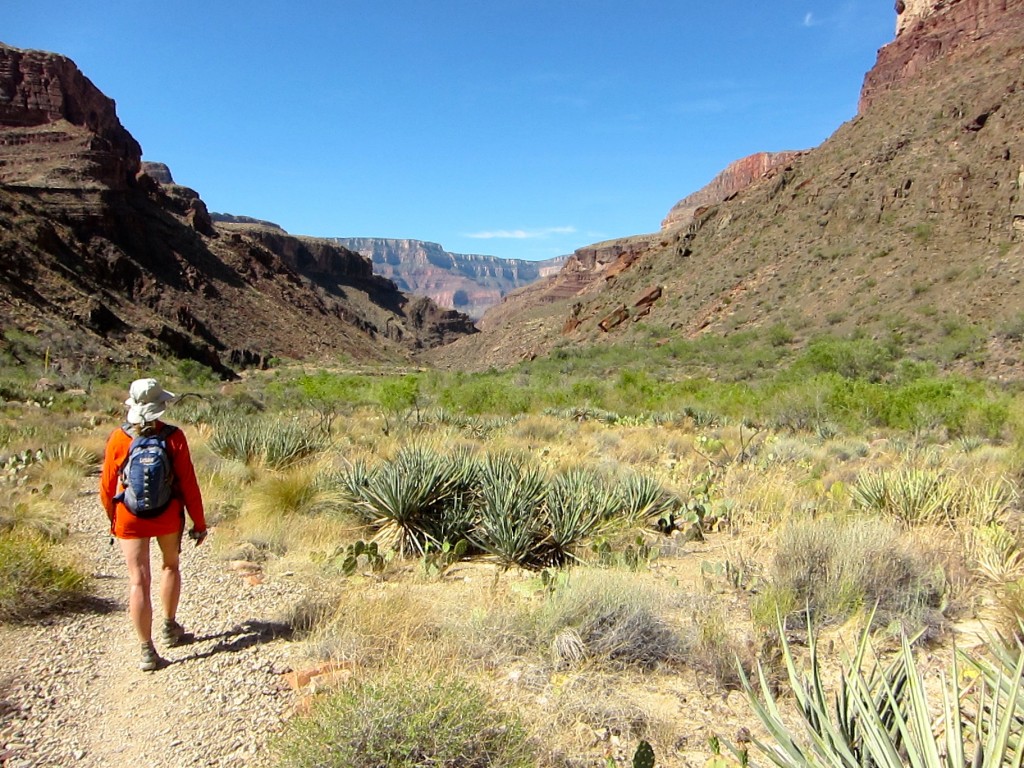 We had been told by our friends Ron and John who were running Rim to Rim that the trick with the Canyon was to count the bridges. You cross the stream five times in the box canyon that is at the end of Bright Angel Canyon. After the fifth bridge,* you round the corner and there's Phantom Ranch! Woo-hoo!
Except we started counting bridges in Rock Springs Canyon… before we got to Bright Angel Canyon… so when we got to what we THOUGHT was the fifth* bridge, and we turned the corner to find more limestone walls that stretched into infinity, we bit our lips hard against the poison of despair.
After we came to the fourth of the "official" five bridges… and the sixth overall bridge… we said unkind words about Ron and John. We cursed the fates. We bowed our heads and grudgingly moved ahead. Kellee peed for the 11th time. At least the view was nice: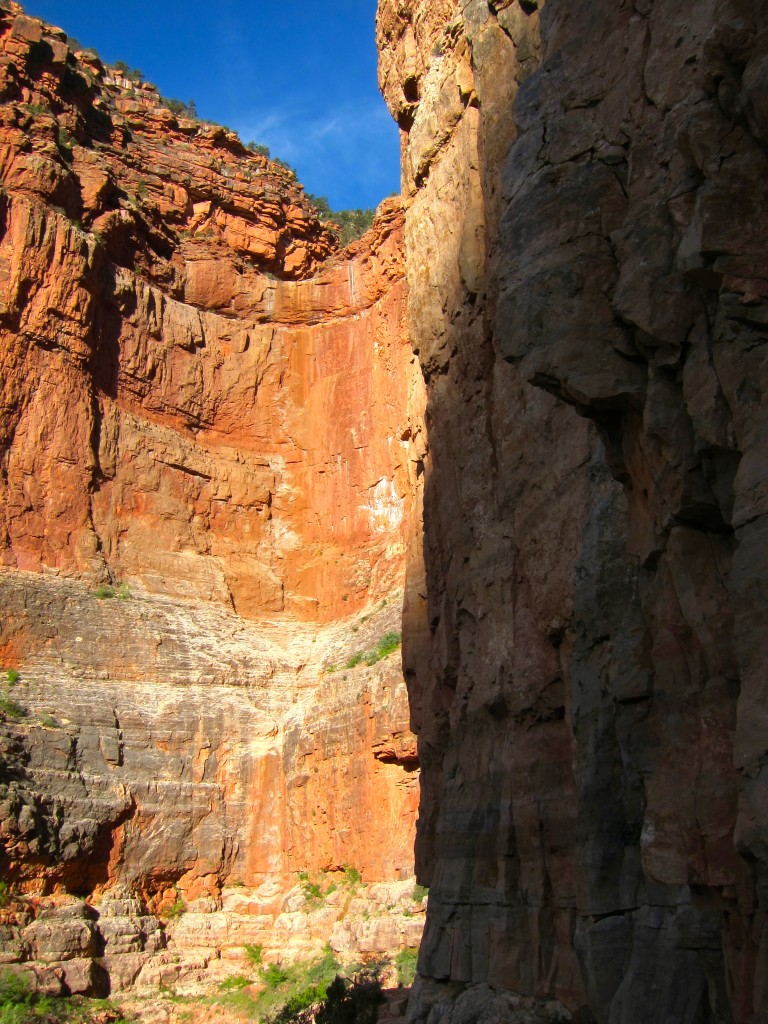 At Phantom Ranch (a hop, skip and jump after the real fifth bridge), we stopped to use their glorious flush toilets, refill our water, reapply our sunscreen and load up on Gatorade. I'd consumed 4.5 liters of water and water-Gatorade mix. I dunked my bandana in the water again, splashed my face and shoulders and mentally prepared myself for the climb ahead. Crossing the triumphant eighth bridge – the Silver Suspension Bridge that spans the Colorado River – we felt the heat like a black car interior in July.
We were well over halfway, but the worst was yet to come.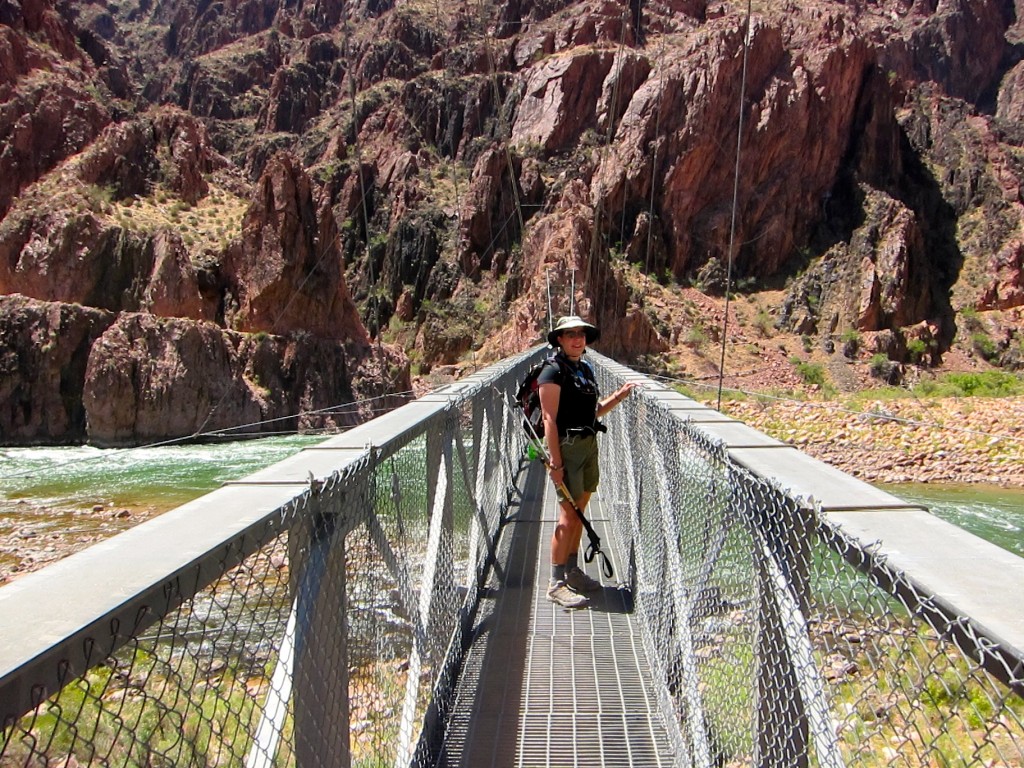 About two miles into our nine-mile ascent, I started feeling bad… just bad. I stuffed a bite of Clif Bar into my mouth, forcing myself to chew. I peeled off two Clif Shot Blox. I sucked down water. Gulped Gatorade. My heart-rate monitor chirped madly. I had to sit down… NOW. There was no shade in Bonkville, but there was a creek. I splashed water on my face, in my sunhat, on my bandana. I tore open my salty beef jerky that now had the mouthfeel of a pine cone. I chewed. And chewed. And chewed.
I just had to get my heart rate down. Just had to rest for a second. Just had to think for a moment. Just a little while.
I pushed myself up on woozy legs, my walking sticks now crutches. The weight of despair tumbled down on my shoulders in a landslide of knee-buckling panic. What would we do? What if I couldn't make it? Why did I feel like this? Why did my toenails throb so badly after all the precautions I'd taken? What if I couldn't walk out? Could they chopper in for me? Would I have to ride out on the donkey of shame? How would Kellee get to the top alone to find help? Would the walkie-talkies reach that far? Why didn't my fucking phone work? Why the hell was I carrying this goddamn solar array to charge that motherfucker? What good was 100% battery charge if I couldn't call for help?
I'd done everything right – Gatorade, proper hiking hydration, prehydration (for once in my life, I didn't start an athletic endeavor with a hangover). I'd been eating consistently – a third of a bar, a handful of trail mix, two shot blox, a healthy piece of jerky every 20 minutes or so… and now, betrayal. I'd trained for this: More than 230 miles of hiking with thousands of feet of climbing on a full pack since January – a lot of that in the heat of Phoenix.
WHY WAS MY BODY FAILING ME? WE'D COME SO FAR! THIS WAS WHAT WE'D TRAINED FOR! WE'D MADE SUCH GOOD TIME THIS MORNING… and now, despair.
My belly started to rumble. I did not want to have a pooh-emergency. That would be a level of self-loathing that I couldn't come back from.
"It's mind over matter. We'll take it slow," Kellee said. "Let me take your pack."
I vaguely remember refusing her. Not that I wanted to be heroic, but that it was so heavy. I didn't want her to fall out too. She wanted to push me up the hill, but I was too off balance to accept that favor. She offered to take my walking sticks, but I really felt like I'd fall down without them. Eventually even my pride faltered, and she took my pack. We climbed up what is officially called "the Devil's Corkscrew." She stopped at every switchback for me to take a bite of food and gulp down Gatorade from my pack that she wore across her chest.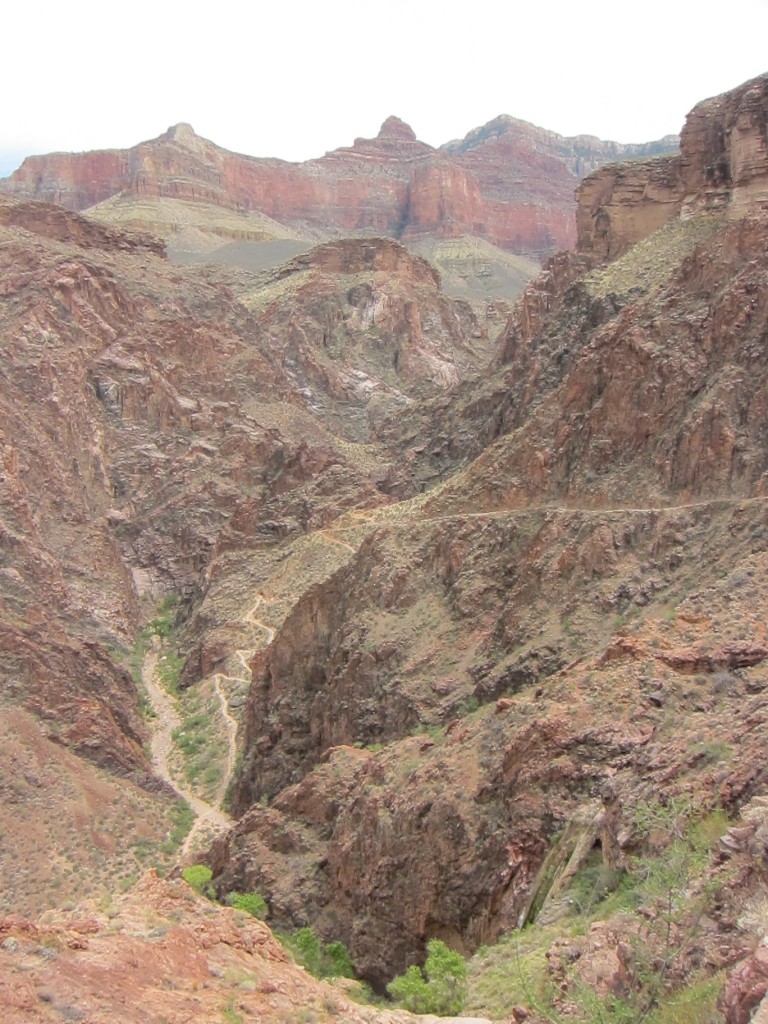 As we closed in on Indian Garden, clouds rolled in, blocking out the brutality of the sun and blowing away the despair on a cooling breeze. I sat for a moment in the precious shade. What I feared would be a death-march had flattened out by Canyon standards. My heart rate stayed out of the panic zone, and I felt strong enough to take my pack again. I felt so badly for burdening my friend during one of the toughest climbs and felt so foolish for fighting her about it.  A stranger stopped and gave us some electrolyte tablets. We thanked him for his kindness and passed it forward about 20 minutes later when we came upon another hiker, sitting on a rock, staring blankly into space, wondering how far Indian Garden was (only 0.3 miles). We gave her a Gu shot and walked with her to the campground.
Buoyed that I'd averted a trailside pooh-emergency, I did not punish the flush-toilets at Indian Garden,  Instead, I reveled in my newfound cell reception. Pat had texted me that he'd made it to the Bright Angel Trailhead. I texted back that we'd made it to Indian Garden. We pushed onward.
About a half-hour later, he messaged that he would work his way down the South Rim to meet us with provisions. We'd just started  the switchbacks that would lead us to the 3-Mile resthouse. We cursed the heat. We questioned our sanity. We swore off hiking forever. We cursed the people who were moving slower than our snails' pace but wouldn't even step aside to let us pass. We wondered where the hell Pat was? What was taking him so long? Why did my toes still ache even though I was going uphill? What did it mean that the tips of Kellee's toes hurt too? I wore myself out with rage. Kellee offered to take my pack again, but I refused.
"Are you just being stubborn?"
"No, I was just being dumb a while ago, trying to pass that woman… and I overdid it. I'll be fine. Heart-rate's good. Pat's on his way. He has fresh legs and he can carry my pack if I can't."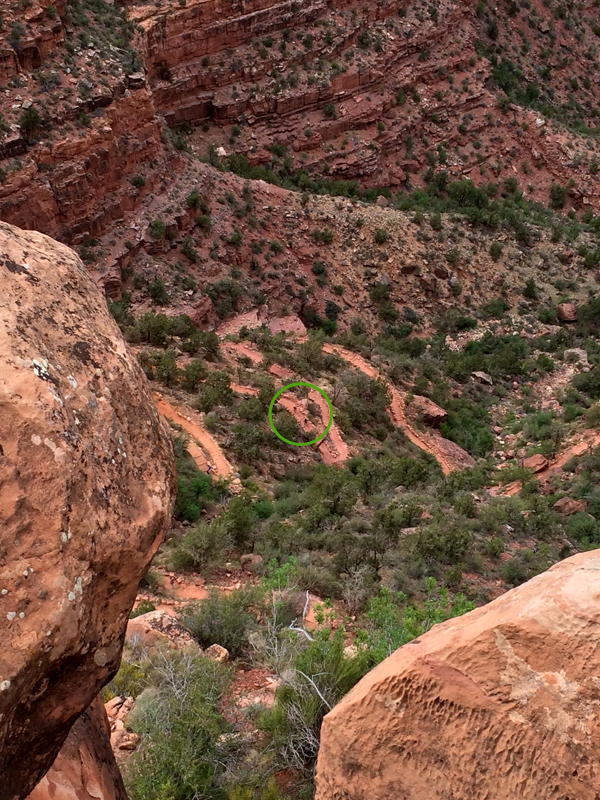 At the 3-mile resthouse, we saw another ranger who was stopping all sorts of idiots from having their own pooh emergencies. A couple trotted down in sandals with just two pint-sized water bottles.
"Where ya' headed there?" the ranger asked.
"Just going down to get a better look."
"Well, let's talk about that for a moment," the ranger said. "It's a rough day out there, one of the worst we've had for heat in a long time."
He directed the couple to a very nice lookout right next to the resthouse, encouraging  them to refill their bottles and turn back after they finished taking their pictures.
We would see that same ranger an hour later, helping a woman who was lying in her own feces and vomiting up water on the side of the trail, just a mile from the trailhead.
TIP #2 FOR ANY GRAND CANYON VISITORS: At the 3-Mile Resthouse, you are two (2) Piestewa Peak Summit hikes away from the top of the Rim – and like Piestewa Peak, you will be surrounded by people in inappropriate footwear who aren't the brightest stars in the hiking universe. At the Grand Canyon, most of them don't speak English, either.  Don't be an idiot. Mind the warnings. The heat and the Canyon lay bare our fragile humanity. It is bigger than you, and it doesn't care if you die in its belly. You don't think you're in trouble UNTIL YOU ARE. If you've read this far, you know that I know from experience.
After yet another push, we spotted Pat, chatting up some random person on the side of a cliff, two switchbacks and around a bend above us. He spotted us as I waved my poles frantically. He kept talking.
"Why the hell isn't he moving?" Kellee said.
Suffice it to say, I was just glad he hadn't fallen into the Canyon. Before setting off to meet us, he realized just how hot it was, so he'd gone back to the car to load up on extra water, Gatorade and snacks for us. My hero… actually, my second hero of the day. Ever the faithful Sherpa, he shouldered my pack on top of the one he'd brought down.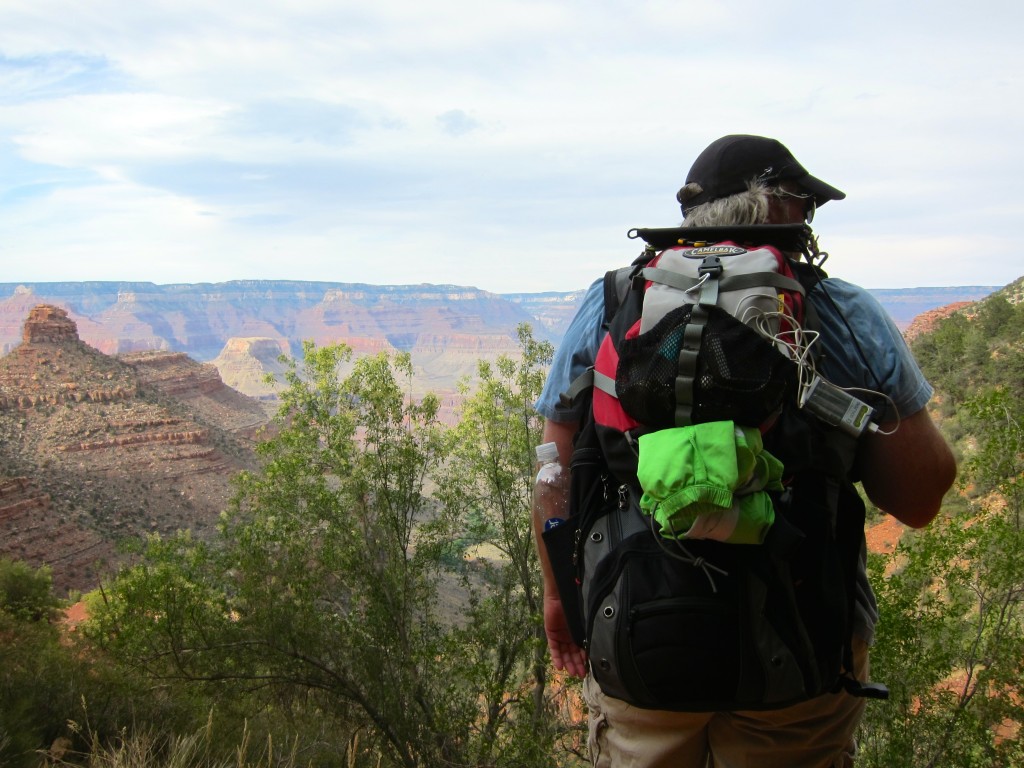 We arrived at the Bright Angel Trailhead 11 hours, 26 minutes, 12 seconds after we'd started – almost an hour longer than our initial time from eight-and-a-half years ago, and about two hours after our projected finish (based on our hot start).
I looked back over the Grand Canyon at the trail of despair, searching for the feeling of triumph that I'd had so many years ago. Instead of bursting pride or ebullient joy, I was just relieved to be done, grateful for a true, brave friend and a kind, strong husband, and glad to be going home.
More pictures can be found here.