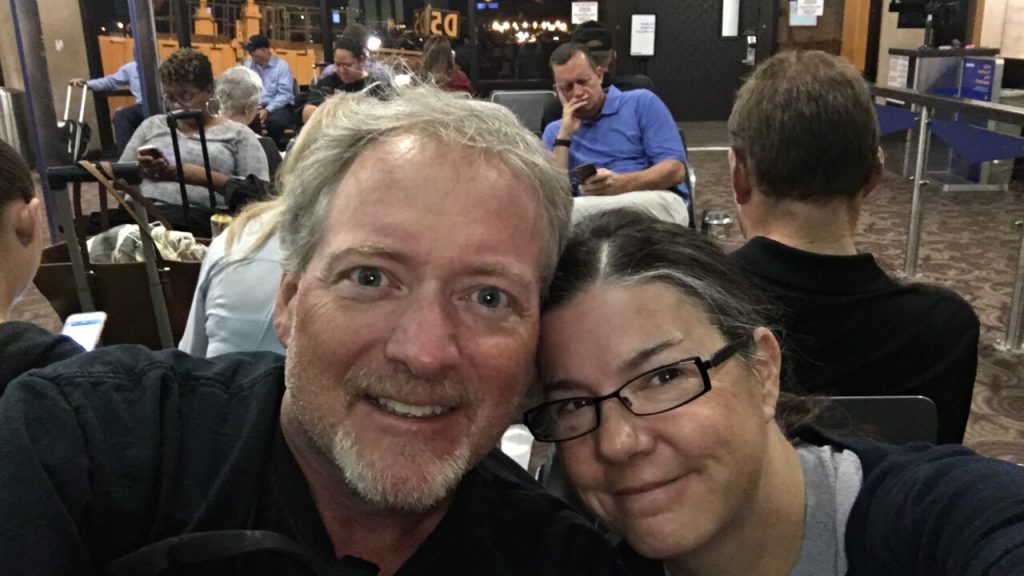 Today, September 3, 2017 is our 17th wedding anniversary.
Having seen and survived the Great American Eclipse and subsequent Great Apocalyptic Traffic Jam, I am reminded anew why there's no one else on earth that I'd rather spend my time with than Patrick Bertinelli.
So much so, that I was inspired to write a song about our recent adventure (see below).
But first, a recap: We decided at the last minute (37 days out) to witness the first total solar eclipse in the continental United States in 38 years. Based on factors ranging from our dog sitters being in Oregon for the eclipse to almost all airlines and routes being sold out (plus ridiculous hotel rates), we decided to take the path of adventure: First flight in, last flight out. Take the 5:30 AM to Salt Lake, arrive at 8:05 AM, grab our rental car, drive it like we stole it (which we did) for 217 miles to Idaho Falls, Idaho, and maybe, just maybe, arrive by the 11:33 totality. Then kill an afternoon in the Gem State and fly back to Phoenix on the 8:20 PM.
We agreed to pull off Interstate 15 wherever we could at 11:10, regardless of our bearing on the centerline. The threat of bottleneck traffic made it an adventure, and bonus round: I'd get to cross Idaho off the list of states I've visited.
At 11:10, a few miles north of Idaho Falls and well into the path of totality, we pulled onto a country road, drove about a mile, took a right and ended up in front of a freshly mown field, adjacent to three cows.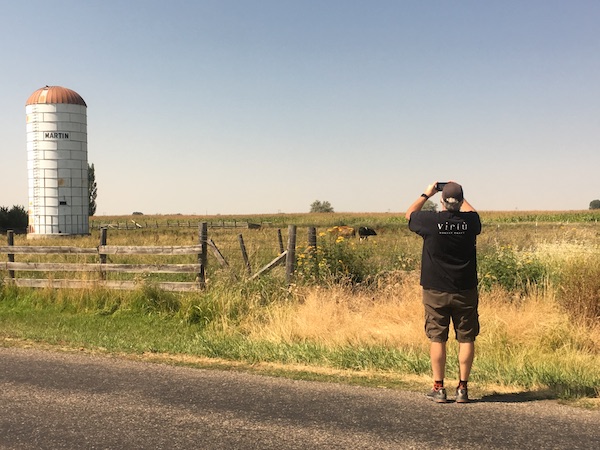 Patrick set up his cameras. We prepared to conduct our scientific observations, and we monitored the moon's progress across the sun with our special glasses… and then it happened: The moon blocked out the sun. The bucolic landscape descended into a dusky darkness. Stars sparkled the purple sky. Somewhere farmers and their families shouted and shot off firecrackers in the distance.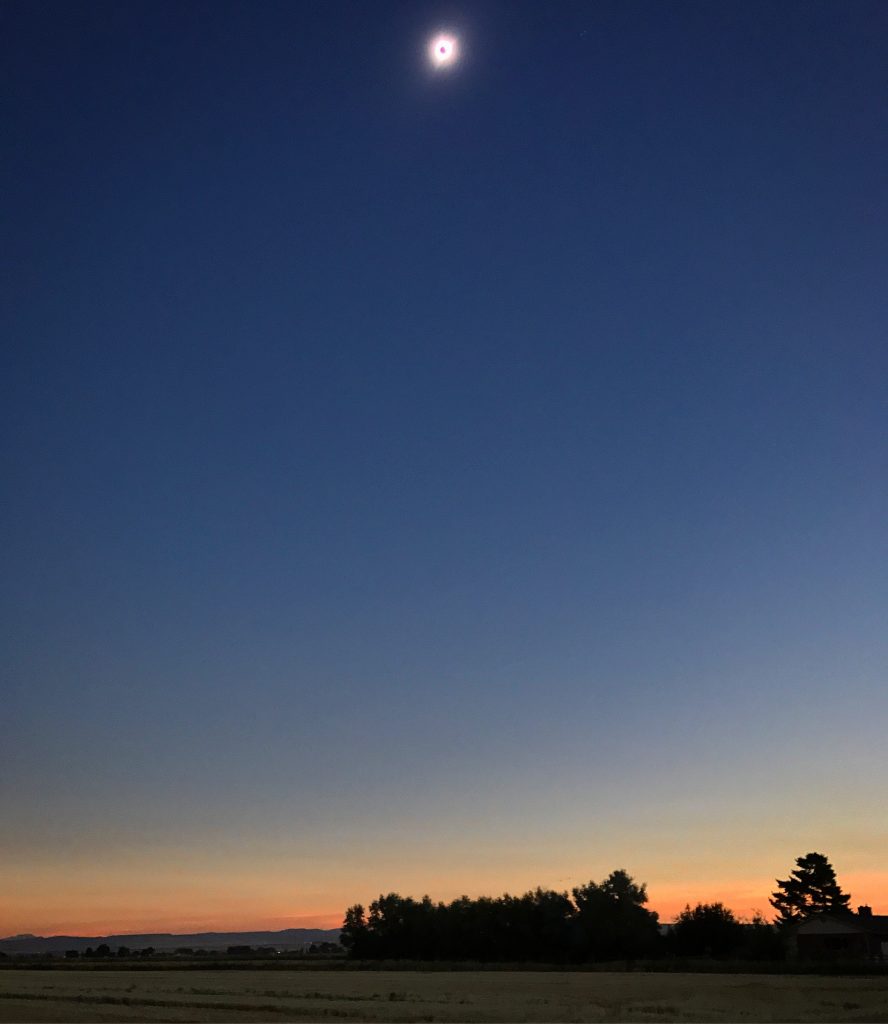 Staring gobsmacked at the silvery corona sending its tendrils around the moon, we cheered and embraced and laughed, trying to burn the memory of that magic two minutes on our brains. It was your first kiss, your first glimpse of the Grand Canyon, the birth of your first child… the thrill of all of the magical things we want to cling to and never can quite describe again: Seeing Pat when I walked with my Dad into the chapel with all our friends gathered around to celebrate our union.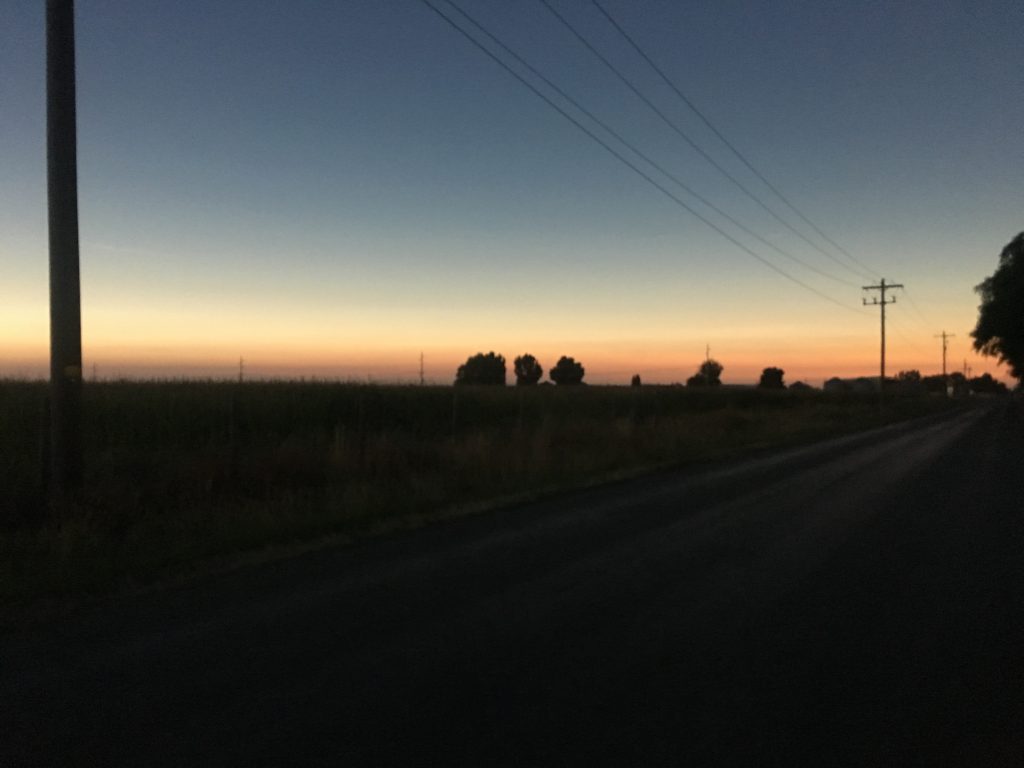 When it was over, we got back in the car with an empty afternoon before us. Three miles into our return, we hit traffic in Idaho Falls, spent an hour traversing four miles, and decided to wait out the rush by grabbing lunch. An hour later, we merged back into a six-hour line of bumper-to-bumper bound for Salt Lake City. The miles crawled by as did our hopes of making the return flight. Siri warned us of our dwindling estimated time of arrival — 6:18, 6:43, 7:12, 7:35, 8:02; 8:35. We canceled at 6 PM when we were still two-and-a-half-hours away.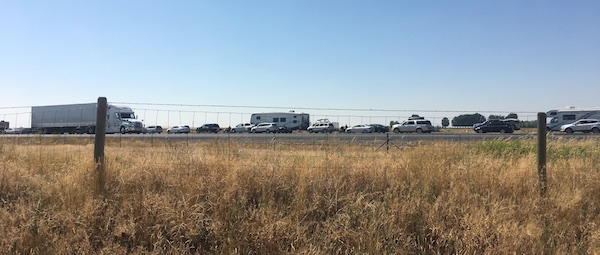 At 8:35, we rolled into the Luv's Travel Plaza to fill up. I bought two toothbrushes, a tube of Crest, two liters of water, and a six of Gooseneck IPA. Ten minutes later, we checked into the Mircotel at Salt Lake City International Airport. Exhausted from our seven-plus hour return trip, I didn't even finish my beer, but we did make the flight at 6:30 the next morning. Thank you, Southwest Airlines app.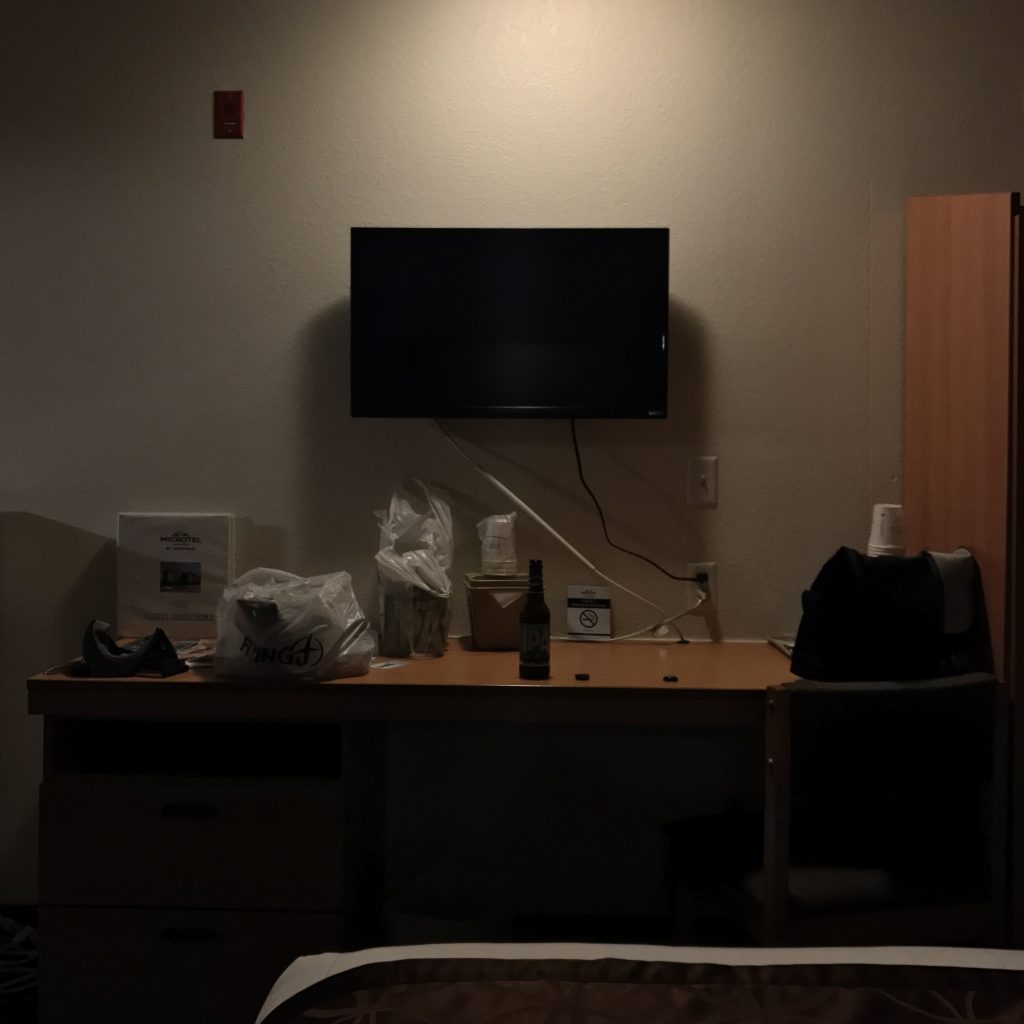 The state of Idaho has roughly 1.6 million people in it. Idaho Falls has about 64,000. The Idaho Division of Tourism Development estimated an additional 200,000 people traveled to Eastern Idaho for the eclipse… and they all decided to leave at one time.
The same thing happened to friends in South Carolina, Kentucky, Tennessee and Oregon. After the forced march back from Idaho, I have come to the conclusion that, in the event of an apocalypse (nuclear, zombie or otherwise), the majority of Americans will likely die in traffic because we are the worst drivers in the world (USE YOUR SIGNAL, BUDDY! TAKE YOUR FEET OFF THE GODDAM DASH, IDIOT! TAKE WATER WITH YOU WHENEVER YOU TRAVEL, MORON – oh, wait).
That said, there is no one that I'd rather be stuck in traffic with than Patrick Bertinelli.
And now, I have commemorated our adventure in song. Please enjoy:
We're So Vain (with mad respect and due apologies to Carly Simon)
We walked in to the airport
Like we were hunting a big eclipse.
Our map zeroed in on the centerline.
Our time, it was an ellipse…
We had one eye on the stopwatch, as
We watched the miles tick by
And all the while schemed
That we'd be there on time
We'd be there on time, and…
We're so vain.
Why did we think that we could just do it?
We're so vain.
We really thought that we could just see it.
Did we?
Did we?
Oh y'all made plans several years ago,
And we waited until too late.
Well, you booked your rooms and got your flights set,
While we dragged ass to the gate.
But we still forgot that traffic sucks,
And now we're all stuck here.
I had a dream there were clouds in the eclipse,
Clouds in the eclipse and
We're so vain.
We didn't think that gridlock could stop us.
We're so vain. (We're so vain!)
We sat all day in terrible traffic.
We did.
We did.
We wanted to take a short vacation,
Just out and back for some fun.
So we flew on Southwest and drove to Idaho Falls
To see the total eclipse of the sun
Well, we made it to the path on time
And when we left, we paused… on Highway 15
in stop-and-go traffic
stop-and-go traffic…
And… missed that plane
'Cause we were stuck in post-eclipse traffic
Missed that plane (that plane!)
And then we got to stay in a Salt Lake
No-Tell
Motel
No-Tell
Motel!
We're so vain.
Why did we think that we could just do it?
We're so vain.
We really thought that we could just see it.
Did we?
Did we?