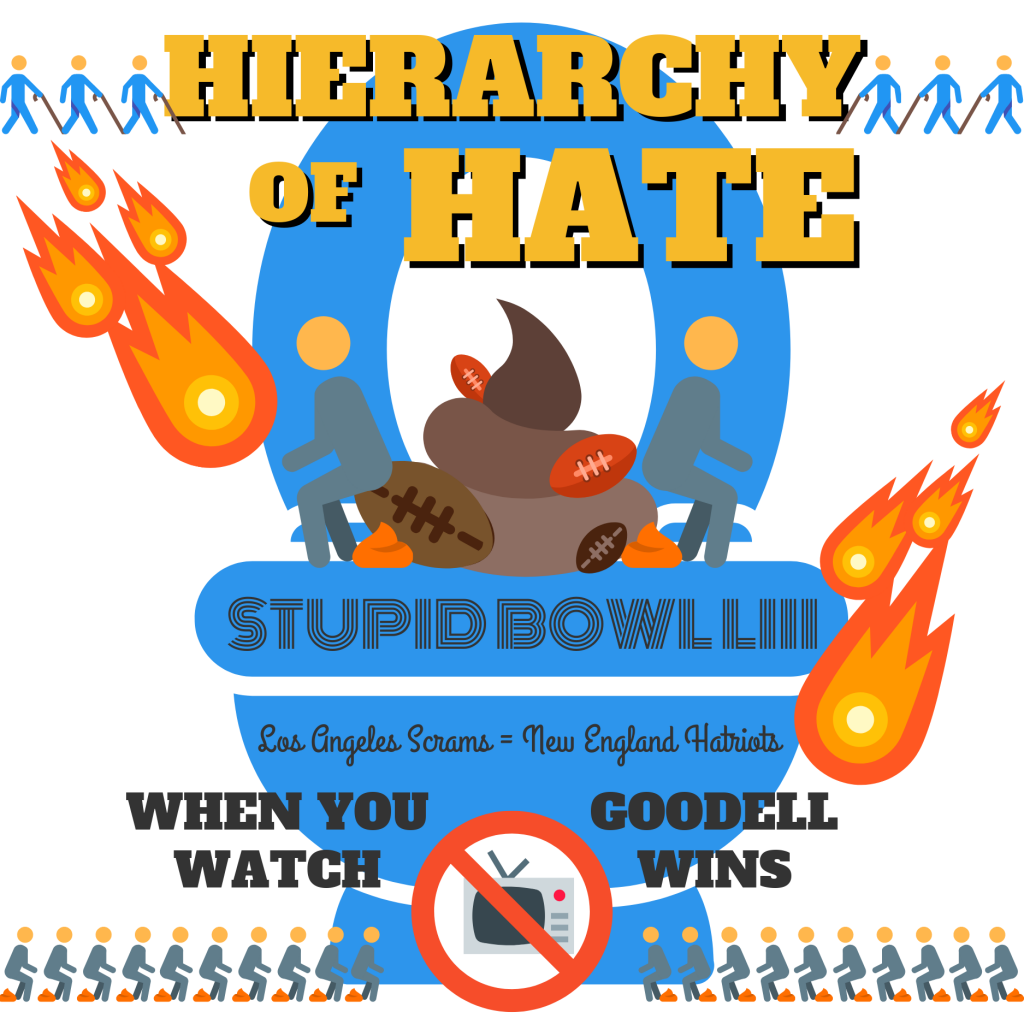 Today, we are boycotting the so-called (and trademarked) "Big Game" because we are fans of the egregiously wronged New Orleans Saints. If you were watching the previous two weeks of Stupid Bowl hype (we weren't), you'd think there'd be nothing to do on Sunday, February 3… but you'd be wrong. Here's what we're doing to pass the day without offering Goodelldermort one thin household rating point:
I'm going bra shopping. These girls can't support themselves, and they sure as hell aren't supporting Tom Shady, Bill Belicheater and the New England Hatriots or extremely handsome Sean McVey and his Los Angeles Scrams. I might look for something in black and gold.
We're going to eat Chinese food in a restaurant without a television. In Scottsdale, Flo's is having happy hour ALL. DAY. LONG. Look for us during our re-appropriated FOUR HOURS OF SADNESS AND ANGER as we drown our bitterness in extra spicy red curry, crab puffs and larb.
Speaking of eating, like true Louisianans, we are stuffing our rage down our food holes. We started this morning with waffles, bacon (natch) and mimosas (THANK GOD THE STUPID BOWL IS NO LONGER IN DRY JANUARY). Yesterday, Pat went to the store for provisions, which included two scratchers, a Powerball quickpick (net $24 profit!) a sack of gummy LifeSavers, a pint of Ben and Jerry's Peanut Butter Cup, a dozen wings, a frozen meat-lovers pizza and vodka. We also have two gallons of gumbo that we made and froze last weekend. And three more bottles of Champagne: Dry January is over, bitches.
I might do my taxes… and while doing so, I'll contemplate the fact that up until just five years ago, the NFHell was a nonprofit organization.
I will definitely do laundry… and even fold and put it away.
We would go outside and play, but it's raining in Scottsdale, so going to the deserted Waste Management Phoenix Open to Xerox the most glorious Stupid Bowl of our lives is outta the question, but I think our odds for a repeat would be excellent if we wanted to brave the rain.
We will likely binge-watch The Punisher and imagine the Lombardi Trophy at the end of that sledgehammer.
We will wear our unofficial Saints logo gear ALL. DAY. LONG. (Once we change out of our pajamas… It's 1:12 PM MST – 3 hours, 18 minutes to kickoff, as I'm writing this).
The good news is, YOU DON'T HAVE TO WATCH THE GAME. Goodelldermort doesn't care who wins as long as your eyeballs are weeping the sweet nectar of TV ratings points (Los Angeles, #2 television market in America… Hmm). So if you're conflicted and you can't figure out whom to hate, REMEMBER: WHEN YOU WATCH, GOODELL WINS. So how does a Fixer Upper marathon sound, America?