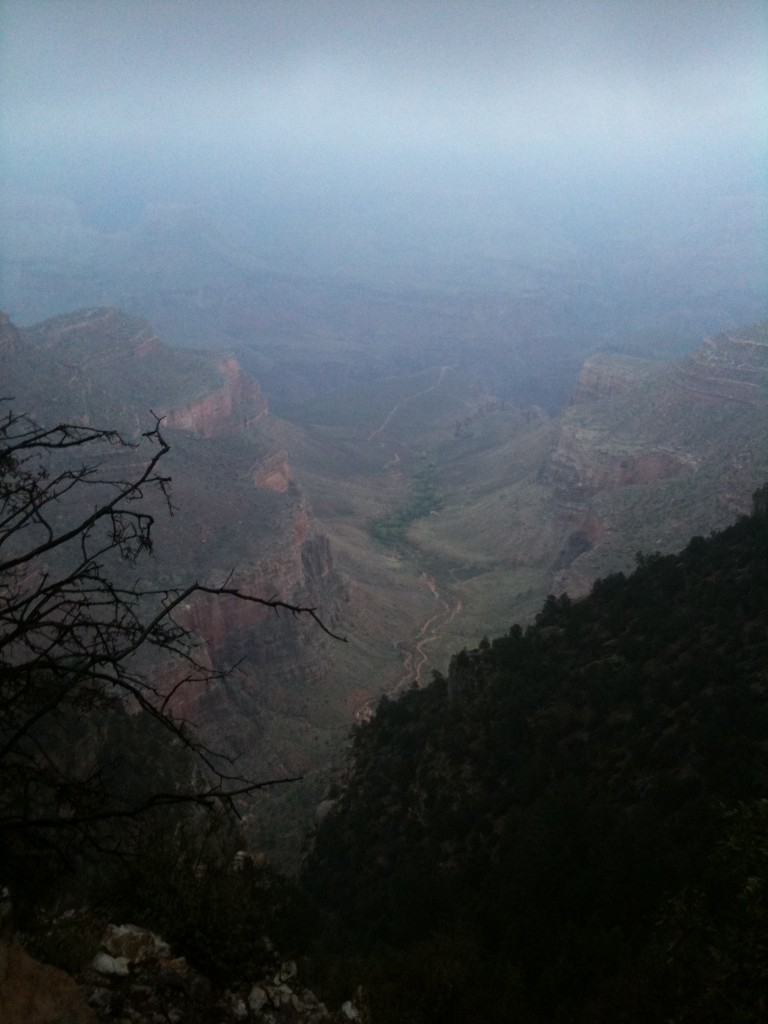 Feet, don't fail me on Friday… and while you're at it, keep my knees in line and my hips on the up-and-up. Oh, and the toes, watch out for the toes.
On Friday, May 16, I will be revisiting the site of one of the most triumphal and awful experiences of my life: The Grand Canyon, one of the Seven Natural Wonders of the World, and the place that resulted in my having to have both of my big toenails pulled out with surgical pliers (while I was awake and aware of what was going on).
The trip was to have celebrated the 10th anniversary of our initial crossing, but since I have done my best to wipe the memory of the Dreaded Toenail Incident from my brain, I miscalculated, and my intrepid partner Kellee and I are in fact doing the big traverse on the eight-and-a-halfth anniversary of the big event.
One way, one day.
Four words to describe about 22 miles, nine-or-so hours and 4,380 feet of climbing (after 5,761 feet of toenail-punishing descending). One way, one day.
You'd be surprised at the number of people in our world who lack a basic understanding of a) geography b) geometry and c) the earth's rotational period on its axis. Here is a typical exchange.
Me: "I'm doing Rim to Rim at the Grand Canyon, one way, one day, baby!"
Geographically Challenged Person: "Are you just going down to the bottom and coming back up?"
Me: "Um, no, I'm going from the North Rim to the South Rim – one way, one day."
Rotationally Period Challenged Person: "Are you going to camp at the bottom?"
Me: "Uh, no, we're doing it all in one day."
I can't tell you how many times I've had this conversation: WITH THE SAME PERSON. For those of you who are still a little confused on the geography, geometry and earth's rotational period on its axis, here's how it's all gonna go down:
Team Limoncello Sherpa Patrick Bertinelli is driving me and Kellee to the North Rim on Thursday, where we will spend the night in a quaint cabin. Coincidentally, May 15 is the first day that the North Rim is open for visitors after the winter break. Eight-and-a-half years ago, we set off on the last day that the North rim was open for visitors before the winter break.
Sunrise is 5:21 on Friday. We will step off (on Hullaballoo – WHOOP!) at 5:30 AM (and yes, I have the Aggie War Hymn on my iPhone – marching music is good for climbs). Temperature will be in the low 40s at the North Rim. We will walk down the North Kaibab Trail. We will eat and drink on the move. Around 10 AM, we will get to the bottom of the Canyon at Phantom Ranch to use their glorious flush-toilets and refill our Camelbaks. We will ascend Bright Angel Trail (I will likely complain). We will arrive at the South Rim around 3 PM, where Team Sherpa Patrick Bertinelli will be waiting for us with the Mobile Bartending UnitTM. We will have a cocktail and assess the damage.
Admittedly, by strict geometric standards, we are not going in a straight line because there are many switchbacks along the way: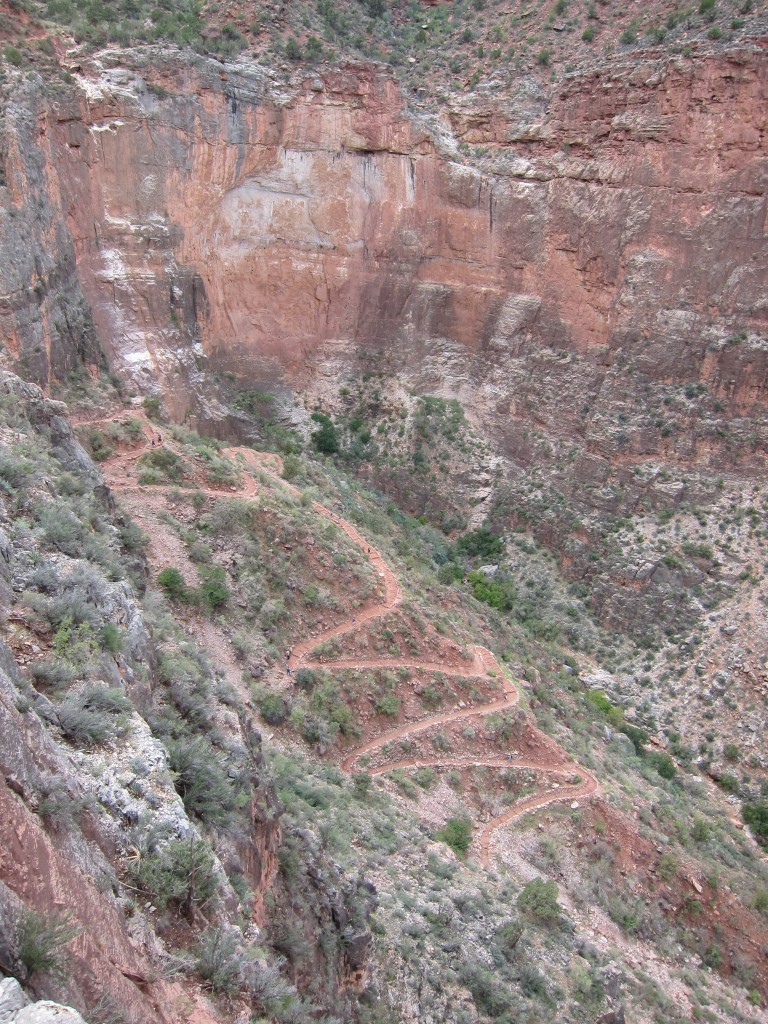 But we are going from the NORTH RIM… to the SOUTH RIM… which is uni-directional. We are not going back to the North Rim after we get to the South Rim because a) We have a Team Sherpa to pick our sorry asses up at the South Rim and b) ARE YOU OUT OF YOUR MIND? (but yes, people actually do this). For the record, the North Rim is at a higher elevation (approximately 8,500 feet) than the South Rim (roughly 6,850 feet) so technically we're going downhill the whole way.
And yes, I realize I am slow, but we intend to unlock this achievement in one day (hopefully about 9 hours). We will not be camping because a) Do you want to wake up on downhill-quadriceps and climb uphill out of a canyon? b) Do you want attempt this after attempting to sleep … on the ground and c) Uh, camping … well, it requires sleeping on the ground and schlepping a lot of gear, which would mean I probably wouldn't have room for my…
SOLAR-POWERED iPHONE BATTERY CHARGER, BITCHES!!!
Yes, I am taking my iPhone into the Grand Canyon… yes, I intend to talk the whole way in my loudest, most obnoxious cell-yell. Not really.
The iPhone and the Solar-Powered Battery Charger are actually coming along for safety reasons. We will be two girls hiking alone. The iPhone is equipped with GPS, but it only works for about 4 hours on a full battery, ergo, we need to recharge on-the-go since Pat wants to track our progress so he'll know when to rendezvous at the South Rim.
It's also good for him to geolocate us if he needs to call in the cavalry in case (knock wood) something goes wrong. Kellee and I will also have walkie-talkies because she walkies much faster than I, and I can't talkie when I'm walking uphill. So she can check my progress while she's waiting for me… and when I get to her, she can take off again. Lather. Rinse. Repeat.
Don't worry – this is how we crossed the Canyon the first time and we're still friends. Plus, she can't get too far ahead since I will have the battery charger… and the camera… and the navigation tools.
Speaking of navigation tools, if you'd like to track us through the Grand Canyon (and you have an Apple device) you can load Find Friends on your iPhone or your iPad.  Send me a friend invitation via my patandstacy email BEFORE THURSDAY, MAY 15. (If you are a friend, you know that address – if not, well, this is awkward… and it's probably best that you aren't able to geolocate me through my life – oh, and if you ARE a friend, I will be disabling your tracking after I get out of the Canyon because, well, boundaries, people). You also should be able to track me if you are an MVP member of MapMyRun – again, send me a friend request through their social media system so you can tune in to my epic adventure…
Suffice it to say, we are heading out at 5:30 AM Pacific and should be wrapping up around 3 PM Pacific. So, at the very least, I'll be another reason to shirk work on a Friday!