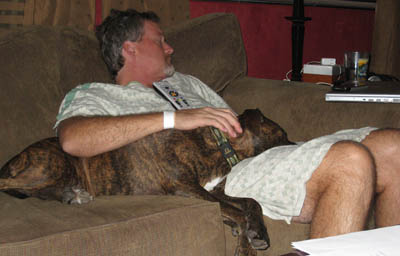 Sedated, plated and thoroughly elated, my sweet husband Pat is back in one piece now and snoozing on our couch in his freshly laundered hospital gown.
We showed up at the Gateway Chop Shop and Drive-Thru Surgi-Center this morning at 7, had a meaningful 45-minute visit with Dr. Evan "Rack-em/Stack-em" Lederman at 8 and made it back to the house by 10:30 AM. In the same time it took to put Pat's humpty-dumpty collarbone back together again, you could have driven from downtown Phoenix to north Peoria. That, my friends, is efficiency.
Here's Pat before the operation – you can't really see the bone fragment pushing against his skin, but at least the colors are pretty.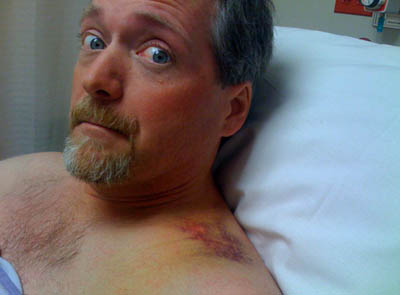 Highlights of Pat's visit: When his new best friend, the anesthesiologist, pushed the "happy meds," Pat told the assembled collarbone-correction team, "Well, it's been nice knowing y'all, I think I'll sign off" and promptly lost 45 minutes of his existence … Dr. Lederman let Pat keep the drill bits he used to plate and screw his three-piece left clavicle back together – not sure what Pat is going to use them for, but he'll have plenty of time to putter around the garage since he won't be back in fighting shape for another three months… Pat got a new blue hospital gown to add to his collection – he asked the nurse if he could keep it because he likes them for "home use" … We learned a new term for genitalia when we overheard the following from a nurse in the adjacent recovery cubby: "Now Mrs. X, Mrs. X – just lay back down. Pull that sheet up, OK? Don't show us your Britney. We don't want to see your Britney. Just cover back up, Mrs. X." Wondering if the male version is a "Federline." … The good news is that Pat is pretty much back in action now – he has three functioning limbs (four for my purposes) plus one flipper, and he should be back on his feet by Monday.
Here's Pat after the operation, when we were hoping the curtain didn't pull back to reveal Mrs. X's Britney. He wishes there was gin and ginger ale in that plastic cup – soon enough, my friend!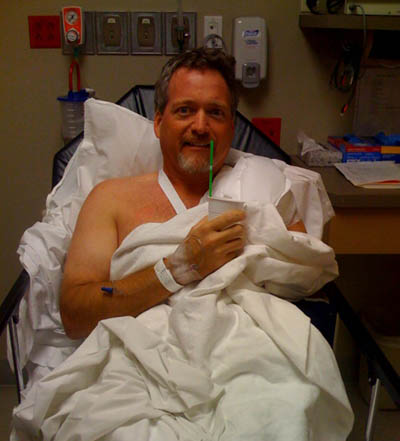 We left 10 minutes after I took that photo. So now we're back at the Pat and Stacy World Headquarters and he'll be laying low throughout the weekend. He has plenty of Percocets to keep him comfortably numb, and no, you can't have any – unless you decide to break your collarbone in three places, in which case, we have a drill bit, two hospital gowns and an aspiring pre-med student looking for some practice. Any takers?