My sweet husband tucked the front wheel of his motorcycle going into Turn 3 of the second lap of his third and final race on Sunday. Here's what happened next…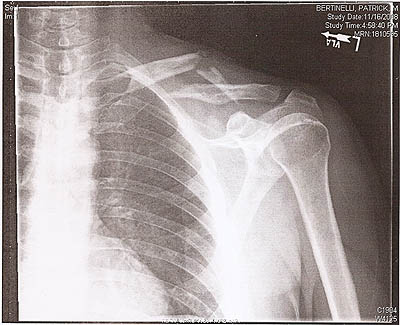 You may recall that Pat "disintegrated" his right rotator cuff in April 2005 when he did a cartwheel off the front of his bike going 90 miles per hour while practicing for another race. Fortunately this time around, it was the other shoulder, or to be medically accurate, his left-side clavicle aka collarbone aka THE MOST PAINFUL BREAK YOU CAN POSSIBLY HAVE BECAUSE THEY CAN'T PUT IT IN A CAST. And could you tell from the X-ray that he broke it in THREE PLACES?
Unfortunately I was not at the track to witness the spectacle – I left after the second race (third place) to come home and get ready for our neighborhood block party. After the 45-minute drive from the track with a 15-minute pitstop at the grocery store, I walked in the house to the dulcet sounds of a ringing telephone. You just can't leave this guy alone for that long without him finding some kinda trouble.
One of my fellow racing-wives Jan Bucher, who thankfully is a paramedic, was driving him to Scottsdale Healthcare at Thompson Peak – just minutes from our house, and might I add, the place I aspire to work when I grow up (see previous post: Bak 2 Skul).
Sadly, the nice folks at Scottsdale-Thompson Peak cut his T-shirt off, and while Pat was cool to go topless into the good night, the hospital staff didn't want to expose the general population to his man-boobs and graciously allowed Pat to wear his hospital gown home, thus touching off one of the most head-scratching fashion trends of the young millennium.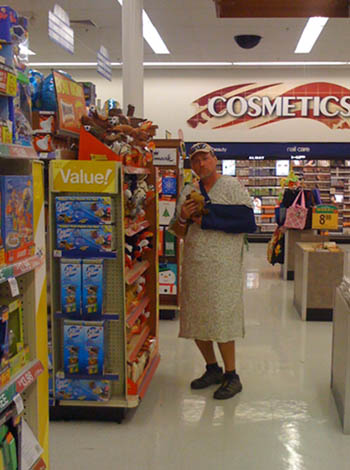 Yes, that would be my sweet husband, standing in Walgreen's wearing a hospital gown. I'd like to say that it's Pat's own way of showing THE MAN how he feels about shopping in a chain store but by the time we got there (next door to the hospital), the drive-thru pharmacy window was closed, and even after two shots of morphine, Pat needed the Percocets YESTERDAY so we had to swallow our indie-pride and go inside.
… and horrify our fellow shoppers. Walgreen's isn't the most happening place on a Sunday night, so you can imagine the panic incited in the denizens of North Scottsdale when they witnessed this spectacle.
"Did you escape?" one woman asked, as Pat one-armed his way through the bin of movie-size boxes of DOTS and Junior Mints.
Suffice it to say, we grabbed his (our) pills, two bottles of soda, a Pedi-Paws dog nail trimmer (as seen on TV – the cashier said it works) and a box of DOTS and beat a hasty retreat back to the Pat and Stacy World Headquarters. Here's why I want to work Scottsdale Healthcare Thompson Peak when I finish this adventure in 12-15 years: Floor to Door – 3 hours.
From the time Pat hit the floor (er, pavement) at Firebird Raceway around 3 PM, got driven 45 minutes to Scottsdale Healthcare Thompson Peak, got his x-rays, got his shots, got his walking papers and scandalized the Walgreens to the time we walked in the door of the Pat and Stacy World Headquarter was just about 3 hours. That has to be a world record. For those of you who have read House of God: This is how they move the meat – or, to put it more delicately, if you have an emergency, it might be worth the drive to North Scottsdale. As you can see, the folks are real friendly… or rather, tolerant: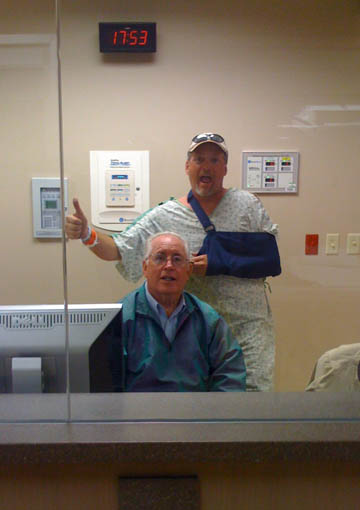 So here's the good news: Surgery is scheduled for Thursday morning, 8:15 with Dr. Evan "Thanks for the kitchen remodel" Lederman – who did Pat's other shoulder. Dr. Lederman was grateful that he landed on this one this time. Last time around, you may recall the good doctor offering this advice, "I can keep putting you back together, but every time, I'll have less to work with so keep that in mind when you get back on the bike."
Yeah, well, point taken. It's an outpatient surgery at the Gateway Chop Shop. They'll sedate him and plate him and he'll spend the rest of his days setting off airport alarms – "ask for titanium and carbon fiber!" Jan said.
I'll post the results when I get them – but first we'd like to take a moment to thank some really awesome folks who helped us out yesterday: Thank you Jan for taking Pat to the hospital and keeping him company. Thank you John Brooks and Ray and Suzie Thibedeau for picking up Pat's bike and hauling the it away from the track (the bike is in remarkably good condition – obviously Pat's collarbone took the worst of it). Thank you John Jewitt for sitting with Pat trackside while y'all waited for safe passage to the paddock. Thank you also to all of our racing friends and family at Road Race Southwest who have called with kind words and well wishes.
Most importantly, thanks to Pat's mom for not having a heart attack when she heard the news (actually she had one three weeks ago – so it's cool). Will keep you posted on the patient.