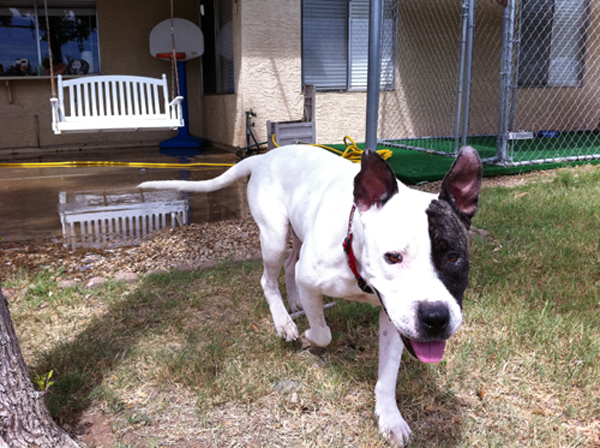 Great news: Our veterinarian Dr. Brown has given Dewey a clean bill of health. His eye infections are clear. His incisions have healed, and he doesn't seem to miss his missing testicles!
Epic news: Living with his Foster Mom 21.3 miles from the State Route 51 HOV lane, he's come light years from the bag of scraggly bones Pat saved from certain doom. He's put on 4 pounds and is beginning to understand that in the civilized world, we eat nutritious food (as opposed to rat carcasses), at regularly scheduled intervals (not catch as catch can) and out of clean bowls (instead of Dumpsters). If he had opposable thumbs, he'd probably know the difference between his salad fork and dessert spoon by now. Even more epic, Dr. Brown thinks he needs to gain only 5 more pounds before his spine disappears into his flanks and he is the picture of studly dogness (at a modest 65 pounds instead of our original maximum guestimate of 80 pounds).
Most Excellent News of Triumphant Awesomeness: You have not missed out on this exclusive opportunity to make Dewey a part of your family!
We've done the heavy lifting: Picking him up off the freeway at rush hour, paying the veterinarian to get him fixed and fixed up, introducing him to the joys of bath time, and teaching him that leashes can be incredible tools for exploring the non-ghetto universe. His foster Mom has done the hard part: showing him that love means never lifting your leg indoors (mostly), teaching him that toys are vehicles for joy and pleasure, encouraging him to embrace his new reality of living in a loving environment, free of violence and neglect and 55-mile-an-hour speed limits.
All YOU have to do is open your heart and your home to this awesome dog.
Check out these wonderful photos, and be sure to watch the Awesome Bath Time Movie – you'll laugh, you'll cry, you'll want to drag a towel into the middle of the yard and forget why you did it!
I've said it before and I'll say it again: He's not the right dog for everyone, but he is the right dog for someone. Could that someone be you or one of your friends? Find out by taking our simple quiz, which uses a scientific approach with 3 Dimensions of  Compatibility to determine lasting and fulfilling canine-human matches.
1) Would Dewey be the only pet in your home?
Dewey needs to be in a single-pet household where he can be the center of your pet universe. Up until August 26 at 5:15 PM, he spent his life just trying to survive, and now that he's safe and healthy, he doesn't need the difficult challenge of trying to adapt to another pet's turf. I've seen him react angrily around other dogs and hungrily around cats. Your pet does not need the added stress, and Dewey doesn't need the extra frustration – or the risk of being returned to a shelter or euthanized if something goes wrong. We tried to integrate him with our pets, and it didn't work – I don't hold it against him.
Think about it: You're hungry, tired and hot. Your eyes are swollen shut. You're sitting in the HOV lane of State Route 51 in rush hour traffic. I don't know how you got there, but your former owner didn't drop you off en route to accepting the Service Above Self Award from his Rotary Club. I think you've had enough trauma in your life for now. Don't you?
Maybe someday with good training and proper attention, he will respond differently to other animals, but right now Dewey needs to be an only-pet.
2) Would you like to shed those last 5-10 unwanted pounds?
The Dynamic Dewey Weight Loss System™ will ensure that you get up off the couch and into your skinny jeans. Obey this ONE SIMPLE RULE, and you and Dewey will be on your way to fit and fulfilling physiques: Take him for a walk every day. Can you do that?
Now that he's getting up to full strength, Dewey needs daily exercise to focus his energy. His Foster Mom has a health condition that prohibits her from taking him for walks, so unfortunately Dewey cannot stay with her. If you already have an established fitness routine, wouldn't you welcome a four-legged friend to joyfully join you on your jogs, possibly increasing your pace and definitely warding off unwanted attention from those with nefarious intentions? If you don't have an established fitness routine beyond regular 12-ounce curls, don't you want to see your toes again? Dewey doesn't need a sprawling back-40 to patrol – a patio home would likely do, if you could walk him every day and give him consistent exercise, discipline and affection. And really, when was the last time your beer gut fit inside your pants instead of over-topping them?
3) Can you open your heart to a pit bull?
Yes, Dewey is a pit bull. I will not debate the merits of the breed with you because I already have one. I have had well-meaning people react with horror that my husband stepped into traffic on the freeway to save a "vicious killing machine." My response to them is this: Should we have just kept driving until we found a Bichon Frise in the I-17 slow lane?
Let me put it another way: If I come across a Latino child bleeding, crying and alone on the sidewalk, would you have me cross the street to avoid him because he might be an illegal immigrant?
Spare me. If you don't like pits, please stop reading this and go back to your life. If you love all God's creatures and want to help one that is desperate need of a new home, help me find him one, and please send this link to your friends or call me at 602-751-4506, email me at stacy@patandstacy.com or find me on facebook. We'll schedule some time for you to meet Dewey face to snout and see if you will develop a lasting relationship through our 3 Dimensions of Compatibility.
But wait! There's more! If you act now and welcome Dewey as a part of your family, you'll receive four free sessions of one-on-one training with animal behaviorist Brad Jaffe of Team Canine – a $425 value! We've done the heavy lifting. His foster mom has done the hard work. Dewey is healthy, happy and hankering for a home – all you need to do is open your heart and bring his sweet-lovin' on home to you! Are you ready?