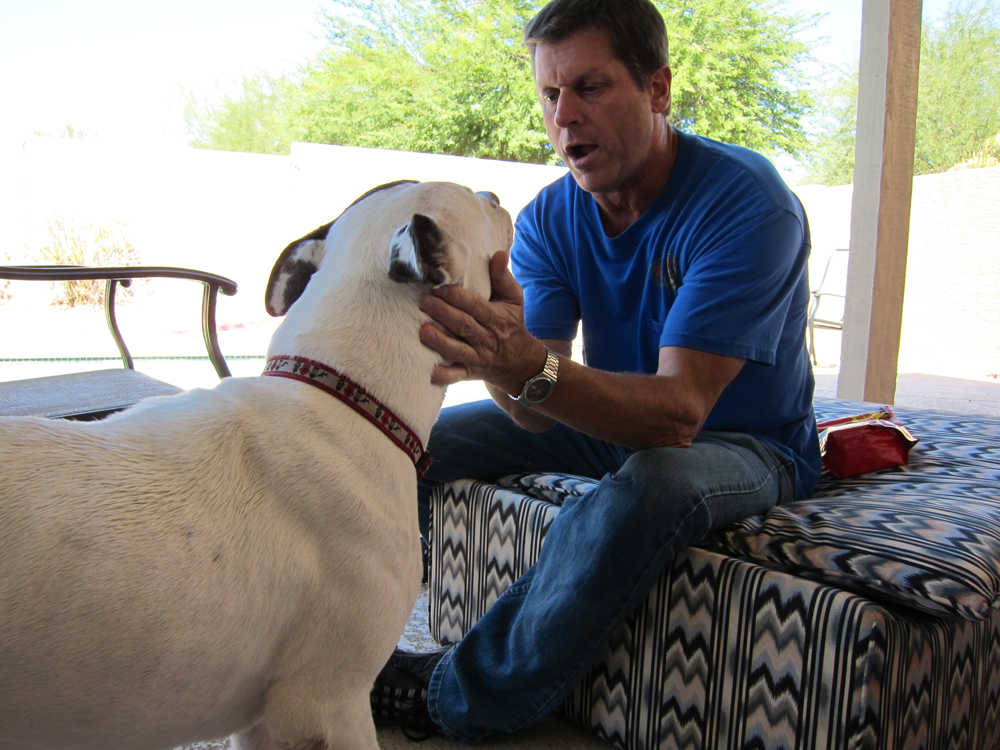 If the best revenge is living well, Dewey will soon be featured on Lifestyles of the Rich and Canine.
Actually he's in Ahwatukee, but I can assure you he doesn't know the difference: His Forever Home with his new Dad Kerry beats the carpool lane of State Route 51 by about 16 miles.
He has a swimming pool, a big yard, his very own doggie door, plush parks within walking distance, a nearby duck pond and most importantly, a man who loves him and is committed to giving him a good life.
Kerry is a motorcycle racer. We met him last week at the CCS Southwest Race Series at Firebird International Raceway in Phoenix. Since we had adopted our Winslow from a racer foster-family, I figured we could search among the pits to find some pit-loving souls to take this one in. Unfortunately, as I was trotting our four-legged ambassador of love around, I kept meeting folks who already had one or two or three well-trained dogs at home. Sigh. I gave them my card and told them that we were looking for a good home for Dewey and to please let me or Pat know if any of their friends might be interested. We went back to Pat's tent to sit in front of the air-cooler and plan our next steps.
Here's a photo album of Dewey at work at the Race Track – he helped Pat with his motorcycle repairs, made good use of the air-cooler, and so thoroughly wore himself out that he slept all the way home.
We were about to leave when Kerry came over to our tent and asked about Dewey – he'd seen us while we were out walking and commented to a friend on what a great-looking dog Dewey was. His friend told him that we were trying to find a home for the pup we'd found on the freeway. Kerry sat down in a lawn chair and Dewey walked over to say 'HOWDY!'
The violins swelled. The lighting softened. Bellies were scratched. Faces were licked. Kittens and puppies lived together in harmony. OK, not really – but close: Kerry had to check with his roommates, and Aunt Lori needed to meet him since she had earned a veto by virtue of being his foster mom for the past three weeks. We agreed to a house visit the following Saturday.
During the valedictory week, Dewey made one last visit to Dr. Brown at Scottsdale Ranch Animal Hospital for his final round of shots. The vet techs cheered that Dewey was finally going to a forever home – he'd spent two weeks in their kennels, so they'd gotten to know him pretty well (It probably didn't hurt that we took a box of Urban Cookies as a Thank You gift). Dr. Brown gave me pause when he said that before we'd stopped the car, Dewey's life expectancy was probably measured in hours: He would likely have been hit by a car – and if he'd managed to survive a collision, someone would have taken him to a shelter where he probably would have been euthanized. If he'd even managed to make it back across the freeway to safety, it was a matter of time before he would have starved to death.
"I'm sure gonna miss him," Dr. Brown said. "He's such a great dog – just so happy and so friendly. He's going to be a great pet and he's going to make someone very happy."
After our visit to Dr. Brown's, I participated in Take Your Dog to Work Day and brought him to my office at Market Enginuity. I'm fortunate that I work for awesome dog-loving people – so much so that my sales manager, Nancy Mitchell, is on the board of the Friends of Animal Care and Control, which provides spay / neuter support services for our county animal shelter. Dewey spent the afternoon being petted and loved on by my co-workers while I wrapped up work. After a late-afternoon hike in the Phoenix Mountain preserve – chipmunks, anyone? – we headed back to Aunt Lori's house, where we talked through our expectations for our visit with Kerry:
1) Dewey has to like Kerry and the roommates
2) We all have to like Kerry
3) We all have to like the roommates
4) Must take him for walks and give him exercise every day
5) Hopefully agrees to keep Dewey with Dr. Brown, for continuity of care
6) Hopefully agrees to training with Brad at Team Canine (since we're paying for it!)
In the words of Dog Whisperer Cesar Millan, we migrated as a pack to Kerry's house. Pat drove. Dewey called shotgun. I sat in the back with all of Dewey's gear (toys, treats, bed, the bath-time towel, the dreaded crate). Aunt Lori followed behind in her car. We got to Kerry's house (nice neighborhood, lots of parks – oh, look! a duck pond – winged treats!) and Kerry walked us in through the gauntlet of motorcycles in the garage. Dewey did not lift his leg on any bikes (WHEW!), though I believe I saw some drool in the corner of Pat's mouth. We went into the backyard, where Rodeo Dog made his debut.
So much to see, so much to sniff, and what the hell is this big water bowl doing in the middle of this yard? Dewey ran "hot laps" around the backyard, jumping over the rafts and the legs of unwitting roommates, threading through the patio furniture, pausing to say, "HI!" and steal a quick pet, and then back around again. He slid into the swimming pool on his own, figuring out the steps as a good entry point. Then he slipped off the first step and FELL IN, swimming immediately to the side, where Kerry rushed to guide our own melon-headed version of Michael Phelps back to the steps for his exit. If you thought that might have slowed him down, you would be wrong.
"I played with him a lot this morning – tossed the ball and his rope toy – but he took a nap before we left, and I don't think he sleeps as much as he recharges," Aunt Lori explained.
He figured out the doggie door, both in-bound and out-bound, within seconds. After about an hour, he calmed down enough to lay on the patio while we had the adult discussion. Dewey is a handful, and at any time, if Kerry felt overwhelmed, all he needed to do was call us and we'd take him back no questions asked. Kerry said he'd like to keep taking Dewey to Dr. Brown as his veterinarian, and he wanted to go through the puppy training with Brad. He asked for Lori's phone number so he could call her if he had any questions, since she's spent the most time with Dewey.
And about that name: Kerry will likely change it. He's naturally fallen in to saying, "Hey Buddy!" when Dewey nuzzles him, so Bud-Racer will likely be his new name! At the end of the day, it's for Kerry to decide. Dewey answers to Knucklehead, Meathead, Chucklehead, Big-D, Little-D, Tractor-Trailer, Pup-pup, Melonhead, Mr. Mister, Lover, Stinky, Snorty and Rodeo Dog, among others, and Buddy is definitely a step up from Stinky.
We realized that we'd left 20 pounds of dog food at Lori's house, so Pat and I agreed to run to the store and give Kerry and the Dog Formerly Known As Dewey some alone time. We walked Lori to her car, and we agreed that we'd found a fine home for our four-legged friend. Our eyes were a little misty, but we all had smiles on our faces. At the store, we had a tag engraved with Kerry's name and phone number, since that was the one thing that had always been missing from Dewey's collar: A place to call home.
Here's our photo album of Dewey's final week with Aunt Lori and his introduction to Kerry and his Forever Home – complete with awesome GPS navigation video.
Thank you to everyone who has helped us these past few weeks – Aunt Lori, Cousin Trey, Dr. Brown and the whole team at Scottsdale Ranch Animal Hospital, Brad Jaffe at Team Canine, Aunt Nancy at Market Enginuity, and everyone who sent out an email or posted on facebook or tacked up a sign on your office bulletin boards. This is how dogs like Dewey find forever homes.