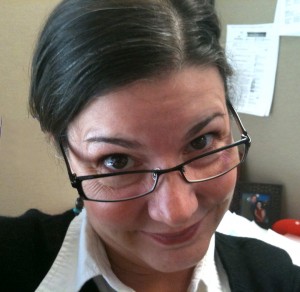 Today I am 39 – entering the final year of my fourth decade – and I'm falling apart. It's enough to have the antenna-field of gray sprouting from my noggin, but now I'm faced with a life-altering diagnosis: Shortness of Arms.
So I'm rocking the prescriptive eyewear for the official affliction of Presbyopia. I thought it only happened to Presbyterians, but apparently it strikes lapsed Methodists as well. The heartbreak of farsightedness, caused by loss of elasticity in the eye with onset in middle age, knows no religious bounds. It strikes with random fury. Now I'm wondering what other parts may fail before the 40-year warranty expires.
Actually, 39 is a cool birthday – not as momentous as most of the decade-markers, but beating all the speed-limit birthdays ending in 5 and coming in a close third or fourth to 21 and 18. 39 beats 20, but shares with it the thrill of anticipation: There's something cool to look forward to next year – the big 40-ounce year of awesomeness.
I revel in 39ness – as 38 carried with it no cachet – it was just another number, a milepost on the highway of age. 39 is the product of two prime numbers and it is the reverse of my anniversary date 9/3, as well as the reverse of my Texas A&M graduation class '93 and Pat's racing number #93. 39 is also the last exit before the Year of Reckoning. 39 is the year where I say, " Well, I only have 365 days to achieve everything I said I was going to do before I turned 40 – TIME TO GET BUSY!"
So among those things still on the list…
1) Finish the SECOND novel. I have written one – wrote a beginning, middle and end about Texas high school football. I enjoyed the process of writing it, but when I was done, I didn't want to revise it. I'd closed that chapter on my life and didn't want to revisit it. They say "Write about what you know." When I started it in 1999, I knew a lot about football – still do – and knew still more about wacky Texas personalities, but now I know different things and I've been dithering around with a little work of science fiction. I'm about halfway through and I have major motivation: My friends Penny and Toni are joining me on a Year of Creativity. We will each create something artistic and big while we're 39. So I'd better get busy.
2) Lose that last 15 pounds again. Looking at the next decade, I know my metabolism is headed for a downfall – my eyes were the first to go – as my overall health becomes much more important (and likely harder) to maintain. I can survey a 20-year landscape of discarded beer, wine and vodka bottles… flecked with bacon grease and buttercream frosting… as scattered bags of pepper jerky, Skittles and Cool Ranch Doritos cartwheel past. I have not been so kind to my body – it's been a lot of fun – but it's time to moderate, and at least be able to put on my clothes without looking like "that woman who's trying to be that girl that looks like a slutty sausage casing in that dress." Along with losing that last 15 pounds, I also want to bench-press my weight this year – which will be easier if I'm 15 pounds lighter, but also entails my having to start lifting weights.
3) Go to see my city of birth. Pat's got this one, along with my Mom and Dad and hopefully my Seester. I was born in Stuttgart, Germany when my Dad was in the Army. I'm looking forward to seeing the place where I started to terrorize this world, where it all began, so to speak. And it'll be great to have Mom and Dad as tour-guides, since it would not have all begun without their being there in the beginning. While I'm at it, I might see about getting an EU passport.
4) Undertake some fabulous athletic endeavor. I do this every year – and I have run a marathon, biked a century and completed two triathlons solo – but I'm not sure yet what this endeavor will entail. Likely another Rim to Rim adventure. I do know I'll do the Marine Corps Mud Run again, and I do want to run a sub-30-minute 5K, which involves running sub-10-minute miles. I realize that my expectations on that front seem quite low, but I've never claimed to be an athlete: A coworker, puzzled by my participation in what he considered "extreme" sports, asked if I were really fit or just tough – and I replied: Just stubborn. I think being able to run a 5K in less than 30 minutes would be a measure of fitness that I can achieve. I don't want to be the fastest person in the race, but I would like to be more than the fastest retired sportswriter in my age group, or in the case of my most recent triathlon, the third-place finisher in my weight class.
So these are the major themes of my 39th season. I haven't figured out what I want to do with school yet, and that's OK, because if I've learned anything in my 39 years on this earth, it's that all we really have is time – and the difference is what we make of it.