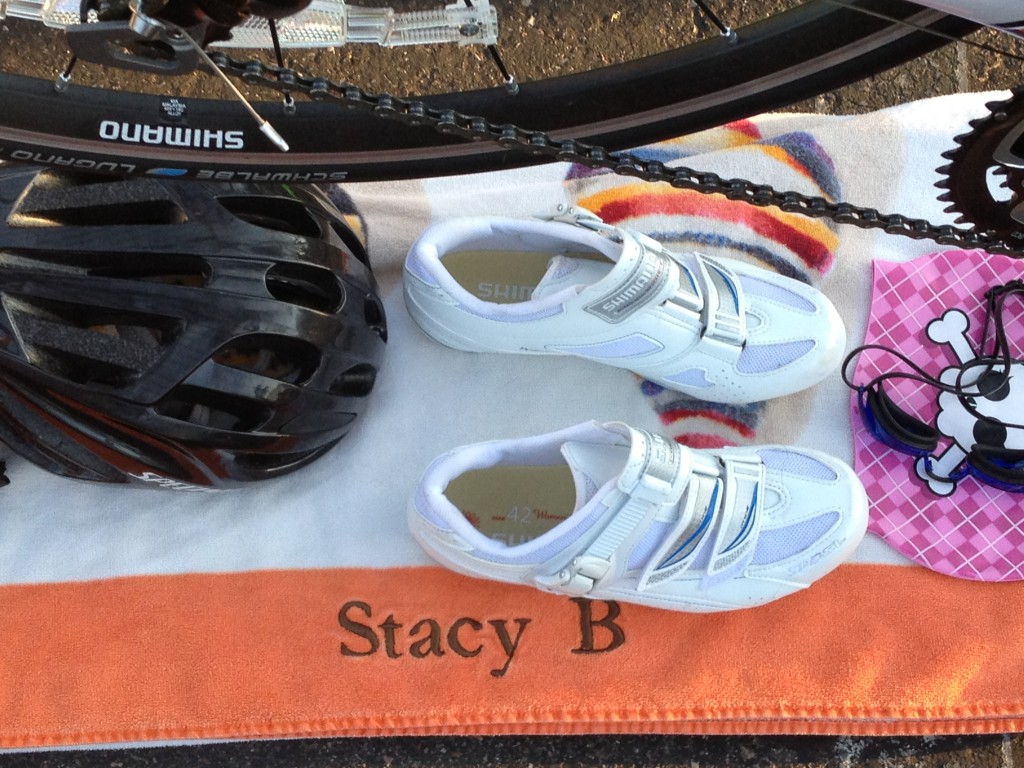 IIIIIIII AM THE FASTEST, MY FRIENDS!!!!
'CAUSE I KEPT ON TRYING… TILL THE END!
I AM THE FASTEST! I AM THE FASTEST!
NO TIME FOR LOSERS 'CAUSE I AM THE FASTEST…
… of the fattest!
Actually, not quite the fastest (and definitely not THE fattest) – I was only the silver medalist in the Athena Division for the Anthem Sprint Triathlon today, finishing the 5-kilometer run, 20-kilometer bike and 400-meter swim in 1 hour, 41 minutes, 25 seconds.
I was just 50 seconds off the gold medal, but given that this is the first medal I have ever won when other people (15 of them, actually) finished (or did not finish) behind me, I value this silver medal as much as I would a gold medal. Suffice it to say, on any other day, I'm proud to make the Top 10… because I usually finish 10th of 10.
But not today! No, today I finished in second place for my weight class in my first solo triathlon in six (6!) years, and at the ripe old age of 40 (or 41 in triathlon years), I was 4 minutes faster than I was six years ago. I guess this means all my training is starting to pay off – and by training, I mean training table. For those of you not familiar with the storied sport of triathlon, the Athena Division is reserved for women who weigh more than 150 pounds.
This morning, after a night of homemade beef burritos, I tipped the scale at 164.8 pounds. This is probably NOT something I should be proud of … but I have a medal, bitches! Actually, I would have a medal… if we had decided to stay for the awards ceremony, whereupon I could have ascended the podium for the FIRST… TIME… EVER… But I don't know if they let the Athenas climb up on the podium, because frankly it looked kind of flimsy… and it was was hot, and I'd been exercising for almost two hours, and I had no inkling of any idea that I'd even be close to the podium since I never win anything, and we decided we didn't want to wait around to find out with all the glistening hard bodies snacking on watermelon, bananas and Muscle Milk, especially when there was Bacon of Victory back in our air-conditioned home. So we skipped the awards ceremony.
WORST… DECISION… EVER…
Now I know what you're thinking: "Really, Stacy? You're competing against the big girls in a sprint triathlon… when you're already a One-Sixth Ironman as well as being a Bad-Ass Bitch over the Olympic Distance – which is two times farther than a sprint distance? Shouldn't you be competing against people your own age (41 in triathlon years). Don't you think you're sand-bagging it, just a little?"
Actually, no. Just 6 minutes separated the top five women in my weight class… For my age group (40-45), I would have finished fifth of seven – 27 minutes (!) out of first place and 9 minutes off the podium. So I'd say I was pretty competitive within my weight class … but don't take my word for it. Just ask my husband, Pat, who could have qualified for the Clydesdale division (men over 200 pounds), if he'd actually signed up for the race.
Let's look back a few weeks ago to the Games of the XXX Summer Olympiad. It was a quiet evening in the Bertinelli household. We were watching tape-delayed swimming, because even though we already knew the outcome, watching tape-delayed swimming on TV qualified as triathlon training, especially since we were enjoying tasty snacks while we sat on the couch.
"Damn – they're swimming 100 meters per minute and they don't even look like they're trying," Pat observed.
"I know – they're so flippin' fast," I said, shoveling another handful of almonds into my gaping maw. "I was swimming 100 meters on a 2-minute, 15-second interval today."
"Yeah, but you're just out there having fun…"
"No, I was actually trying. I was swimming as hard as I could."
Pat clicked rewind on the TiVO – Missy Franklin sliced through the water like a shark, and even going backward, she looked faster than me.
"Oh… OK… well, at least you're trying. I'm proud of you for trying."
I am half as fast as any of the Olympic swimmers. Check that: I'M TWICE AS SLOW. Half as fast implies that I am fast. In this instance, twice as slow should in no way connote that Olympic swimmers are, in fact, slow.
The fact is, at my next triathlon, I will be out of my mind with joy if I finish my 750-meter open-water swim in the world record time for the women's 1,500 meters (15:42.51). This consistency spans all three disciplines: The women's world record for the 5k run is 14:11.15… and my personal best is 32:26.7. When Kristin Armstrong won the Olympic Gold Medal in the Women's Time Trial (29.0 km), she averaged 28.748 miles per hour. Since I've been training for my 20k ride in the sprint triathlon, my personal-best average speed is… wait for it… 14.0 miles per hour!
Nicola Spirig of Switzerland won the gold medal for Olympic triathlon in 1:59:48 – and I was only 14-minutes-and-change off her time… except that she went TWICE AS FAR as I did.
At the Anthem Sprint Triathlon (which is a reverse triathlon – run then bike then swim – because it is held in AUGUST in PHOENIX), the fastest woman completed the course in 1:07:13 – meaning my time of 1:41:25 earned me 54th of 100 overall… which is about what I predicted: Midfield. My swim time of 10:42 put me in the top third; my 54:39 bike put me in the top 40%; and my 36:04 run was, well, slower than the fastest man on the bike (34:26). So clearly, I have some room for improvement on the run, which is not anything I didn't already know.
So yeah, I think that a silver medal in my weight class is something to be proud of. I am training harder than I ever have before – and not just at the training table – but I cannot seem to be able to overcome this innate aversion to speed (nor can I manage to shake the 15 pounds that keep me in the Athena Division). Perhaps if I had started training when I was younger, back when I had a core instead of an apple, I would have progressed to swimming, biking and running with more alacrity. I coulda been a contender… or not. If only competitive beer-drinking were an Olympic event…
Instead, I will make the most of my athletic talents (or lack thereof) and embrace the hand that fate has dealt me. I will strive to be the fastest of the fattest and ascend the shaky podium with a shiny gold medal. I will be proud to be an Athena who loves to ride a Clydesdale.