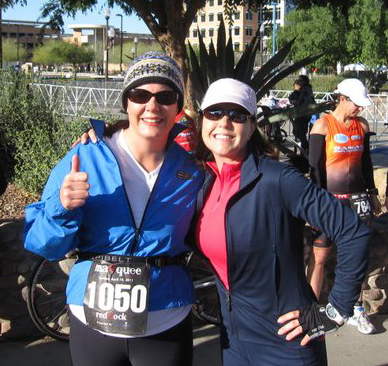 The sun warmed the bones of a chilly morning, awakening Tempe Town Lake with glittery anticipation, the water as smooth as concrete.
One thousand bicycles stood sentinel on their racks, ready to roll. Shoes laced, sunscreen slathered, heart-rate monitors beeping to life: It was race day – the inaugural Marquee Triathlon – and the slow-but-fierce Bad@ss Bitche$ were ready to rhumba.
The culmination of three months' worth of training, the Olympic relay consists of a 1,500-meter open-water swim, 25-mile bike and 10k-run. After swimming tsunami-churned surf, chasing snakes in a lake, overcoming gastric disaster at the Splash N Dash and becoming one with the wetsuit, I, the designated swimmer, said, "Bring it on!"
I was ready.
Unfortunately, Tempe Town Lake was not. Less than 24 hours before the starting gun, city health officials shut down the lake for fear of E.coli contamination.
It wasn't me! I swear!
Over the course of the previous day, Tempe had received about 3% of its average annual rainfall. I was unfazed by this development because I was going to be ensconced in my wetsuit, unlike my unfortunate teammate Kristi who would be dodging rain-bullets with only thin rubber tires to keep her safe on the oily streets. Apparently, the same precipitation that had us fashioning a bicycle condom out of plastic wrap also precipitates untold amounts of upstream animal defecation, because it is this exact measure of rainfall that mandates closing the lake for possible E.coli contamination. It's not that the E.coli fell from the sky like Fukushima Daiichi radiation; it's that unseen animals may or may not have pooped when confronted with the vast amounts of rain, and their unknown upstream feces may or may not have overtopped the disaster-prone dam, but it also may or may not have flooded into storm drains that dump into this man-made lake, which may or may not have contaminated my 1,500-meter swim.
In other words, no fun for anyone until they can complete the necessary lab tests and ward off potential lawsuits.
Which meant our Olympic triathlon would now be a duathlon: 5K Run / 25-Mile Bike / 10K Run – and my 1,500 open-water adventure was now going to be a 3-mile death-march. As I told Kristi: "I know you didn't have your heart set on finishing in the top 95 percent with me as your swimmer, but with me as your lead runner, you may want to manage your expectations even further downward."
But with me doing the asphalt backstroke and Kristi absolutely killing it on the bike and anchor run, we finished in 9th place overall in the Olympic relay with a cumulative 3 hours, 2 minutes, 33.3 seconds!
Granted, there were only 10 teams in the Olympic relay – one of which did not finish – but it's still a slow-but-fierce Top 10! Not only that, we exceeded Kristi's expectations – finishing in the top 90 percent!
Even better, my epic swim set an all-time personal best for a 5K run: 32:26.7 – which, ironically, is my best-time for 1,500 meters in the pool. So basically, we did better than we would have had I not been swimming on asphalt and instead had been splashing and thrashing in animal excrement.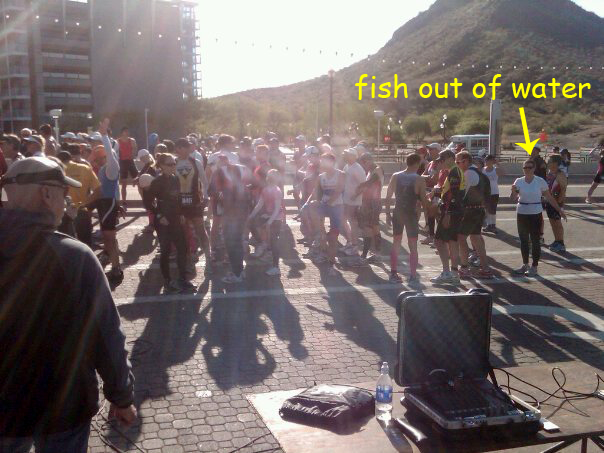 That said, I was bummed that I didn't get to swim. A rainy day in Arizona is like a snow day in Louisiana. We run around outside catching raindrops on our tongues like giddy little children, while motorists forget everything they ever learned in driver's education. And so it was on my pre-race Saturday: I spent the rainy morning petting my wetsuit and packing my swim bag with my best goggles and my pink skull-n-crossbones swim cap, fluffing my favorite beach towel and selecting just the right mix of protein, carbs and fats for my pre-race breakfast. I would meet Kristi for the team check-in around noon, and I'd even pulled our garden tarp and rope from the shed so we could build a little rain shelter for her bike, as it would have to spend the cold, wet evening outdoors in the transition area, whilst we were at home snuggled in our beds with the windows open, listening to the gentle raindrops tapping on our rooftops. I was just about to get in the car when my iPhone happily signaled an incoming text:
Kristi: Hey there! Ummmmm… they r saying it's a du now.  🙁   Not sure the details. It's on their fb.
Me: You've got to be kidding me.
Kristi: Something about rain and ecoli… Sounds like u get to do a 5k! lol
WTF?!?
The 30-minute drive to Tempe in the rain reminded me of my 36-minutes in hell at the Splash N Dash the week before. Stupid 5K. Swimming for three months. Haven't run in a week. They're worried about E.coli? I'm the one with gangrene on my leg! Bunch of wimps. Stupid 5K. Stupid runners. Stupid threat of lawsuits. I hate triathlons. I hate swimming. I hate running. Stupid 5Ks.
Feeling particularly useless because my entire event had been eliminated – and if you think I swim slow, you haven't seen me run – I put on a cheerful front while I grudgingly helped Kristi set up her transition area. I then stopped by my friend Jason's bike rack, where he was downright gleeful over this new development.
"I feel badly for you because I know how hard you've worked, but I'm glad I don't have to swim," he said. I refrained from kicking him in the shin.
A nearby racer chimed in: "I'm a swimmer too! Isn't it awful? This sucks because swimming is my best event! I always get ahead on the swim and then caught on the bike and then just decimated on the run. It's so unfair for us swimmers!"
"I'm on a relay."
She looked down at her plastic-clad bike and dug the toe of her running shoe into the wet grass.
"Oh, I'm so sorry. I thought I had it bad…"
My work there completed, I took my black cloud home, where I promptly stepped on a belt-buckle and punctured my right heel.
It bled. There are just some places on your body where you don't expect the crimson tide of random flesh wounds, and the calloused hide of your heel is one of them. Call me Achilles, but I really didn't think that skin could be penetrated. I was wrong. Let this be a lesson to you, kids: When your mom tells you to pick your clothes up off the floor, do it.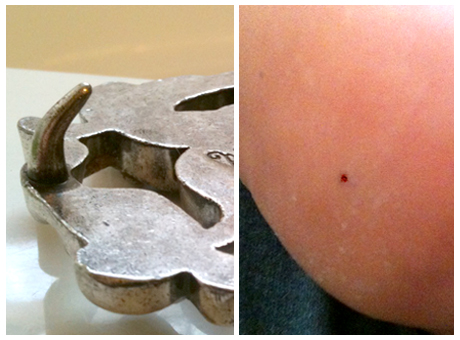 For those of you scoring at home, I now have a gangrenous MRSA wound on my left shin and a hole in my right foot. Fortunately, I had my last tetanus shot in August 2009 and I am taking so many antibiotics for the gangrene that I could have swum in TempE.coli Town Lake without so much as a sniffle.
Except that I wasn't swimming: I was running… with a hole in my foot.
Stop me if you've heard this before: I am at the starting line of a race, woefully unprepared for the challenge ahead… but this time, I actually was prepared, just not for this challenge. So with expectations managed into the E.coli-plugged gutter and Lo-Lo's Chicken and Waffles hanging like a bacon-scented carrot in the distance (and our team timing chip on my left ankle), I toed the line at the start for the Marquee Triathlon Olympic Distance Relay.
The gun fired, and I started stroking – seriously, I did. I figured if I couldn't go for speed, I'd go for easy laughs. Ahead of me, a kindred spirit held an encouraging sign: Just keep swimming running!
I got passed, and not just by everyone in my starting wave, which included all relays plus Men, age 45-and-up (and they are fast). I was also passed by the women's waves – age 39-and-under (my current age group) and age 40-and-older (my age-group in just 8 months) – which started 2 and 4 minutes after me. Had we been swimming, they probably would have swum over me, too – except that then they would have been overcome by the E.coli (or not), while my performance-enhancing antibiotics would have enabled me to catch them at the midway point en route to my inevitable victory (or not).
I would like to say that, spurred on by my heartbreak and disappointment, I ran like my hair was on fire. Instead, I ran through the catalog of aches and pains, staring forlornly at the sparkling waters burgeoning with bacteria (or not) and counting the steps until the finish line – which wasn't really a finish line, but to my utter dismay was the entrance to the transition area: I still had a football-field to cover to get to my awesome teammate waving beside her bicycle, encouraging me onward to meet our destiny.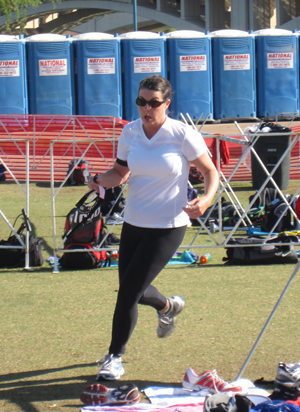 I passed off our number-belt and strapped the timing chip on her ankle, and Kristi exited the transition on the bike in a smooth 1:06 (5th fastest transition after my 9th fastest run). My work here was done. I then exited the transition area to punish the Port-O-Lets.
If you've read this far, I know you're groaning at the thought of pending toilet humor, but instead I offer this important public service announcement: I would rather have explosive diarrhea at the most glory-hole riddled, crack-head encrusted, discarded baby-diapered, cockroach-infested truck-stop bathroom than have to use a Port-O-Let at a triathlon. Those people are nasty.
Meanwhile, as I meandered with my husband among the vendor booths, cadged a new sun visor from the race organizers, and waited for Monti's to start serving beer, Kristi cranked through 25 windswept miles on her bike, in 1:26:39.7 (the 7th fastest among the relays). Bundled against the breeze in our street clothes and noshing on kettle corn, we cheered "Bad@ss BitcheS!!!" as she whizzed past to her final transition, whereupon she headed out to punish the 10K run in a leg-shredding 59:51.0.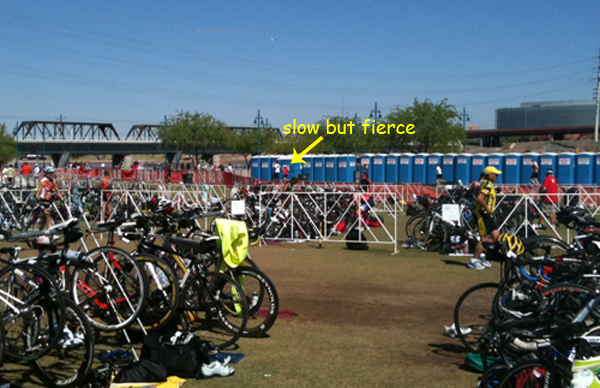 If only I'd turned in some bruising 6-minute miles on the 5K, instead of my paltry (but personal best) 10-something-minute miles, we could have taken 8th place from the no-name Team 1068, who should have been disqualified for failing to name themselves properly anyway. Still, for our inaugural Olympic relay – one in which we overcame adversity to triumph with a Top 10 finish – the Bad@ss Bitche$ kicked ass.