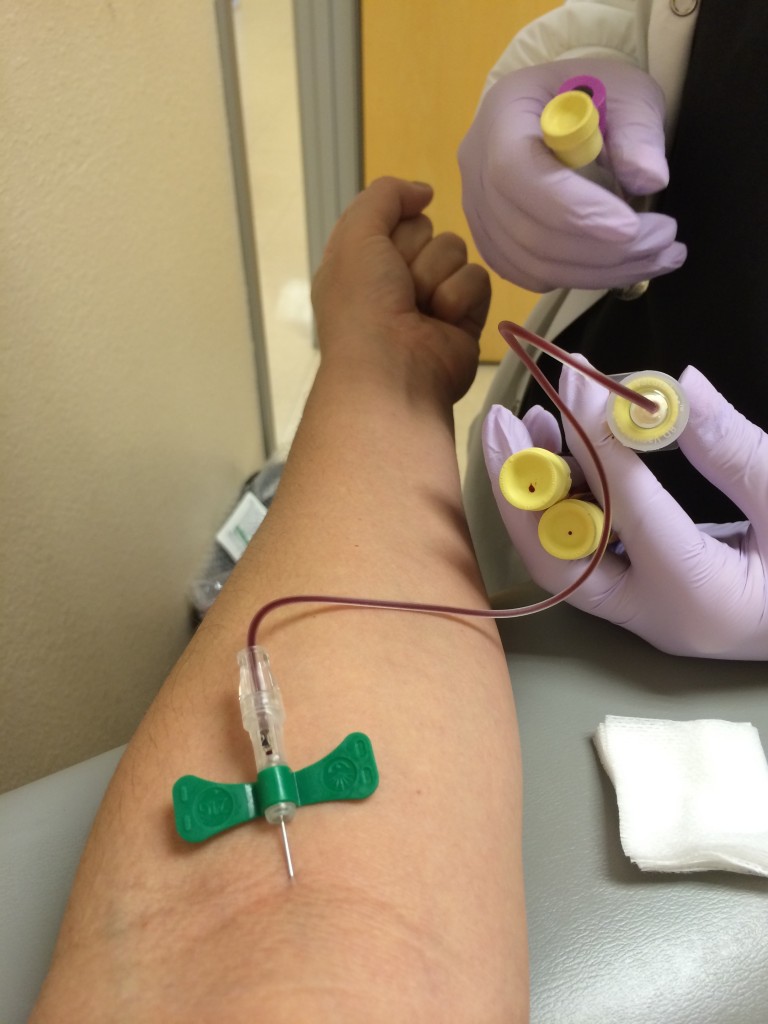 In 1995, I … finished … the London Marathon as a member of the Leukemia and Lymphoma Society's Team in Training. I say finished because I injured my arch stepping off a curb at mile 16 (why the Londoners felt it'd be a good idea to put the water stop up on a curb on the Isle of Dogs still dogs me 20 years later). What would have been a triumphant 4-and-a-half-hour marathon ended up being a 6:08:42 slog.
At the time, just finishing my first marathon was the goal. At a team fundraiser, I signed up to be a bone marrow donor. Filled out a form. Got my finger stuck. Updated every change of address and phone number for the next two decades, through six addresses, four cities and two states. Added an email address. Changed my name. Didn't think anything of it, until I got a call on November 13, 2013 from Tasha, a Donor Contact Representative at Be The Match.
"You may be a match for a possible bone marrow donation… do you have about 20 minutes to answer some questions for our preliminary screening?"
Sure. Some questions turned out to be a colonoscopy through a blushing 42-year span of hard-livin' … and lovin'.
"Have you been imprisoned, jailed or incarcerated…" No.
"Have you been diagnosed with diabetes… tuberculosis… autoimmune diseases such as multiple sclerosis, chronic fatigue syndrome, Hashimoto's disease…" No.
"Have you been diagnosed with mad-cow disease also known as Creutzfeldt-Jakob disease…" Uh, no… wouldn't I already be dead?
"Have you traveled to Asia in the past 5 years…" Yes, Japan – September 4-14, 2013.
"Do you have or have you had any back, neck, hip or spine injuries?" Beyond the every day catalog of middle-aged aches and pains? Uh, no…
"Have you received a tattoo in the past year?" No, but I did get one in 2008.
"Have you had any ear, skin or body piercings in the past year, using non-shared, sterile instruments?" Uh, no. (And given that I haven't been in prison, I haven't had any piercings using shared, non-sterile instruments either.)
"Have you ever exchanged sex for drugs or money?" No…
"Have you ever had sex with anyone who exchanged sex for drugs or money?"
Uh, no… but I might need to make a few phone calls…
"Thank you… based on your answers, we will send you a consent form and ask you to undergo further blood testing to see if you will be the best match for the patient."
The patient in question was a Baby Boomer with a rare form of blood cancer. He also has  a relatively rare blood type, shared by me and about 7 percent of the world population: A-negative. According to the American Red Cross, 7 percent of white people, 2 percent of African Americans, 2 percent of Hispanic / Latinos and 0.5 percent of Asians in the United States have A-negative blood.
Given the rarity of my blood type, I hadn't given much thought to being a marrow donor. At the time, I thought it was a nice thing to do: Help a brother or sister out somewhere down the road. The likelihood of my hitting that genetic jackpot was slim, but my driver's license and end-of-life plans list me as an organ donor. I figure if I'm not using my parts, someone might as well put them to good use. You only have one liver to live… and mine's been pretty indestructible so far.
Moving from the abstract of probability to the concrete reality of a phone call and a blood draw threw me. I wanted to help this guy. I scheduled the earliest blood draw I could – November 18. Wandering into the crowded waiting room, I felt like I was walking the red carpet: They showed me immediately to an exam room. No waiting, no bureaucracy, just present your consent form and driver's license, and right this way, Mrs. Bertinelli…
The phlebotomist had tattoos of tiny bats behind her left ear. Make of that what you will. She found a vein, gave me an easy stick and took seven vials of A-negative awesomeness. In and out in 15 minutes. When was the last time that happened to you at a doctor's office?
And then the wait began: Potential donors are on the hook only for 60 days after test results are received and processed (November 25). During that time, I checked my email about 7,000 times. I even picked up the snail-mail from our jam-packed mailbox. No calls. No commentary. Just waiting and debating: Should I ride my mountain bike today and risk a catastrophic head injury? Should I eat that last donut and potentially throw myself into a pre-diabetic coma?  They said I could still donate, even though I'd been treated for MRSA: Is it wise to go back into Tempe Town Lake for a little swim?
Be The Match sent me reading material about the two procedures I might undergo – a traditional marrow draw (general anesthesia; marrow removed via a needle to the pelvic bone; feels like you backed into the corner of a pool table for about five days; good to go in a week or so) or a PBSC donation (outpatient procedure; medications administered for five days to increase blood-forming cells; blood extracted from one arm; stem cells removed; and it's sent back into the other arm – kinda like donating plasma).
A minor inconvenience for me… a chance to beat cancer for the patient… and depending on the patient's location, I'd get an expense-paid trip to the nearest donor center (c'mon Hawaii!). I'd call that a win.
Only they didn't call. Just one in 540 members of the registry goes on to donate.  On January 21, I received my rejection letter.
Dear Stacy,
Thank you for being there when a patient needed you and for stepping up on your commitment as a Be The Match Registry® member. We extend our deepest thanks and gratitude for the time and effort you gave by participating in additional testing for this patient.
The results of your testing indicate that you and the patient are a suitable match; however, the patient is not ready for a transplant at this time. This could be due to any number of factors including a change in the patient's condition, issues with their health insurance or a delay in finding a caregiver. There is a possibility that the patient's situation could change quickly and they may soon become ready to receive a transplant. If this is the case, we may contact you again.
No further testing is needed from you at this time; however, it's important to update us whenever your contact information changes or if there are any changes to your health. You will remain on the registry for all searching patients until the age of 61—unless you inform us that you are unable or unwilling to donate.
Thank you for your patience during this process and your willingness to help save someone's life. Your compassion and selflessness give hope to patients and make our life-saving work possible. There are so many ways to be involved with Be The Match® and we look forward to your continued commitment to help patients in need. Visit BeTheMatch.org/support-the-cause to learn about all of the ways you can get involved.
Sincerely,
John, Manager, Search Fulfillment
The sad part of this is that the patient might not have survived to receive my help. They aren't going to tell me that in a form letter, but it's one of the reasons the registry maintains strict confidentiality for patient and donor. If I got pregnant, I couldn't donate… what does that say to the family? Donors drop out for all kinds of intensely personal reasons – illness, family issues, employment status. It's their gift to give.
The patient may not be the nicest person in the universe – registered sex offender, Westboro Baptist Church member, non-sterile needle-sharing prisoner – it's no business of mine. I offer up a gift – that my blood might take root in his bones and run through his veins and let him live to fight another day. That's good enough for me.
I wish I could have helped. I wish him well. If you want to help, sign up for the registry. The more potential donors they have, the more lives they can save… plus, it's a worthwhile reminder to keep you from exchanging sex for drugs or money.