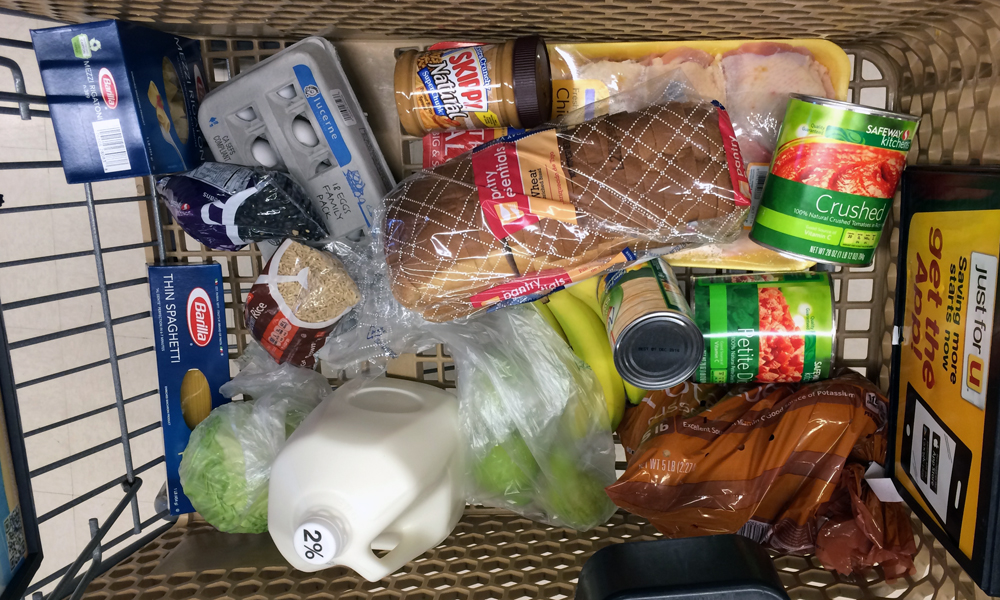 Two 28-ounce cans of tomatoes.
One 14.5-ounce can of sweet corn.
A 1-pound sack of dried black beans.
A 1-pound sack of brown rice.
3.95 pounds of chicken thighs.
Three bananas.
Three Bartlett pears.
One head of green cabbage.
One 15-ounce jar of extra crunchy Skippy Natural Super-Chunk peanut butter (lower in sugar and fat).
18 large eggs.
One gallon of 2% milk.
One 5-pound sack of russet potatoes.
One loaf of wheat bread.
Two, 16-ounce boxes of Barilla pasta (Yes, I realize their chairman is a homophobe… but the pasta was on sale for 79 cents a box. We all have to make sacrifices).
Grand total: $29.06. Damn you, Bartlett pears. I knew I shouldn't have, but I wanted a little something extra in the fresh fruits-and-vegetables column. Suffice it to say, I'm giving those sweet treats to my sweet husband, Patrick, when I begin the 2014 Arizona SNAP Challenge on Monday.
The goal of the SNAP Challenge is to live for one week on the same food budget of an Arizonan on the Supplemental Nutrition Assistance Program (SNAP), formerly known as "food stamps." For a single person, that's $27. Per hebdomadem, not per diem. I can easily spend $27 on a single meal – and this week, I have $1.28 per meal.
Sadly, I could not persuade Patrick to join me on this journey in order to score a luxurious extra $18 on our food allowance.
The SNAP Challenge is designed to raise awareness of hunger and poverty in our state. Currently Arizona is the third-ranked state for Childhood Hunger, with 28% of our kids considered "food insecure." Hunger cascades into poor performance in school, increased incidences of sickness, lower likelihood of high school graduation, which results in a greater likelihood that the cycle will repeat in the next generation.
These are kids. They didn't come into this world asking to be hungry or poor. The least I can do is sit a week at their lunch table.
Here are the rules: I have a total of $27. I can't eat any existing food in my pantry (which is why I'm polishing off the champagne and orange juice today). I can use basic seasonings, but I'll pass on the $12 bottle of hot sauce or the $7 sea salt that I bought in the Bahamas. I can also eat anything I grow myself: Fortunately, we have a virtual Avery Island of tabasco peppers in our raised bed, as well as a healthy shrub of rosemary and a flourishing basil plant – hence the pasta and tomatoes. (Cheese, my luscious weakness, was too expensive and I don't have the patience to pull my own mozzarella).
Yes, I could have just gone gonzo on Top Ramen ($2.09 for a box of 6 servings), but I really want to try to eat as healthfully as I can this week. I did use coupons and in-store offers, resulting in a somewhat disturbing $6.66 savings, or 15% of my total bill, or basically my entire animal-protein allotment.
So, now I gotta go soak my black beans (I couldn't afford the bell peppers, onions and celery to make red beans). It's not too late to sign up for the challenge, which runs October 6-13. Join me at the table.