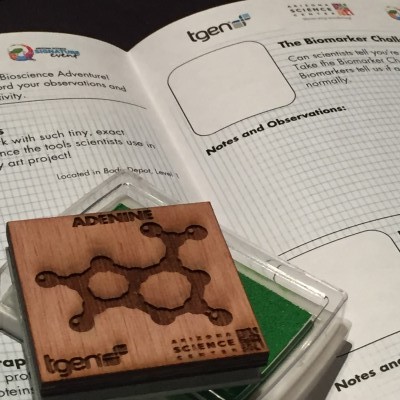 "Do you want to play our science game?"
The girl, maybe about 8 or 9, wandered up to my table at the Arizona Science Center. I volunteered to help out at Bioscience Day on behalf of my employer. I'm the marketing director, which uniquely qualifies me to guide a lesson designed for grade-schoolers.
"I … I don't know … much about science." She eyed the colored marbles, gathered in the baggies, arrayed across the table.
"It's a game. You have to figure out which one is different," I offered, hoping to overcome her shyness. A woman loomed behind her, encouraging her to go on and play.
"I don't know anything," the girl said. "I'm not smart."
The Science Center education manager dove in where my words failed: "We can figure it out together. This is a puzzle, and I know you can do it. I'll help you."
Four Ziploc bags, each filled with colored marbles representing different things we'd find in your blood stream: Red for oxygen-delivering red blood cells. White for infection-fighting white blood cells. Blue for C-Reactive Protein (It's what makes you feel sleepy when you're sick – I learned something new!) Green for a mysterious biomarker.
Bag 3 had an overabundance of white and blue marbles, with fewer red ones, along with a handful of greens. Bags 1, 2 and 4 had similar numbers of white and red marbles with fewer blues and no greens. Guess which one was sick?
"I can't do it. I don't know anything."
"We're doing it together. Let's count the marbles together in each bag."
The education manager's white lab coat doubled as a super hero cape. She guided the girl through counting the marbles in each bag.
"Now which one is different than the others?" The girl pointed to Bag 3.
"Why is it different?"
"I don't know. I don't know anything."
"You said it was different, and something about it made you think that. What was it?"
She pointed to the green marbles.
"Good job! Is there anything else that's different about this bag?"
"I don't know. I don't know much."
"But you figured out the right answer," we said in unison. "You can figure this out."
She looked at the bag. She looked at the woman behind her. She looked at the floor. She pointed to the white marbles.
"Good job! You did it!"
I stamped the little girl's Bioscience passport and handed it to her with a smile. I mentioned we also had a painting project and asked if she liked art.
"I don't know. I'm not good. I don't know anything."
"Well, you can try – just like you did here. Have fun today."
The woman led her into the bowels of the Center – literally the bowels, they have a giant crawl-through colon – and left me to stew in my thoughts: Be careful what you say to kids.
I suspect the woman who brought her to the Science Center was not the person who told her she didn't know anything. She tried to encourage the girl, best she could. At 8 years old, if you don't believe you know anything, where are you at 18, at 28, at 38?
Be careful what you say to kids.