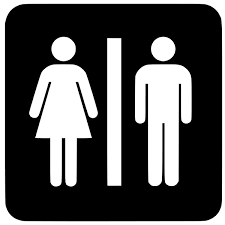 North Carolina now requires schools and public agencies to have gender-segregated bathrooms. Importantly, the state is requiring said agencies to police their own potties to prevent people from visiting bathrooms that do not correspond to their biological sex. This presents a few problems:
Will people with gonadal mosaicism have to report to the supervisor at the North Carolina Department of Motor Vehicles to ask which potty to use?
What happens to desperate women at crowded Tar Heels games? (Admit it, you've thought about it, even if you haven't done it.)
What about Dads whose daughters really need to go pee-pee while they are waiting in line at the Department of Revenue – and there is no family loo?
What about small state offices that have only one restroom, where employees have managed for years to go about their business without getting in each other's business?
Besides being yet another GOP-run state that seems to believe the concept of "Small Government" is one that is defined as being small enough to fit in your bedroom and my vagina, North Carolina is just plain mean. Let's be honest: This law targets transgender people for no other reason than the fact that they were born differently from what certain North Carolinian legislators (and their out-of-state legislation sponsors) believe is normal. A couple hundred years ago, these same legislators likely would have burned disabled people at the stake for witchcraft or tried to exorcise their epilepsy. Oh wait, they still do that.
Many thoughtful corporate leaders and elected officials – shout-out to PayPal and the state of New York – are leading economic protests to punish North Carolina for its transgender toileting transgressions. Money talks, assholes walk.
I believe we private citizens can also let our voices be heard through peaceful protest:
A Modest(y) Proposal: The Shit-In
Eat a hearty meal of broccoli, bananas, sugar free Jelly Bellies (don't ask how I know this), prunes, more bananas, bran, rice, pinto beans and oranges. Wash down with a hot tankard of coffee.
Fill up on gas (the kind you put in your car).
Drive to the North Carolina Legislative Building from Virginia (~90 miles via South Hill), South Carolina (~120 miles via Cheraw) or Georgia (You're gonna need a hybrid vehicle and extra cans of gas ~340 miles via Lavonia – and you may want to stop for your pre-game meal in South Carolina) but not do not drive from Tennessee: They are considering a similar bill. Remember, you do not want to leave any economic residue in North Carolina, only organic material.
Go to your non-biologically assigned toilet. Enter a stall. Do that thing that you doo-doo so well. Wipe. FLUSH. (Remember, we are punishing the legislature, not the innocent janitors who probably don't earn a living wage – keep it tidy)
Wash your hands.
Snap a selfie outside the non-biologically assigned bathroom. Post to the social media account of your choosing. #shitin #modestyproposal #giveashit
Drive back to your state of origin.
Feel happy (and 10 pounds lighter) because you have taken a nonviolent stand, or in this case, sit, against hate, intolerance and intrusive legislators inflicting their own small-minded personal beliefs on science. You have given a shit about your fellow transman/transwoman/transgender person.
Now pardon me, I gotta go eat some kale.