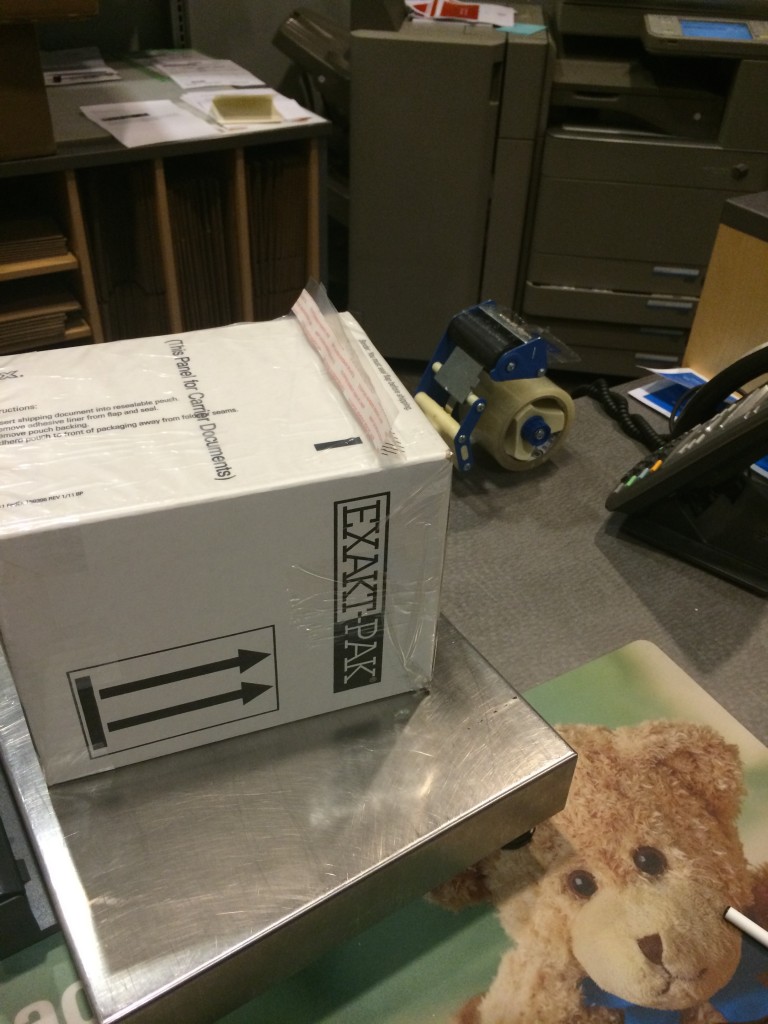 When you're carrying a box labeled "HUMAN SPECIMEN," people get out of your way. Sure, you may have to stand in line at the FedEx office, but I can assure you that no one will crowd your personal space.
I came to this discovery when I called Be The Match to alert my donation coordinator of some travel plans. Three weeks out from my postponed peripheral blood stem cell (PBSC) donation, I'd agreed to give them a heads-up on geographic changes to my whereabouts – a medical tether, if you will.
"Hi Chi, it's Stacy. I'm headed to California on Thursday, back on Sunday. I know you said it could be five weeks or more before we rescheduled the donation. Any word on the patient?"
"We have not heard anything regarding the patient's status. We do not contact them. I'll let you know as soon as I hear anything. Just go and have a nice time on your trip."
Don't call them. They'll call us: Welcome to my life in sales.
15 minutes later, Chi's caller-ID popped up on my mobile. I rolled my eyes, assuming she probably forgot to check my pregnancy status again or see if I'd shared any unclean needles with the prison population.
"Hi Stacy, it's Chi. You won't believe this, but as soon as I hung up the phone with you, the patient's coordinator called. Are you available on [ REDACTED ] for the peripheral blood stem-cell transplant?"
"Hell yeah! Do you need me to cancel my trip?"
"No, no. You can go on your trip. We just need you to do an infectious disease marker test and a (meaningless) pregnancy test  before you leave. You can do that at any LabCorp. I think there's one by your house?"
"Let's do the clinic closest to my office – on McDowell Road – I'm slammed trying to get out of town so it might be easier to go there on my lunch break."
"You can't go today. We have to make sure they have your Infectious Disease Marker (IDM) test. You can take the pregnancy test anywhere, but you need to call them to make sure they have the IDM test before you go. We have to get this before you leave so we can keep this on schedule."
"Got it. I'll go tomorrow – and I'll call ahead of time to make sure they have the IDM test."
A sleepless night. A busy morning. A torrent of paperwork and phone calls swamped my desk, keeping me pinned to my chair. I called LabCorp on McDowell.
Thank you for calling LabCorp. Currently there is no one available to assist you. Press  3 to be connected with our customer service team. 
3
The phone rang… three times… and hung up on me.
I repeated this process six times over the course of the next two hours – and proved the definition of insanity when I achieved the same results each time. I double-checked online to see what McDowell's hours were: Closed for lunch between 12:30 and 1:30 PM, but none of my calls fell within that window. Noting that there were no available web reservations for blood draws at McDowell (and wondering why that hadn't been an option yesterday), I made a web reservation for the Scottsdale office just down the road for 3:15 PM. I called their office too, to see if they had the IDM test…
No one was available to assist me… I pressed 3… The phone disconnected.
At least I had an exact time to show up, which I did at 3:10. The woman at the desk looked puzzled when I asked if she did IDM tests. She said that they did. My phone rang: It was Chi.
"Where are you?"
"I'm at LabCorp in Scottsdale trying to get this test done."
"You're supposed to be at McDowell."
"Well, I tried to call McDowell – 6 times to see if they had an IDM test – and I kept getting disconnected. You said I could go to any LabCorp."
"You can go to any LabCorp to get a (meaningless) pregnancy test – YOUR I-D-M kit is at McDowell."
FUCK.
"OK, I'm headed to McDowell. I'll be right there."
"They close at 4."
"I'm 20 minutes away. I'll make it."
"You have to see if FedEx has been by yet for the pick up, otherwise we can't do it, Stacy. We have to get the blood work tomorrow."
"Got it. When I get there, I'll ask if FedEx has been by. Lemme hang up, I gotta drive."
FUCK. FUCK. FUCK!
I broke several traffic laws. Then I wheeled into the parking lot at McDowell, raced up the stairs, charged down the hall… and broke into tears when I saw 18 people in the waiting room.
Actually, I didn't start crying. I just muscled my way to the front desk and asked if they had my IDM kit. Yes, it was right over there… BEHIND THE DESK… ON THE MOTHERFUCKING FLOOR… IN THE GODDAMN CORNER.
"I've tried to call you all day to see if you had the test… but nobody answered."
"No one ever answers that phone."
Internal Dialog: "NO SHIT, SHERLOCK. WHAT THE FUCK DO YOU DO ALL DAY BESIDES THROW MY IDM KIT IN THE CORNER?"
External Dialog: "Neither here nor there. I'm here now. Has FedEx picked up yet today?"
"FedEx doesn't come unless we call them."
Internal Dialog: "HOW CAN YOU CALL THEM IF  YOU DON'T EVEN KNOW HOW TO USE A MOTHERFUCKING PHONE?"
External Dialog: "Okaaaaay… can you call them and have them come by to pick up my IDM test when we're done?"
"Uh, it's 3:45. We close at 4. We're not staying overtime to wait for FedEx."
"You understand that I'm a bone marrow donor, right? And that we have to get this blood test done so I can … oh, save someone's life, right?"
"You'll have to talk to my supervisor. We're not staying overtime to wait for FedEx."
"Hold on a second." I dialed Chi and handed the phone to the troglodyte behind the counter. "You need to talk to Chi."
Meanwhile, the another nurse wandered into the waiting-room-cum-nursery and sidled up to me.
"I couldn't help but overhear — you're the donor. I just think that's awesome."
Internal Dialog: WELL, WHY DON'T YOU QUIT FAWNING OVER ME, CAPTAIN DO-GOODER, AND STAY THE FUCK OVERTIME SO WE CAN SAVE SOMEONE'S LIFE!
External Dialog: "Yeah, I've been on the registry for 20 years. Just got the call. I'm really excited, but I have to get this blood test done. I called, like 6 times today, to get this scheduled and no one answered."
"Yeah, no one ever answers that phone."
Internal Dialog: WHAT THE FUCK DO YOU PEOPLE DO HERE ALL DAY?
External Dialog: "Is there a FedEx office nearby?"
Meanwhile, Chi and the troglodyte behind the counter were going at it like the Peanuts teachers on 78 RPM. (Young readers probably have no idea what I just said).
"Gimme the phone. GIVE. ME. THE. PHONE." Fearing for her life, the troglodyte handed Chi back to me. "Can you look up the nearest FedEx offices, Chi?"
I turned to the counter-lady.
"Can you take my blood now, right now? I'll take it to FedEx myself. I'll take full responsibility. No one gets in trouble. You just tell me, can you take my blood right now?"
"Yeah, but we're not waiting for FedEx."
"Good, because you don't have to wait for FedEx. I'm going to FedEx. You said you could take my blood, right?"
"Yeah, we can do the test."
"Good, then let's tap this fucker and go."
I stormed through the door that said "LAB." Who follows me, but the troglodyte behind the counter? I SHOULD HAVE KNOWN SHE WASN'T A RECEPTIONIST BECAUSE SHE CAN'T ANSWER A STUPID PHONE. Instead, she's a phone-incompetent phlebotomist. Great. My arms tensed up, knowing that her inability to find a vein would be directly proportional to how poorly I treated her in the waiting room. Karma is a bitch… and so was she.
She tore open the box and handed me the instructions taped to the styrofoam container.
I held my breath. The needle (THANKFULLY) hit its mark. She drew the first tube. I read the instructions. There was an icepack inside the box that said REFRIGERATE… It was warm, which made sense because it was 108 outside and not a degree below 80 ON THE FLOOR OF THE WAITING ROOM.
"Um, this says it was supposed to be refrigerated. Why wasn't this refrigerated?"
"Well, a lot of these people never show up."
Internal Dialog: MAYBE THAT'S BECAUSE YOU DON'T ANSWER THE PHONE, YOU IDIOT! MAYBE MORE PEOPLE WOULD SHOW UP IF YOUR CUSTOMER SERVICE DEPARTMENT HAD AN ACTUAL HUMAN INSTEAD OF A MOTHERFUCKING PHONE TREE?
She pulled another vial from the tray. I inhaled deeply.
External Dialog: "These instructions say this needs to be refrigerated. Is this going to be all right?"
"We have an ice pack in the freezer that we can use."
Internal Dialog: "MAYBE YOU COULD HAVE PULLED THAT ONE OUT TO MAKE ROOM FOR MY IDM KIT, YOU TROLL!"
External Dialog: "Excellent. Thanks."
She finished her draw, taped up my arm and slid the vials into their styrofoam nest. I signed the forms. We placed the inside with a fresh icepack and sealed the box. The nearest FedEx office that Chi had selected was somewhere in Scottsdale. It was now 4:08. I left without saying good-bye.
Internal Dialog: I HOPE YOU HAVE HAVE FUN WITH THAT OVERTIME, SUCKERS!
External Dialog: "Siri, find me the nearest FedEx office."
It was at the Downtown Phoenix Sheraton, 1.4 miles away.  I rolled my eyes and rolled out. When I worked at the Star-Telegram, one of my sports editors called me 'FedEx.' My maiden name is Feducia – some folks in college actually called me 'Fed' - and since I could be counted on to deliver on deadline, the name more-or-less fit. Despite the rush-hour traffic and the few profanities that escaped into my external dialog, I delivered the package to the Sheraton at 4:22.
I leapt from the car with my HUMAN SPECIMEN box. The valet stopped short about 20 feet.
"Where's the FedEx office?"
"Second floor. Escalators on the left."
"Can I just leave this here?"
"Of course, of course…" I tossed him the keys.
The crowd in the lobby parted like my name was Moses and I was wearing a robe, instead of carrying a HUMAN SPECIMEN box.
"When's the last pick up?" I called to the FedEx associate behind the counter.
"5 o'clock."
"Oh, good, I have time." Four people waited in front of me, but now they moved into a 6-foot semicircle, like a biohazard blast radius. Suddenly, there was no clear leader for the queue. The guy closest to the counter stepped aside.
"I'm just buying office supplies… For a presentation."
"Really," I said. "I'm donating bone marrow."
"That's awesome," said the FedEx associate, Russ, a PARAGON OF CUSTOMER SERVICE UNLIKE THE KNUCKLE-DRAGGERS AT LABCORP. "I'm on the registry too. Signed up two years ago."
"That's great! We need as many people as we can get on the list. Only 1 in 540 people ever goes on to donate" I said, handing him my HUMAN SPECIMEN box. "I've been on the registry for 20 years. This is my first time to be called. I hope you get the call. It's a really an amazing experience… oh, and this box has to get there tomorrow morning."
"It'll get there. What's the declared value of this… specimen?"
"Oh, I don't know. Since I'm a marrow donor, and this is my blood, I don't know if you can put a price on it."
He squinted at the box and clicked his scanner on it.
"The sender says it's $5."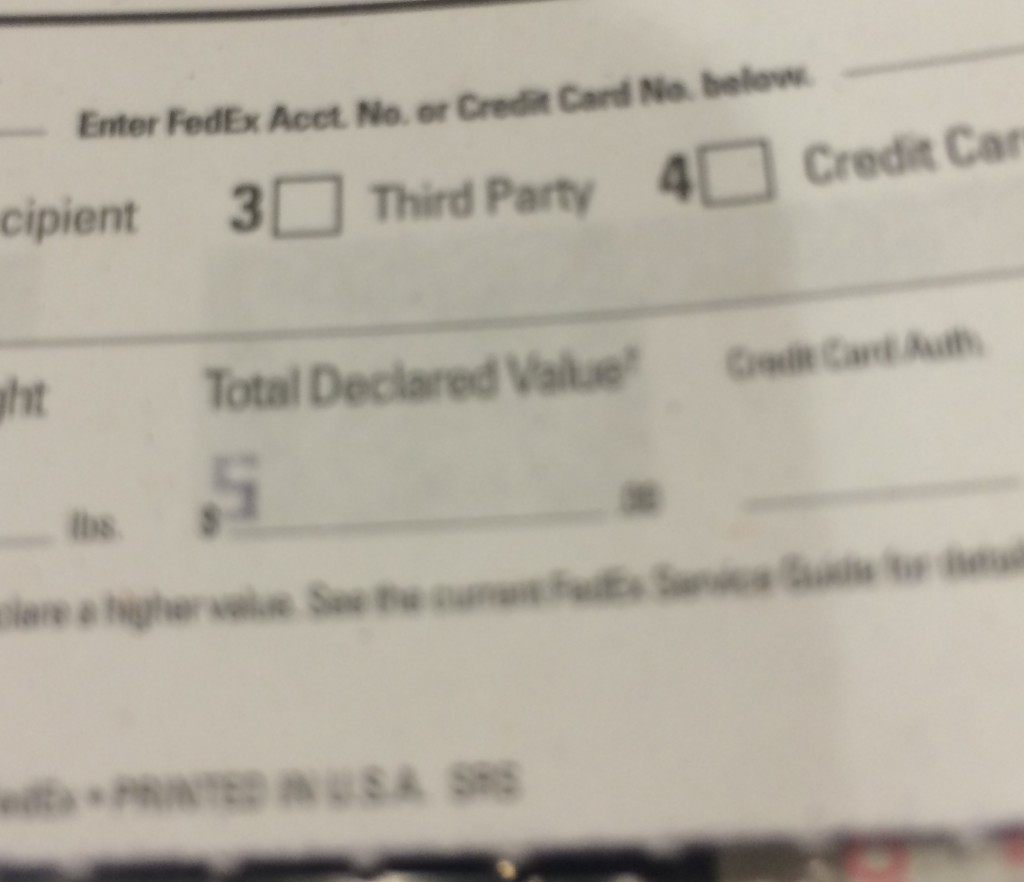 And now I know what my life-blood is worth: Just $5… but I can truly say that the chance to save my patient's life was priceless.