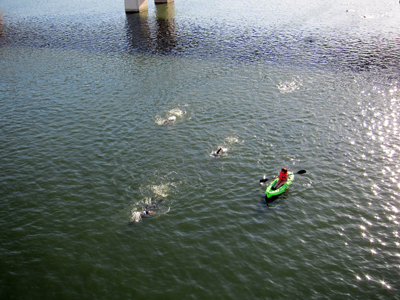 I came. I saw. I kicked some water.
After four months of trying and whining – and four races of trying whining – I finally put together a swim worthy of the Bad@ss Btiche$, dispatching 1,500-meters in 37 minutes, 27.5 seconds at the Rio Salado Triathlon on Saturday in TempE.coli Town Lake.
That's good enough for a Top 4 Olympic Relay finish for the Bad@ss Bitche$ with a combined 3 hours, 20 minutes, 59.4 seconds – just 8 minutes off the podium.
Yes, there were only five teams competing in the Olympic Relay, and no, you were not among them – nor did you heroically overcome a brush with atrial fibrillation when I came out of the water 20 minutes ahead of schedule, then recover gamely and crush it on the 24.6-mile bike, only to suffer betrayal at the hands of your feet on the 6.2-mile run. That would be my teammate Kristi: She's been carrying my not-so-Bad@ss throughout this little triathlon adventure. I only wish I could have returned the favor and piggybacked her well-toned-@ss across the finish line.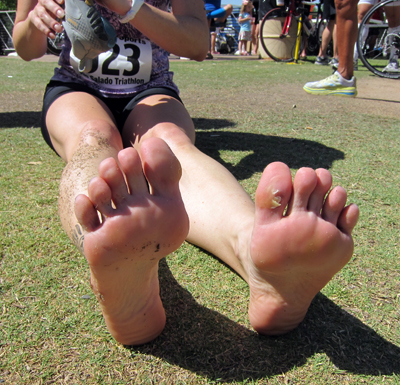 And that's the thing about triathlons: You may dominate one event – in my case, the swim – only to have another come back and bite you in your previously bad@ss – in her case, the run – but since this blog is all about me, we'll just go ahead and relive the amazing stroke-by-stroke account of my 1,500-meter feat of aquatic domination.
I came.
I first came to TempE.coli Town Lake just one month ago, hoping to test my mad skills against its still, green waters. That little excursion – the 1,000-meter Splash N Dash – resulted in a 36-minute, misery-filled slog that made me question what exactly I was hoping to achieve by agreeing to be the swimmer for a triathlon team that consisted of an incredibly fit, runner-biker-weightlifter-tennis-player with the body of a swimsuit model (Kristi) and an incredibly experienced beer-drinker (me). This had sitcom written all over it – and on that count, we delivered, especially when I got to do the asphalt backstroke at our first team event, The Marquee Triathlon – because the swim was canceled due to the threat of E.coli contamination in the aforementioned lake. Having spent the past four months bridging the troubled waters of swim-training, I came to the Rio Salado Triathlon with a sense of pending doom and a promise of faraway relief: If I could just make it through these 1,500 meters, my agony would be over (or I would be floating belly-up in the sludge and the disposition of my carcass would be someone else's problem).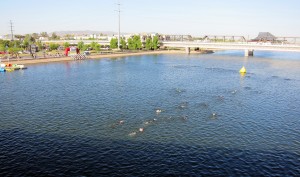 I saw.
Arriving at the Rio Salado Triathlon athlete check-in, I saw exactly what 1,500 meters looks like, and there is no delicate way to put this: THAT IS ONE LONG MOTHERFUCKING SWIM, PEOPLE. Basically, I would be circumnavigating the lake that had hitherto been my Waterloo. To this end, my sweet husband pulled the old  "in good times and bad" card out of his wallet and attempted to comfort me.
"Dude, that's a long way to swim."
"Thanks, Pat. I don't know if I'm gonna make it. I think I'm going to die."
"Well, don't worry about finishing first, because you know that's not going to happen. Just worry about finishing. I know you can do it. I mean, I'm glad I'm not doing it. That's a long-assed swim."
"Thanks, Pat. I can safely say you're being more hateful than helpful. Enjoy sleeping on the couch tonight."
The alarm came early to my ears at 5 AM: It really didn't matter, as I was already awake. I grabbed my wetsuit – still unsure if it would be joining me on this 1,500-meter adventure: To this point, the Xterra Vortex-3 and I had a love-hate relationship, and with a water temperature of 73 degrees, I figured I might be better off au naturel than imprisoned in my body condom… until I got to the shoreline where I saw a skinny triathlete climb from the water, shivering in his gooseflesh. I then saw my friend Jason, whose wetsuit had not emerged from its winter's hibernation.
"Honestly, I wish I had mine," he said. "But it was not meant to be. To tell you the truth, I think I'd rather just pick up my bike and go home. That's going to be a long swim without a wetsuit."
Roughly 90 percent of my fellow competitors were wearing their wetsuits. Like a lemming, I joined them and started my march toward the cliff.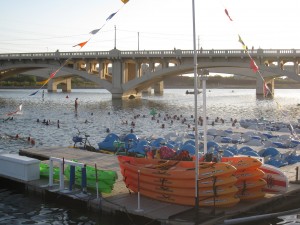 I kicked some water.
The Rio Salado Triathlon featured a floating start: Each age-and-gender-grouped wave would line up behind their starter in their color-coded swim-caps (silver for Olympic relays) and march grimly toward the steps that dumped them into the lake in 3-minute intervals. Plunging into its green depths, my first thought was: "Damn, this water's warm! I shouldn't have worn this wetsuit. I'm gonna overheat. I'm gonna break a sweat and suffer hyperthermia – on a swim. WE'RE ALL GONNA DIE!" Realizing it was too late to change my mind, I swam out from the shore, past the main clot of bodies, beyond that warm pocket of… oh dear.
Now I knew the real reason none of my triathlete friends wanted to swim: It has nothing to do with the degree of difficulty and everything to do with the fact that they might actually swallow the water. It was about 10 degrees cooler out on the fringes of TemPEE Town Lake, away from those mysterious hot pockets. I'm from Louisiana; I know what I'm talking about: Our lakes are our toilets, and believe it or not, the floating-start flush is a well-documented phenomenon.
Now, I had my motivation! They fired the starting gun, I put my head down (with my mouth fiercely closed) and I started swimming. Thrashing and splashing in a panic to escape the pooling urine, my hand disappeared when it hit the water an arm's length in front of me. Here, a foot swishes a foot from my face. There, an invisible hand crawls across my thigh. Yon, a body bumps into me as I roll to breathe… and choke in a big gulp of lakewater.
Coughing and hacking, I realized I'd actually passed beneath the first two bridges without drowning – and here, outside the swirling circle of the toilet start, the water was cooler, and most of the pack was well in front of me. I'M NOT GONNA DIE!
Now, I could do what everyone had told me: Trust my training, which is great in principle, provided you actually know what you're doing when you're training – I had no clue. In the other two disciplines, you can fudge to recover: You can coast on the bike. You can walk on the run. You can only flop around in urine-tinged water for so long before you drown.. or flag the safety kayak, and I was not going to be that girl.
So like my friend Jon, the Alcatraz swimmer, advised, I put my head down and didn't worry too much about the direction I was going. Every other breath, I could see the buildings on the south side of the lake – and that's how I charted my progress: Just passed the KPMG building. Now I'm working my way past that condo. Oh, look, there's A-mountain. Sun Devil Stadium is up next. Hey, here's the turn-buoy – and there's my friend Jaime.
She was wearing a turquoise suit with a yellow swim cap – having started 3 minutes before me in the women 39-and-under wave – and when I rolled to breathe, I was just lucky to see her taking a moment to catch her breath with a breast-stroke.
"Hey Jaime, how's it going?"
"Oh! Hey. I'll make it. You're doing well."
"Feeling good. Well, I'm gonna keep going. Stay strong – you can do it!"
And then, I remembered my friend Mark's text-message training tips: Focus only on surviving to the halfway point, and when you get there, head for the finish with more purpose. Sing songs in your head.
Somehow, Dora's lament from Finding Nemo wasn't doing it for me: Just keep swimming, just keep swimming… swimming, swimming, swimming, swimming.
And then I remembered Adele's "Rollin' in the Deep" – which, through the magic of radio, had embedded itself in my brain not one hour prior in the car on my way to the race.
You're gonna wish you… never had met me… Rollin' in the Deep…
The irony is as thick and dark as the toxic soup that is TempE.coli Town Lake. Headed for shore, I kept waiting to cramp up, or get tired, or panic at the distance that remained – and it never happened. By this point, I'd come farther than I had to go and I wasn't going to die. I even passed some people on the way to the Finish steps.
Emerging from the lake, I swatted away the volunteers who wanted to help me strip my wetsuit off.
"No, no! I'm on a relay! I can do it later!" Like the Michelin Man, I bounded down the tarmac, past the Port-O-Lets and into the transition area. My eyes bleary from the sunlight, I couldn't find our bike rack.
"KRISTI! KRISTI! KRISTI!"
She popped up from where she'd been lounging on the grass. I ripped the timing chip from my ankle and slapped it into her hand.
"Holy shit! You're early!"
"It was a great swim! GO! GO! GO!"
It was a great swim, and I was early. I picked up my iPhone and called Pat.
"Where are you? I'm done."
"What? I'm up on the bridge taking pictures! You're done! That's awesome!"
Pat and I wandered over to the Finish steps, where the safety kayaks had huddled like a pod of benevolent dolphins to nudge the lone remaining swimmer to toward the shore: Jason. He emerged from the lake, bloodied but unbroken – and literally bloodied, as he had scraped his shins climbing up the steps.
"Great job. That was an epic swim," I said.
"Just glad it's over. There at the end, when I was actually swimming pretty hard, that's how I wanted to swim the whole race."
"Doesn't matter how you start – just how you finish."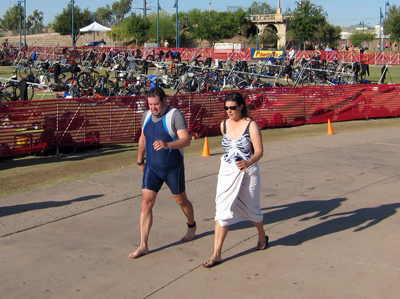 And he did not finish last. Jason may have been last out of the water, but he was not last among the men who then bravely rode 24.6 miles, followed by a grueling 6.2-mile run. He beat the 4-hour mark by 4.5 seconds – enough to earn the well-deserved beer I bought him afterward.
We came. We saw. We kicked some water: When I eased in to TempE.coli Town Lake on Saturday, I thought that if I could just get through this swim, my Bad@ss Bitche$ triathlon adventure would be over. When I emerged from those murky waters, I realized it's only just begun.