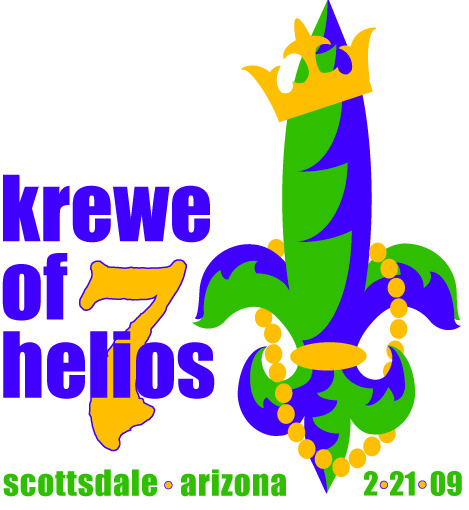 LAISSEZ LES BON TEMPS ROULEZ! It's Mardi Gras time!
Come one, come all to the Seventh Annual Krewe of Helios-Arizona Mardi Gras Parade and Party!
Saturday, February 21, 2009
4PM – 11PM
Pat and Stacy World Headquarters
24952 N. 74th Place
Scottsdale, AZ 85255
View Larger Map">(Google Map)
Now most of you have been to one of our six previous adventures and already have the hang of how to celebrate Mardi Gras with the professionals from Louisiana. (Rule 1: don't take off your clothes. SERIOUSLY. Do NOT take off your clothes.) But since many of you are NOT from the Pelican State and only have drunken recollections from college friends and "Girls Gone Wild-New Orleans" videos to go by, we've included the following handy guidelines for how to celebrate Mardi Gras the Krewe of Helios-Arizona way, aka – how you can get fed, fill up on hurricanes, avoid choking on plastic babies, score lots of beads and survive with your liver intact (though slightly compromised). Please read on for the wholesome goodness, aka What can you bring?
Continue reading YOU'RE INVITED: KREWE OF HELIOS-AZ MARDI GRAS PARTY & PARADE, PART 7 →