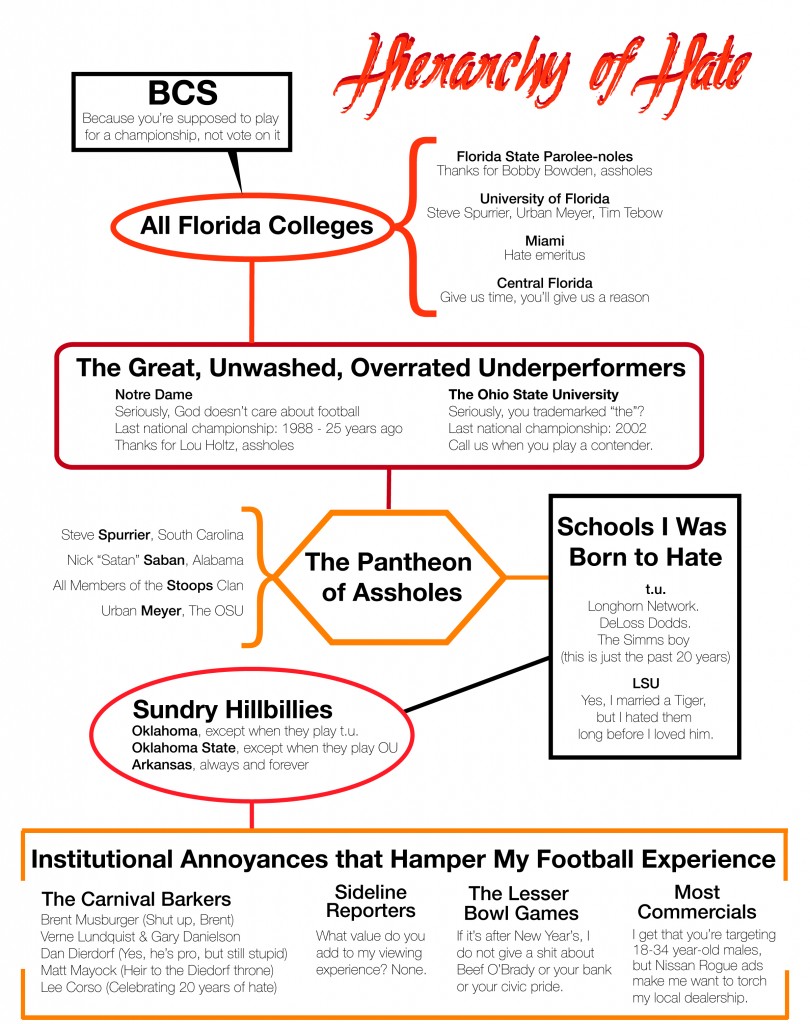 This is not happening. Not today. Not now. It's September 2, forfuckssake, not January 2.
The football gods are asking me to be in postseason form, when I just discovered that hockey season has finally ended.
I'm talking about Alabama-Florida State. Tonight at 5 PM MST.
It's a HATE BOWL, and it's opening day! I haven't even updated my chart! Are you kidding me?
"Hey, don't sweat it," my sweet husband Pat said. "You're like Larry Fitzgerald. You don't need to practice. You can go right out and hate like a pro. You got this."
I don't think Larry Fitzgerald stumbles out of the gate with his pants this far down around his ankles. A week ago, I made reservations for our anniversary dinner tomorrow night … and I didn't even bother to check and see that my alma mater, Texas A&M would be playing UCLA on FOX right while I'd be gazing lovingly into Pat's eyes and throwing back my second glass of cabernet sauvignon.
I changed the reservation, so I can lovingly throw the remote at the TV when Sumlin calls yet another unproductive off-tackle run on first and 10. All I can say is thank the old gods and the new that Game of Thrones ended last week — that would have been a tough call for me.
These are the times that try my hate, and for that, I invented the Hierarchy of Hate: I don't have to make decisions, I just have to react: Drink heavily, hold my nose and root for Bama, because…
We root for the SEC against nonconference foes (helps in the power-rankings)
We hate all teams from Florida against any non-Floridian team, regardless of the opponent
Nick Satan may be the coach of Alabama, but the Florida State Criminoles are the dingleberries on Lucifer's buttcheeks: Remember that.
How do I hate thee Florida State? Let me count the ways…
Serial apologists for accused rapist Jameis Winston (FSU settled with the victim for $950,000 — the price of innocence has gone up)… Just since 2010, 28 F-Ass-U football, baseball and softball players have been arrested according to Arrest Nation, the sports criminal database, though to be fair, Alabama has 29 on the tote board… But the good news is that ESPN reported that two-thirds of FSU players arrested never face criminal prosecution!
Crab legs for everyone!
My hatred for Florida State goes back to the early 1990s and their taint-licking succubus of a former head coach / parole officer Bobby Bowden (the Supreme Allied Commander Emeritus of Assholes) And let's not forget, FSU brought us Lee Corso…
Fucking Lee Corso.
If these aren't enough reasons to sway your hate, well, you'll be a lost cause come ESPN's Samsung Rivalry Week, aka Thanksgiving, and the Capital One Bowl Fortnight, aka Hanukkah, Christmas and New Years.
At least we don't have Brett Musberger to kick around anymore.
Roll Tide.