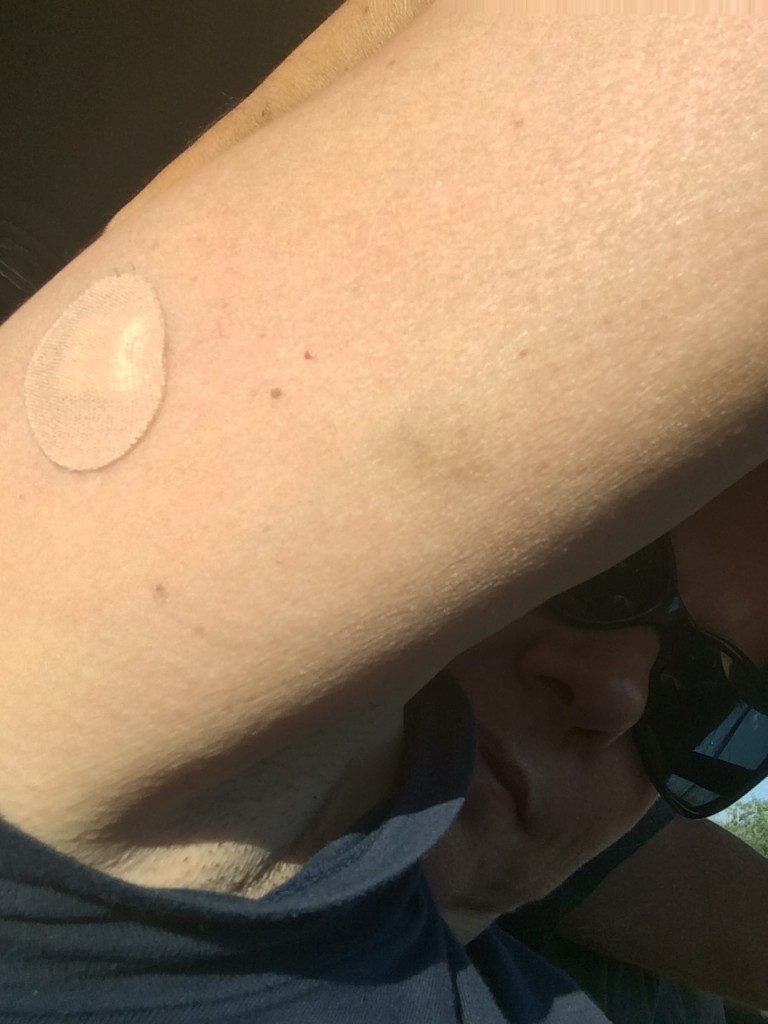 Good morning, fourth metatarsal.
Hello, tibia. Hello, fibula. Right back atcha,' femoral head.
Unfolding from my fetal position among the dogs and husband, today I can feel my thoracic spine, right there at T5. The metacarpal bones of my right hand spent the fretful night reminding me that I am, in fact, right-handed.
This is my life on filgrastim – the stem-cell stimulating drug. I got two shots of it per day for five days leading up to and including the donation – one shot in each chicken wing, among the ample, subcutaneous margins of my triceps.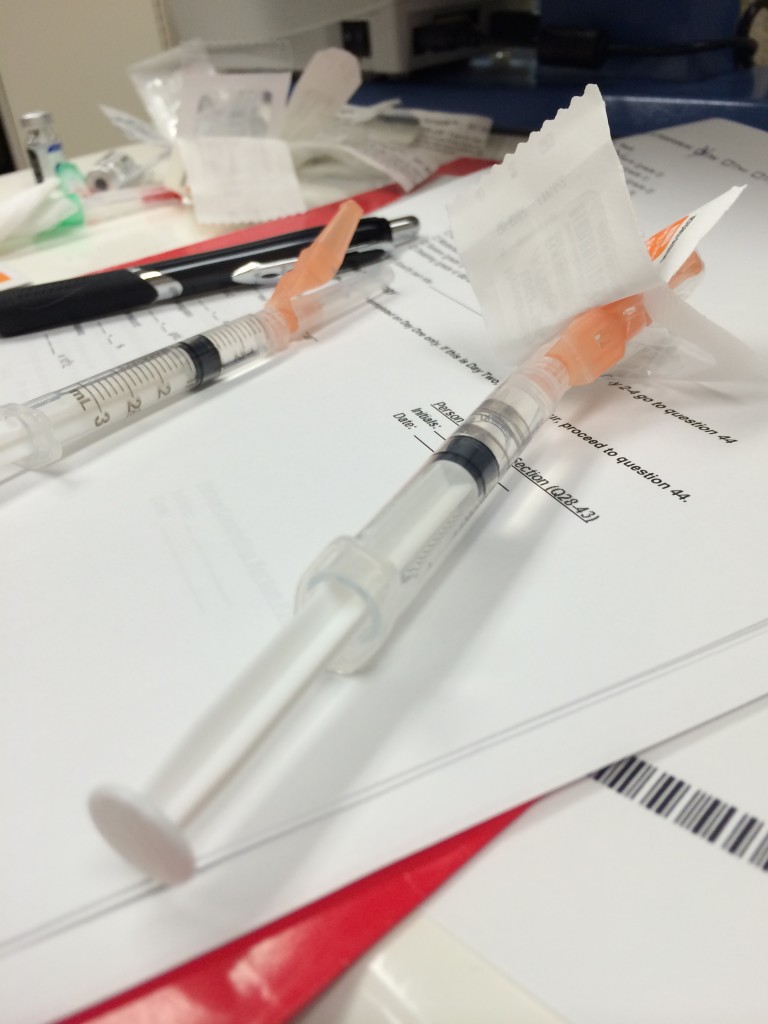 Dosage is based on weight. Even though the Mayo scales register in kilos, they still don't lie: My years of beer and bacon left me heavy enough to warrant the two-shot regimen. Upon learning that I had been officially cleared for the peripheral blood stem cell donation for the second time, I set about trying to change all that and be the best donor I could be.
I started lifting weights in hopes of making my veins larger (It didn't and doesn't). I stopped drinking alcohol (impedes platelet growth, doesn't mix well with filgrastim), and I ensured I met 100% of my recommended daily allowance of water (3 liters) every day by using my handy, Patrick Bertinelli-designed AddWater app.
I also invited my old nemesis, kale, back into the pantry… along with sweet potatoes, halibut, avocados, spinach, yogurt, potato-potatoes, more kale, almonds, pumpkin seeds, salmon, real milk, white beans and still more kale (but only raw or cooked – not in "chip" form).
This pageant of potassium-magnesium-and-calcium-loading was supposed to ease blood flow once I was hooked up to the apheresis machine, but the trifecta of nutrients did little to help me shed those last, pesky 6.8 kilos. One would think I'd at least drop 0.45 kilos or two for the sacrifice – especially since I gave up bacon for the duration, but no –  I just got to be hyperaware of my sphenoid bone.
Prior to filgrastim, I wasn't aware I had a sphenoid bone. I wasn't particularly aware of my third distal phalange, either, unless I was unfurling it while waving to motorists who have no qualms about crowding me in the bike lane.
Heart-pumping, veins at least looking like pipelines of stem-cell joy, it was on one of those 14-miles rides up Scottsdale Road, as I gasped the fragrant backdraft of a garbage truck, that I had an epiphany:
"WHAT THE HELL AM I DOING? I COULD DIE OUT HERE! THIS DUDE CAN'T ACCEPT MY STEM CELLS IF THEY'RE SMEARED ACROSS THE GRILL OF A CURB MASTER SIDE-LOADER!"
I finally understood what I'd been missing all my life… what it means to be a woman:
"OH MY GOD: THIS IS WHAT IT'S LIKE TO BE PREGNANT! I'M PREGNANT WITH A MIDDLE-AGED CANCER PATIENT! NO WONDER CHI WANTS ME TO TAKE ALL THOSE DAMNED TESTS!  IF I GO, HE GOES! WE'RE NOT GONNA DIIIIEEEEE!!!!"
Over the next two weeks, I did my damnedest to do STAY ALIVE: I militantly obeyed every speed limit sign and traffic-change admonition. I stayed in the FAR RIGHT LANE and turned up my All-Classical K-BACH 89.5 when my fellow commuters tailgated me. I even avoided flashing my third distal phalange at them. I waited patiently at every cross walk, wore sensible shoes and avoided sushi (my favorite).  I went to bed at 9 PM sharp and awoke at 5:30 AM (much to Patrick's chagrin). I meditated. I stretched. I flossed (OK, only 4 times, but still). I wore sunscreen EVERY. DAY. I even broke out the foam roller on my IT bands!
Then on [ REDACTED ] at 7:45 in the morning, I received my first filgrastim shot, and the nurses kindly asked me to avoid weight-bearing exercise because it could lead to SPLENIC RUPTURE. 
After hearing SPLENIC RUPTURE, as in RUPTURE OF THE SPLEEN, I didn't pay much attention to anything else. The phrases "flu-like symptoms" and "bone and joint aches" drifted into my periphery, but they were manageable, especially since they'd given me a prescription for oxycodone (my precious). But SPLENIC RUPTURE is serious shit – probably not something I'd be able to recover from in time to make my donation… and we were past the point of no return.
Once the National Marrow Donor Program got my IDM kit and confirmed that I was thankfully West Nile, Ebola and Chagas disease-free, the patient began his pre-transplant regimen – wiping the marrow from his body and destroying his immune system. He would be marking time as minus-days, counting down to his donation on Day Zero.
If I didn't survive the next [ REDACTED ] minus-days, his chances of survival were zero.
I have never felt so AWARE OF BEING ALIVE… as opposed to being BLISSFULLY UNAWARE OF THE SPECTER OF DEATH THAT LURKS AT EVERY TURN (car accidents! bicycle wrecks! heat exhaustion! drowning! MRSA! animal attacks! communicable diseases! choking hazards!) If I could have wrapped myself in bubble-wrap, I would have, but suffocation lurks in every popping dot.
Instead, I became intimately aware of my anatomy as the five days of filgrastim filtered through my subcutaneous goodness and into my bones.
Good afternoon, C-4, and your little bursts of pain that rocket through my teeth as I turn my head to check my mirrors. Oh, I'm feeling you today, you crazy coccyx, especially as I climb out of the car. As soon as the movement fires, the pain escapes into another waiting joint.
Why, oh, why do I have bucket seats, faithful pelvic bone? Ill-humored humerus.
My skeleton announced itself in a cavalcade of aches and pains each morning as my stimulated stem cells eked their way from my marrow into my bloodstream. I don't how much 5 million stem cells weigh (not 6.8 kilos, according to the Mayo scales) but they weighed heavily on my heart and in my bones during those five days, like a tether connecting me to a stranger in a cancer ward some place far from me.
I could not wait to help him. We both had to stay alive for me to do that.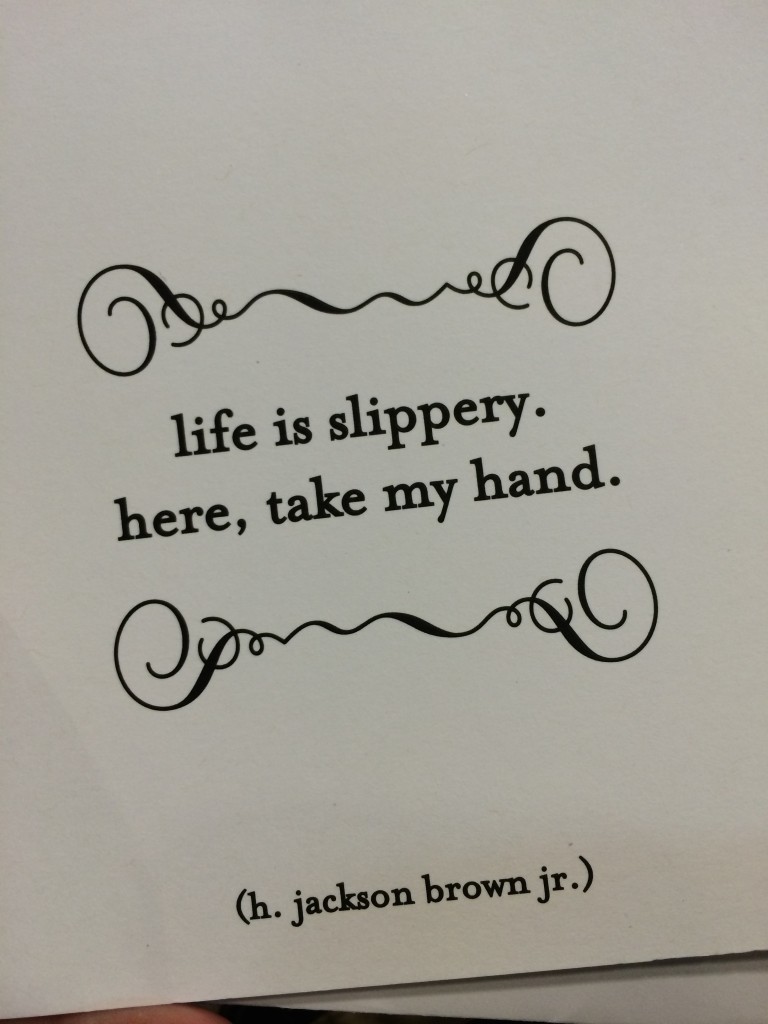 BONUS ROUND: If you live or work within a 5-mile radius of  Mayo Clinic Hospital in Phoenix, their cafeteria is outstanding – and cheap! I had a fresh salmon and wheat berry salad sprinkled with real bacon bits for only $5 (FIVE DOLLARS!) I don't even know what a wheat berry is, but it did my heart good to know that Mayo Clinic uses bacon on their food. BACON!